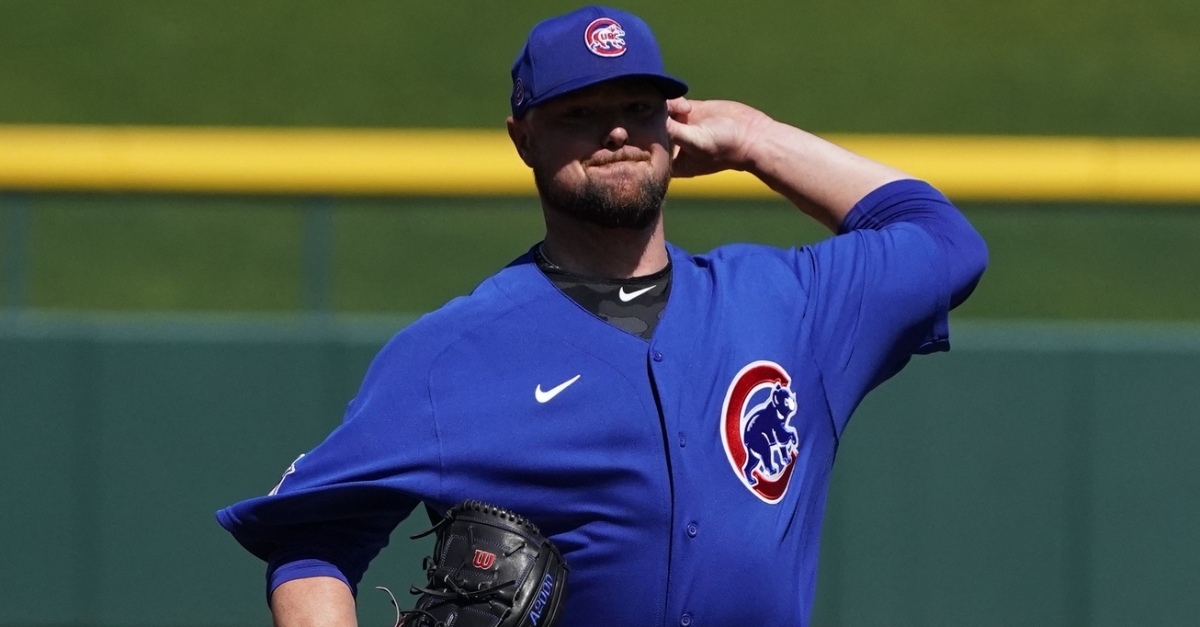 | | |
| --- | --- |
| Cubs News and Notes: Jon Lester's goals, Social butterfly awards, Baseball Digest, more | |
---
CUBS NEWS AND NOTES
No Baseball: Day 12
Lester's objective: In a Marquee Sports Network article, Big Jon Lester talked about what he expects from himself this season.
Speaking to Tony Andracki, Lester said, "I want to be relied upon. Every five days, they know, 'OK, the bullpen's gonna get a little bit of break today.' I always prided myself on that — I walk in, and I'm like, 'Hey, I got you guys. Just get the closer up, hopefully.
"That's the stuff. That's what kind of drove me this offseason to try some different things. I can't get in the gym and lift what I used to lift, and I can't run like I used to run, but now I'm trying different things as far as staying loose and flexible, maybe drop a few pounds. You can pitch at a heavier weight when you're younger. I don't know if I can do that anymore."
Lester did slim down a lot this winter but struggled in his first spring training start. The frustration – furiousness may be a better word – as he was pulled for a reliever. Lester did rebound to have a couple of decent outings before MLB pulled the plug on spring training, but this is undoubtedly a make or break year for the 36-year-old left-hander.
Lester continued, "I just like to be relied upon. I don't want it to be — 'go stand over here, and we'll see you every five days.' I want guys to still be excited when they see me run out there."
Jon also talked to Ryan Dempster about his spring training regimen and what it's like to be working for David Ross.
"I'm excited for it, I'm excited for him."@JLester34 opens up on David Ross, his offseason workouts and how he's dealing with aging. https://t.co/RmWDVEaqyh pic.twitter.com/rMGHVjwdvV

— Marquee Sports Network (@WatchMarquee) April 5, 2020
Social Butterfly Award: In these times, I probably should have named that the Social Distancing Butterfly Award, but you get the point. With all that's going on, we have so little to do with baseball now, so thank God for social media.
We haven't heard much (if anything) from Willson Contreras, Javier Baez, and a bunch of others. Even the usually Twitter-savvy Yu Darvish has been relatively silent. Anthony Rizzo and Kyle Schwarber have made a bunch of social media appearances, but mostly concerning their foundations.
It seems like the only Cubs' player to be consistently active on social media these days is Ian Happ. Happ (along with sidekicks Dakota Mekkes, Zack Short, and Nico Hoerner) has developed his podcast entitled "The Compound," which has now put out two episodes. Even beyond the podcast, Happer has been surfacing consistently on Twitter and Instagram, chatting with fans and giving them various things to think about during these dark days.
There wasn't a fence in the middle so to hit a homerun to right it had to land in the parking lot. The backstop from the little field was in play, on a few rare occasions the center fielder would catch a ball by the mound of the little field for an out.. 440 feet away https://t.co/1YGecwfBdW pic.twitter.com/na9Qx81zCq

— Ian Happ (@ihapp_1) April 5, 2020
From the minor league levels, Cubs' pitching prospect Tyson Miller wins my Social Butterfly Award. Miller is constantly tweeting about everything from playing MLB the Show to coming up with silly little games to play and think about in the absence of baseball.
If it was give up a home run then I'd be 24/25 https://t.co/wdYDgYLjyO pic.twitter.com/Ao51YMTr0E

— Tyson Miller (Blue Check Mark) (@Tyson_Miller07) April 3, 2020
When it comes to coaches being socially interactive on social media, Cubs' Minor League hitting coach Travis Fitta wins hands down. Fitta engages what seems like everyone on social media, offering a ton of great insight into many topics. Always upbeat and positive, I look forward each day to reading Fitta's tweets.
The reason I love Steve is because my first coaching experience was a 13u team 3 years ago that I refused to call pitches or give signs. Parents and coaches couldn't fathom letting kids make mistakes and learn later. People saw "no control". I saw hands off coaching for once. https://t.co/XyvqBdUhY9

— Travis Fitta (@TravisFitta) April 4, 2020
That's really awesome and thank you @KenAllison18 for that recognition. Using this time to really reach everyone I can, put a smile, engage some dialogue. Might have to jump on with @nico_hoerner and @ihapp_1 sometime! https://t.co/6WiSJmwoWS pic.twitter.com/r0r9qOxTjR

— Travis Fitta (@TravisFitta) April 6, 2020
It would be nice to hear from the other players and coaches, if for no other reason than to know they're healthy and getting through this OK. Not that Javy, Willy or others should need to check in with the world daily, but I'd much rather hear something from them once in a while, than turn on the news one night to learn that one of the players is infected with the virus.
Thanks to all of those from the Cubs and other teams who've helped us pass the time.
Free history lessons: According to the Chicago Tribune, "Baseball Digest, a 78-year-old monthly magazine published in Gurnee, has unlocked its online archives for the next 3½ months for fans searching for something to do during the sports shutdown."
Back in the day, that magazine was like THE place to get comprehensive stats. Now, of course, you just click on Baseball-Reference and get ten times as much stuff, but every kid (and their dads) looked forward to Baseball Digest when I was growing up.
Having been created in 1942, the magazine obviously progressed over the years.
Free! Baseball Digest archives for the next 3-1/2 months. pic.twitter.com/Oy82h2jaPi

— Ken Allison (@KenAllison18) April 5, 2020
Cubs' Birthdays: Celebrating yesterday, were ex-Cubs Steve Clevenger (34), Ian Stewart (35), Jorge de la Rosa (39), Ross Gload (44), Greg Smith (53), Ron Campbell (80), Jimmie Schäffer (84), and posthumously, Don Prince (82) and Chuck Lauer (155).
OK. This. Was. Amazing.
10 years ago today, THIS happened.#WhiteSox pic.twitter.com/9Z2LPdhFUG

— Christopher Kamka (@ckamka) April 5, 2020
Baseball Quotes: "If you're going to play at all, you're out to win. Baseball, board games, Jeopardy, I hate to lose." - Derek Jeter
If I were playing third base and my mother were rounding third with the run that was going to beat us, I'd trip her.

Oh, I'd pick her up and brush her off and say, 'Sorry, Mom,' but nobody beats me. -Leo Durocher pic.twitter.com/0R1XXRgPVo

— Baseball Quotes (@BaseballQuotes1) April 5, 2020

Tags: Chicago Sports Baseball
,
Jon Lester
,
David Ross
,
Willson Contreras
,
Yu Darvish
,
Anthony Rizzo
,
Kyle Schwarber
,
Ian Happ
,
Dakota Mekkes
,
,
Tyson Miller