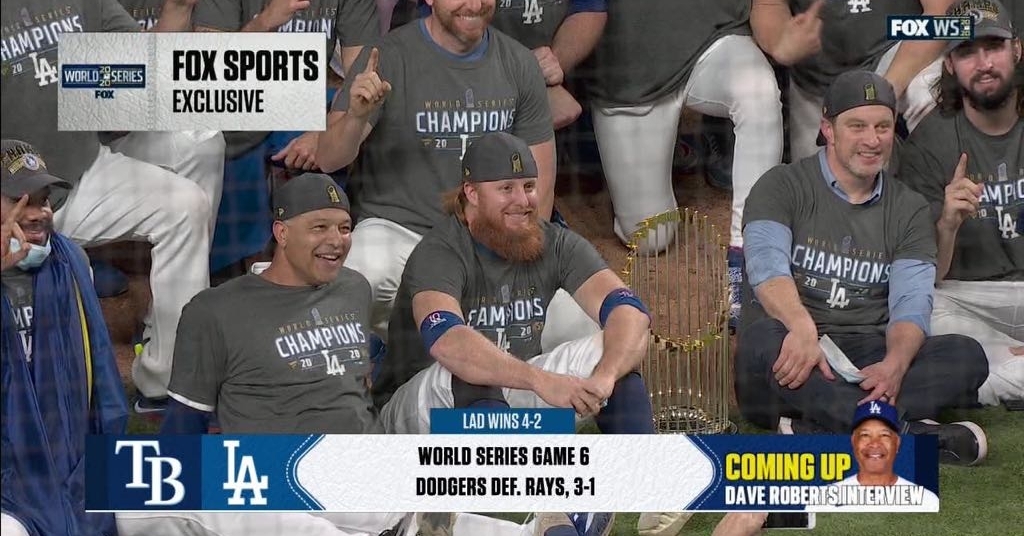 | | |
| --- | --- |
| Cubs News and Notes: Justin Turner didn't isolate with COVID-19, Hot Stove talk | |
---
Well, it's over. The Dodgers are your 2020 World Series Champs after beating Tampa by a final of 3-1 last night in Arlington. The series lasted six games, and may very well have gone seven, had Kevin Cash not made the terminal decision to pull Blake Snell for Nick Anderson. Once that happened, it took the Dodgers no time whatsoever to pounce, overcome a 1-0 deficit, and secure the World Series "W" - the team's first since 1988.
Ironically, along with the World Series Trophy, both teams may leave the 2020 season with an unwanted parting gift: COVID-19. Dodgers' third baseman, Justin Turner, was pulled in the seventh inning after it was announced that Turner had tested positive for the virus. Why, with the sophisticated testing process, this wasn't announced pre-game, I'll never know, but it exposed a whole lot of folks…
Turner did go 0 for 3 on the night with two strikeouts, so it isn't like he hit a walk-off homer, but still, how do you magically learn this in the eighth inning? Even worse, Turner was on the field celebrating with his teammates (no mask) after the game ended. Terrible.
Fire up that stove!
Now that the World Series is complete, the countdown to Hot Stove begins. Eligible players must wait five days to declare free agency. That sets a date for Sunday, November 1st, but the announcements should start being listed on Monday through the teams' transactions page on MLB.com. That is unless Twitter gets there first.
It will be interesting to see how Tom Ricketts and Theo Epstein approach the winter of 2020-2021. They're going to be short starters, relievers, (most likely) a third baseman, and other rentals. Also, they may also shake up the coveted core. Ricketts has struggled to get back under the luxury tax threshold, an even bigger task now that MLB has reported an $8.3 billion loss for the season.
It seems to be a foregone conclusion that Big Jon Lester won't be returning. That move would still cost the Cubs $10M, as Lester has a buyout for that amount; the alternative is to pay him $25M to play for the season. With Lester aging, struggling some, and with his velocity dropping like a rock, Lester fell to the #4 starter this season, something the Cubs could easily replace for less than $15M.
Then you have Jose Quintana and Tyler Chatwood, neither of whom have received a qualifying offer ($19M). Including Lester, that leaves the Cubs just 40% of their starting rotation (Kyle Hendricks and Yu Darvish), though Alec Mills is likely to join the rotation on a full-time basis. Adbert Alzolay is another possibility, but my guess is that the Cubs go after at least one starter. A trade may be more likely than a free agent signing, and I certainly wouldn't guess that they'll make a play for Trevor Bauer or other top-dollar free-agent starters.
I'm not even going to start getting into the bullpen, as that sector is always a revolving door for every team, but sufficed it to say; changes will be coming there as well.
What about Kris Bryant? His name has also been floated heavily in trade scenarios, with many feeling that he'd land in Los Angeles (Dodgers) or Atlanta. Justin Turner is eligible for free agency this winter, and talk of KB going to the Braves has been rumored for a year-and-a-half now. Last winter, one trade speculation had Bryant going to Atlanta for Max Fried, 3B Austin Riley, and Willson Contreras' younger brother, William.
@Braves trade for Kris Bryant and you win the World Series next season

— Year 17 for #17 (@KobeThisForYou) October 28, 2020
With the year that Fried had, I doubt that deal is anywhere close to being possible this year, but that would certainly solve the questions surrounding another starter and a replacement for Bryant. David Bote could become the everyday third baseman, leaving the Cubs short a utility infielder.
Although there's been speculation about not picking up Anthony Rizzo's $16.5M option ($2M buyout), the Cubs may be in a position to have to keep Rizzo (whether or not they want to), as they have so many other holes to fill. Not that Rizz would be a bad guy to keep, but after his team-friendly, eight-year/$60.5M deal ends, Rizzo will (rightfully) want a large contract, something that the Cubs aren't inclined to want to offer. There are a total of 17 first basemen on the free-agent roster (not counting Rizzo), but except for Jake Lamb, CJ Crohn, and Derek Dietrich, all of the choices are older than Rizzo (age 31).
The Cubs also have a ton of other issues to address. What do you do with Albert Almora Jr? Non-tender would be my guess. This could be good for all sides, as Almora deserves more playing time but can't seem to get any due to the explosive resurgence of Ian Happ.
What about Kyle Schwarber, who'll also be entering his walk year in 2021? Schwarbs is due for his final arbitration this year and is estimated to be worth $8M. The teams, MLB, and the Player's Union will have to negotiate whether or not there'll be a universal DH in 2021, but if so, Schwarber may very well be worth the $8M.
There are plenty of questions to be answered this winter for the Cubs, but one thing is certain: They'll have to be active.
Upgrade Your Account
Unlock premium boards and exclusive features (e.g. ad-free) by upgrading your account today.
Upgrade Now

Tags: Chicago Sports Baseball
,
Jon Lester
,
Jose Quintana
,
Tyler Chatwood
,
Kyle Hendricks
,
Yu Darvish
,
Alec Mills
,
Adbert Alzolay
,
Kris Bryant
,
Willson Contreras
,
David Bote
,
Anthony Rizzo
,
Albert Almora
,
Ian Happ
,
Kyle Schwarber
,
Theo Epstein