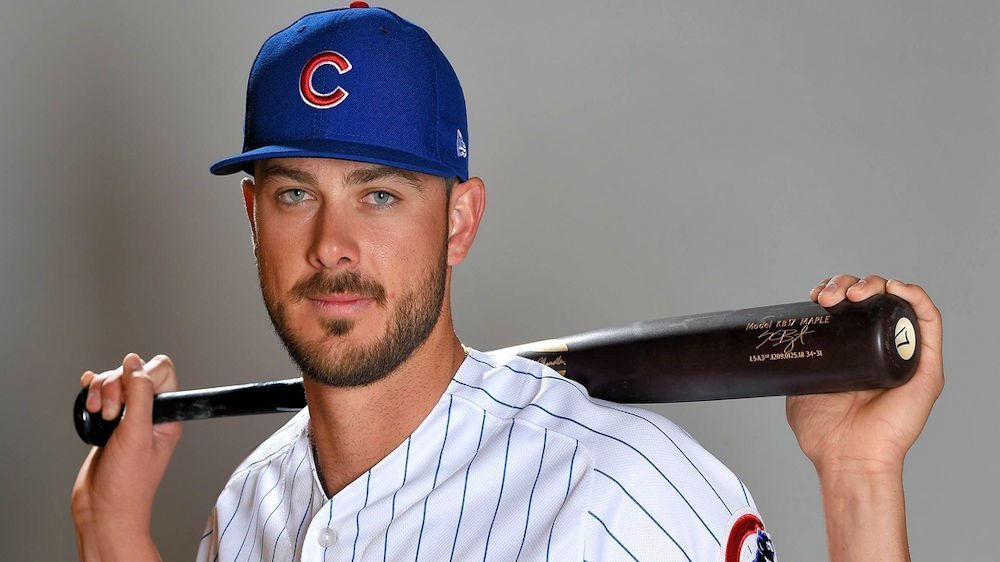 | | |
| --- | --- |
| Cubs News and Notes: Kris Bryant speaks to media, Ross on KB, More from Cubs Camp | |
---
| | | |
| --- | --- | --- |
| Sunday, February 16, 2020, 8:34 AM | | |
CUBS NEWS AND NOTES
Next Game: Next Game: 6 days – Saturday, February 22, 2020: Athletics vs Cubs (Sloan Park).
Opening Day: 43 days – Thursday, March 26, 2020: Cubs vs. Brewers (Miller Park).
Bryant in camp: Kris Bryant showed up in Mesa today and stole the show. As predicted, the press was waiting.
David Ross had this to say about his arrival.
"When you see the All-Stars walk in the room, especially when they're like 6-6 with beautiful blue eyes, it makes you smile. And the great haircut that he has. I was telling him, too, he's got a tan this year."
Ross on Bryant's arrival pic.twitter.com/9o7vVrmevs

— Mark Gonzales (@MDGonzales) February 15, 2020
On his service time grievance: "I definitely felt that responsibility to take it on," he said. "I want to be the guy to fight for this because I feel it's right, and it's going to help us in two years [during CBA talks]. But I always knew it was an uphill battle. No, I didn't flip any tables or anything like that. It was very respectful from the get-go."
"No hard feelings. We're playing baseball."

Kris Bryant addressed the media earlier today regarding service time grievance. pic.twitter.com/rBgokFBxHz

— Marquee Sports Network (@WatchMarquee) February 15, 2020
#BestthingIsawtoday was KB walking into Rossy's office with a HUGE smile! Ready to go to work!! @Cubs

— Rick Sutcliffe (@Sut_ESPN) February 15, 2020
On trade rumors: "I guess I would like to be in the loop a little bit," Bryant said. "Obviously, they don't have to keep me in the loop by any means, you know? But I feel like I've earned a little respect here, in just how I go about my business and just who I am as a player and a person, too, to kind of sit down and have talks like that."
Bryant squashed false offseason rumors of him not wanting to be in Chicago. pic.twitter.com/qZwVmR6oT9

— Marquee Sports Network (@WatchMarquee) February 15, 2020
(I disagree with Kris on that last point. I think he wants to be there in two years, and I just don't think he'll accept an offer TO BE there in two years.)
"The biggest thing with the trade rumors that have disappointed me is I feel like people, not everybody, but the main reasoning behind it is: Let's get rid of him now because he doesn't want to be here in two years. He turned down this monster extension 'well north of $200MM.' And I'm like, 'Where was that? I never saw that.' It's just these rumors and sources and people just saying things. The only thing that matters is what comes from my mouth. Never once have I said I never wanted to play here. I'm pretty sure you guys can go through all the recordings, all the interviews. I've always said I respect everyone in this organization, everyone in this city, the fans. We have it so good here. Of course, I would love to play here."
Warm it up, Kris. ?? pic.twitter.com/hk5zXkVfuE

— Chicago Cubs (@Cubs) February 15, 2020
KB also had some things to say about the Astros and their apology tour. Calling it worse than steroids and by no means limited to Houston's 2017 campaign.
Bryant said he took guitar lessons this winter, and music is the path he'd like his kids to follow, "I've always told [my wife] my kid's not gonna play baseball, but he's gonna be a rock star. I'm gonna put a guitar in his hand, and he's gonna take singing classes, piano -- whatever it is." He then added that his dad would probably hand the kid a bat, and he'd forget all about music.
Ross on infield drills: "I've got no ego here. I don't mind being the bucket boy. That's all right. I'm about W's. I don't care. If somebody needs balls fed to him, I'll do that, too. Somebody needs me to put a ball on the tee, and I can handle that as well."
On Jason Kipnis:
Ross on Kipnis: pic.twitter.com/F5n0QdmHym

— Mark Gonzales (@MDGonzales) February 15, 2020
Glenbrook North alum ?@ESPNChiCubs? digging this interview with more prominent alum ?@TheJK_Kid? pic.twitter.com/zPgJFntnFb

— Mark Gonzales (@MDGonzales) February 15, 2020
Cubs' Birthdays: Celebrating yesterday, were ex-Cubs Nate Schierholtz (36), Brian Williams (51), Rolando Roomes (58), Ron Cey (72), Chuck Estrada (82), Richard "Footer" Johnson (88), and posthumously, Charlie Irwin (151).
Jose Altuve running around West Palm Beach today looking for a tattoo parlor that isn't full of reporters pic.twitter.com/d6QWnObVZj

— Tom Hackimer (@HackAttackimer) February 15, 2020
Baseball Quotes: "Knowing the strike zone is very important, but I think the first thing is knowing yourself, knowing what things you do well." -Tony Gwynn
Who doesn't love Spring Training? ????

pic.twitter.com/Cxx8B2Aqjv

— #TodayInSports ®? (@TodayInSports3) February 13, 2020
MLB News and Notes:
Astros fire back: Carlos Correa defends the 2017 World Series. While Correa makes what may be some valid points, it's hard to admit to cheating, then expect the benefit of the doubt when you don't. #HorseApples
.@TeamCJCorrea analyzes the 2017 World Series, game-by-game, with @Ken_Rosenthal.

Full ?? - https://t.co/0JwtkFtE8B pic.twitter.com/LvGbKPVbfF

— MLB Network (@MLBNetwork) February 15, 2020
Astros' manager Dusty Baker says that he wants to put an end to what he calls "premeditated retaliation" against his team, begging MLB to intervene.
"I'm depending on the league to try to put a stop to this seemingly premeditated retaliation that I'm hearing about, and in most instances in life, you get kind of reprimanded when you have premeditated anything. I'm just hoping that the league puts a stop to this before somebody gets hurt."
Astros will still know what pitch is coming in 2020. The Inside Fastball.

— Justin Landreth (@LandrethJustin) February 15, 2020
Phillies-Dodgers: The Phillies have acquired OF Kyle Garlick from the Dodgers for LHP Tyler Gilbert; next designating OF Nick Martini for assignment.