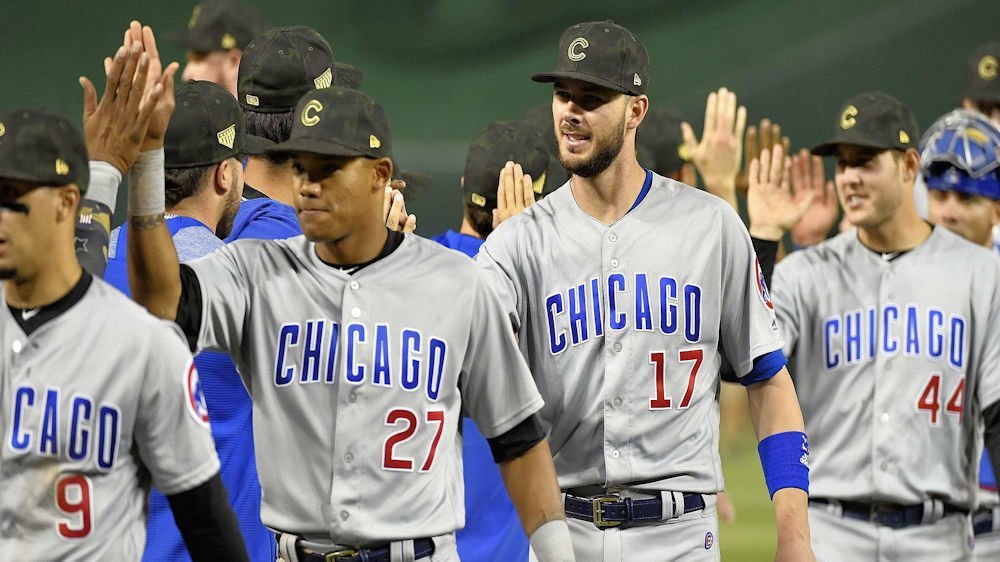 | | |
| --- | --- |
| Cubs News and Notes: Kris Bryant's case, Maddon's reaction, World Series, Hot Stove, more | |
---
CUBS NEWS AND NOTES
More about KB's grievance: For those who don't fully understand the issue between Kris Bryant, Patrick Mooney of The Athletic broke it down in his article on Bryant (below).
"By starting Bryant at Triple-A Iowa to begin the 2015 season — and delaying his promotion until April 17 — the Cubs seemingly ensured that he would remain under club control for almost seven full years. Instead of becoming a free agent after the 2020 season, Bryant would have to wait to hit the open market until after the 2021 season, when the current labor deal is set to expire."
.@PJ_Mooney on what Kris Bryant's service-time grievance means for the Cubs, the MLBPA and all of baseball: https://t.co/8bPoBYZsFa

— The Athletic Chicago (@TheAthleticCHI) October 26, 2019
Earlier this year, Bryant told Sahadev Sharma (The Athletic), "They're finding a loophole in the system. It doesn't make it right. It kind of seems like the easy way out, rather than showing someone that we're going to reward what you've done in spring and what you've done in the offseason: 'Here you go, you get Opening Day.' That'd be pretty cool."
It will be interesting to see how this all shakes out, but I don't see Bryant and Boras winning. The CBA has rules in place regarding service time, and while Theo may have exploited a gray area in the contract, but from what I can tell, he appeared to stay within the lines. I don't blame Bryant for being pissed – that extra year of club control probably cost him about $30M, but Bryant needs to focus his anger on the CBA, as that's what ultimately cost him.
ESPN 1000 Poll: I look forward to Saturday mornings, as ESPN 1000 never disappoints with their Twitter Poll questions. This time they asked whether Theo or David Ross is more adept with the concept of managing.
Who knows more about managing a #MLB game?

— ESPN 1000 (@ESPN1000) October 26, 2019
Reboot or all in? In a second poll regarding the Cubs, ESPN 1000 asks whether this year will be about rebooting, or whether the Cubbies are "all in to win." I think it's going to be a little bit of both. While I'd fall far short of saying that Joe Maddon ever "lost the clubhouse," I do, however, agree 100% with Epstein about the Cubs being complacent and lacking urgency.
What is Theo's mindset this off-season?

— ESPN 1000 (@ESPN1000) October 26, 2019
Maddon's reaction: When Joe Maddon was asked about his reaction to the commissioning of the painting showing him and Willson Contreras hugging, he stated, "That will be the most special award I've ever received, once I get that in the mail. That says it all for me personally, and that sums up how I felt about my guys in Chicago, and fortunately, that's how they felt about me."
My painting of Willson and Joe was on MLBTV yesterday??@WContreras40 Video via @MLBNetwork @IntentionalTalk pic.twitter.com/vYJQz4Hdpa

— Austin Ploch (@PlochArtwork) October 25, 2019
Lately, Joe's reactions to things seem to indicate to me that his dismissal was more a "Theo thing," than it was mutual or Joe's desire. The truth is, we'll probably never know, as both Maddon and Theo have been nothing but professional through the transition.
Aroldis Chapman: The former Cubs' closer raked for the Yanks this year, earning himself one of two Major League Reliever of the Year Awards on Saturday. Chapman collected the Mariano Rivera American League Reliever of the Year Award, while Josh Hader brought home the Trevor Hoffman National League Reliever of the Year Award. Congratulations to both.
Cubs' Birthdays: Celebrating yesterday, were ex-Cubs Steve Ontiveros (68) and posthumously, Otto Vogel (120), Tommy Griffith (130), Harry Chapman (134), and Andy Sommers (154).
World Series Schedule & Results
GAME-1: Nationals -5; Astros -4 (W-Scherzer; L- Cole); Nationals lead the series 1-0.
GAME-2: Nationals -12; Astros -3 (W-Strasburg; L- Verlander); Nationals lead the series 2-0.
GAME-3: HOU-4; WSH-1 (W-Greinke; L- Sanchez)
Zack Greinke is not a fan of the Soto Shuffle pic.twitter.com/w2yNGV71RZ

— Baseball Quotes (@BaseballQuotes1) October 26, 2019
GAME-4: HOU at WSH (W-Urquidy; L- Corbin)
The Nats lost a lot more than Game-3 on Friday night, as catcher Kurt Suzuki went down with a right hip flexor. Replaced by Yan Gomes, Washington attempted to regroup and capture a 3-1 series lead last night, as they hosted the Astros for Game-4.
If you happen to be one of the lucky souls who had tickets while rooting for the visiting team, then this series is for you, as the home team has yet to win a game. Last night the Astros tied the series at two, winning decisively by a final of 8-1.
Admittedly, I missed the first three frames but walked into my living room just in time to see Chirinos hit a two-run jack, which put the Astros up 4-0. The Nats would finally get a run in the sixth, but in the seventh, a struggling Alex Bregman would blow it open with a grand slam to left, putting Houston up 8-1, which is how this one ends.
MLB and the sponsors are loving this, as the series must now go a minimum of six games. Houston has now recaptured the home-field advantage, but at this point, that may very well be a curse.
GAME-5: Sunday, Oct. 27: HOU at WSH; 8 p.m., FOX (Cole vs. Scherzer)
Monday, Oct. 28 Travel day
GAME-6: Tuesday, Oct. 29: WSH at HOU; 8 p.m., FOX
GAME-7: Wednesday, Oct. 30: WSH at HOU, (if necessary), 8 p.m., FOX
MLB and the Hot Stove
Angels: Joe Maddon may get a boost to start 2020, as Shohei Ohtani continues his rehab from both Tommy John and knee surgery. The 25-year-old is currently throwing from 100 feet and on schedule to retake the mound toward the end of November, according to Fletcher.
Pirates: It is still unclear if Felipe Vazquez's remaining $13.5M contract will be voided entirely after Vazquez was arrested in September on felony charges involving sexual contact with a minor. Pittsburgh must first wait for the outcome of Vazquez's trial, then wait for MLB to mete out its punishment. Vazquez does not get paid unless he is on the roster.
I can't see Vazquez returning to professional baseball. He'll undoubtedly become a registered sex offender, which by law will not allow him to be anywhere near minors. I hardly see Pittsburgh making PNC Park an "18 and over" establishment, making me reasonably confident that Pittsburgh is going to be able to use that money elsewhere.
Astros: In the wake of Brandon Taubman's remarks about Roberto Osuna, which led to his firing, the Astros will now be undergoing an MLB investigation. The team alleged that Sports Illustrated reporter, Stephanie Apstein, was making things up when she alleged that Taubman's remarks were directly aimed at her and two other reporters and that Taubman was doing so to taunt them. Several other reporters corroborated her story, leading to Taubman's firing and the ensuing investigation.
Rob Manfred issued the following statement: "There are a variety of issues. I'm not going to narrow it to the [Astros original] statement or any of those. We're going to continue to review the situation, have communication with [Astros owner Jim Crane]."
Baseball Quotes: "You have to have some serious talent to have 50,000 people tell you that you suck." -Barry Bonds
How could you not want this guy umpiring the World Series?
Punchout of the year candidate pic.twitter.com/D820NbAECX

— Baseball Quotes (@BaseballQuotes1) October 26, 2019