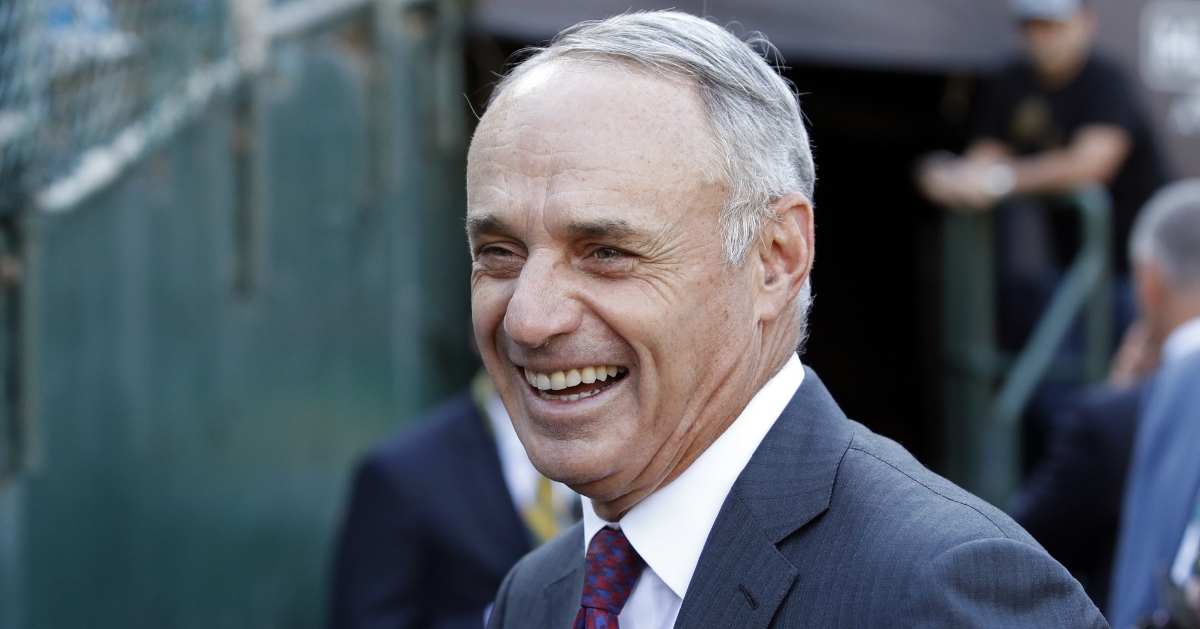 | | |
| --- | --- |
| Cubs News and Notes: MLBPA to vote on proposal, Cubs sign standout HS shortstop, more | |
---
CUBS NEWS AND NOTES
No Baseball: Day 89.
As the battle rages between MLB and the MLBPA, I'm beginning to feel more like a war correspondent than a sportswriter. The last we checked on this melodrama, the league, refused to bend to the union's request for a 70-game season and fully prorated salaries.
This afternoon at 5:00 PM (eastern), a panel is set to vote on MLB's latest (and final) proposal for a 60-game season. The MLBPA is expected to reject Manfred's latest offering, leaving Manfred to invoke a unilateral decision to play 60 games, possibly.
Players 5pm will be voting on:
1. 60 G Full Prorated Salaries
2. No salary guarantee in event games not played
3. $25m min playoff pool 2020
4. If fewer 50g played then 2021 ext playoffs and DH removed
5. No additional Salary Advance Relief.
6. No modifications qualifying
offer

— Jim Bowden (@JimBowdenGM) June 22, 2020
If Manfred acts alone, this could – and most likely will – open the door for the union to file a grievance against the league. Turmoil is already expected after the 2021 season (when the current CBA ends), and should the union lose any grievance they file in this matter. I believe you can expect quite the fireworks show as the sides lock horns in the next CBA' talks.
Expectation has been that the union will reject the owners' proposal, and the next logical move would be for Manfred to implement a 60-game season. Here would be a productive curveball, to help both sides move forward: He could implement at 102% prorata.

— Buster Olney (@Buster_ESPN) June 22, 2020
If Manfred does as Jesse Rogers suggested and plays 60 games at 102% pro-rata, it's not likely to do anything more than to infuriate the players. Sure, it sounds nice on the surface, but run the numbers. A player making $5M would make only $1,851,851 at 100% proration for 60 games. At 102% proration for 60 games, the same player would make $1,888,888, a difference of only $37,037.00. Meanwhile, if the union were to win a 70-game schedule at full proration, that same player would earn $2,160,493.00. Those numbers would either increase or decrease, based on whether any given player is north or south of the $5M per year mark.
Take time to listen to Jeff Passan (below). It's less than two minutes of audio, but Passan nails it. Passan generally seems to be neutral as he covers the sport, but he doesn't hesitate at all, as he calls out MLB and the 40 franchise owners in this mini-rant.
On the surface, it's easy to call the union and its players' greedy', but even Passan admits that MLB and the owners have done nothing but screw this whole thing up for the last three months.
Today on ESPN Daily, trick shot specialist @JeffPassan joins the show to explain how far apart MLB and the players are now, and why bigger problems loom even if they bridge the gap.

Happy Monday! Listen here: https://t.co/hcI4cXKpzk pic.twitter.com/uE1x95L4pg

— Mina Kimes (@minakimes) June 22, 2020
Stay tuned, and we'll let you know how this whole thing shakes out.
Everything appears to be coming to a head today: #MLB and the #MLBPA are trying to see if they can reach a last-minute agreement on a 60-game season this afternoon or Commissioner Rob Manfred will implement a 54-60 game season.

— Bob Nightengale (@BNightengale) June 22, 2020
Ed Howard: A big welcome to Chicago's newest Cub, Ed Howard. Howard was the team's first-round draft pick a couple of weeks ago, and the Cubbies have now made the deal official.
Entering the draft with an overall pool of $6,721,600.00, the Cubs exhausted $3.7455M on Howard's signing, equal to the full slot value.
Howard, a shortstop from Mt. Carmel High School in Chicago, was ranked as the best high school shortstop in this year's draft. Howard had planned to attend the University of Oklahoma (Sooners); however, when the opportunity arose to be able to play affiliated ball, he jumped at the chance.
According to MLB Trade Rumors, "Howard's calling card is his steady, fluid defense at shortstop. With a strong throwing arm and smooth footwork, scouts almost universally think he'll be able to stick at shortstop in the Majors."
There are, however, some concerns about Howard's offensive skills. The experts seem to think that a little physical development, coupled with developing a more refined approach, may turn him into a hitting machine. Howard already has bat speed, which is the first step in the right direction.
Dreams 2 reality????. Thank you @cubs organization! Let's do it?? pic.twitter.com/8Wb4Aqwltr

— Ed Howard (@ehowardIV) June 22, 2020
The Cubs seem intent on drafting shortstops, as in addition to Howard this year, they also selected Nico Hoerner (Stanford) as their first-round choice in 2018. Hoerner certainly looks as though he'll have staying power, and the Cubs can control him through the end of 2026.
With the lack of progress being made public on re-signing Javier Baez to a long-term deal, one can only wonder if the Cubbies are preparing for the end of the El Mago era. Worse yet, they may also be preparing for (gulp) the end of the World Series Championship core.
Enjoy these guys while they still wear Cub uniforms, as no team stays together forever.
Cubs' Birthdays: Jason Motte (38), Brant Brown (49), and posthumously, Jim Asbell (106).
Baseball Quotes: "Baseball is a lot like life. It's a day-to-day existence, full of ups and downs. You make the most of your opportunities in baseball as you do in life." - American Sportscaster, Ernie Harwell
Bob Gibson is the luckiest pitcher I ever saw. He always pitches when the other team doesn't score any runs. -Tim McCarver pic.twitter.com/7aVyyyHoCD

— Baseball Quotes (@BaseballQuotes1) April 21, 2020
Upgrade Your Account
Unlock premium boards and exclusive features (e.g. ad-free) by upgrading your account today.
Upgrade Now