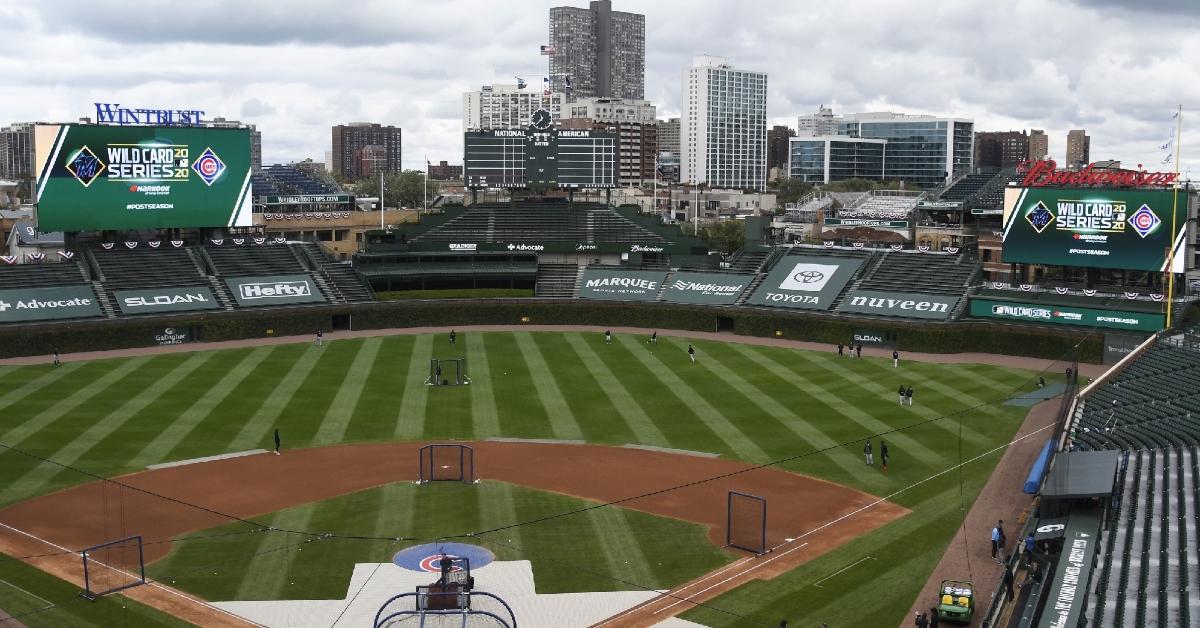 | | |
| --- | --- |
| Cubs News and Notes: Maybe next year, Cubs' Gold Glove Candidates, Get Yadi a tissue, more | |
---
CUBS NEWS AND NOTES
Maybe next year: That expression has been playing for years when it comes to Cubs' baseball, obviously used in the context of having - or rather not having - a winning season. The Cubs have sent a message to their fans, though, saying, "Maybe we'll be able to see you next year- referring, obviously, to hopes for a safe, COVID-19 free baseball season, which could include fans in the stands.
Yes, the Cubs bowed out of the playoffs early again this season, but this season was just weird. New rules, Spring Training, Summer Camp, only 60 games, and of course, seemingly three leagues (East, West, and Central) instead of the standard American League and National League.
Is it just me, or should MLB have revamped the league structure this season to reflect three leagues and not just two?
We're disappointed our season ended before we achieved our goal.

We're humbled by the continued support of our amazing fans throughout a difficult year.

We're hopeful to welcome you to the Friendly Confines next season.

We're ready for 2021.

Thank you, #Cubs fans. pic.twitter.com/n5cdrybQhj

— Chicago Cubs (@Cubs) October 2, 2020
Gold Glove Candidates: It's that time of the year again, and a total of seven Cubs have been nominated as finalists for Gold Glove Awards. The nominees include Kyle Hendricks and Alec Mills (both competing against Max Fried), Willson Contreras (vs. Tucker Barnhart and Jacob Stallings), Anthony Rizzo (competing against Brandon Belt and Paul Goldschmidt), Nico Hoerner (vs. Adam Frazier and Kolten Wong), Javier Baez (competing against Miguel Rojas and Dansby Swanson), and Jason Heyward (competing against Mookie Betts and Charlie Blackmon).
Congratulations to our league-leading seven #RawlingsGoldGloveAwards Finalists! pic.twitter.com/wlCgosptGN

— Chicago Cubs (@Cubs) October 22, 2020
Notably absent in the third base category is Kris Bryant. The three NL finalists for that spot are Manny Machado, Nolan Arenado, and Brian Anderson. Bryant turned in some nice plays this season. However, injuries kept him from playing for over half the season. During KB's time at third base this season (27 games, 225.1 innings), Bryant committed a total of four errors in 63 chances, dropping his fielding percentage to an unimpressive .937.
Also notably absent in the catcher's category is Yadier Molina of the Cardinals. There's nothing wrong with Molina's catching, but apparently, the veteran Puerto Rican backstop thinks there's some sort of conspiracy to prohibit him from ever surpassing Johnny Bench.
Yadier Molina after not being named a Gold Glove finalist...

Just confirming most fans' opinions of him. pic.twitter.com/lr3m7fHN0F

— DJC Sports Media (@DanClarkSports) October 23, 2020
All I can say is that if not supporting the league is grounds for not being nominated, Trevor Bauer will never win the Cy Young. What's Molina going to say if Bauer does edge out Yu Darvish and others? Granted, I am surprised that Stallings is in there while Molina is out, but part of playing the game (and Molina knows this) is that you can't win 'em all.
Jeffress nominated:: Jeremy Jeffress was undoubtedly the Cubs' greatest catch of last winter. Hampered by injuries in Milwaukee, Jeffress was cut loose but found a home in Wrigley (south) on a one-year deal with the Cubs. I was more than a little concerned, as it was going to be tough to replace Kintzler with what Theo Epstein was allowed to spend, but Jeffress panned out and has now been nominated for Reliever of the Year.
Congratulations to @JMontana41 on being nominated for NL Reliever of the Year!

Jeffress finished the 2020 season with a 1.54 ERA and eight saves in 22 relief appearances. pic.twitter.com/SVCdkJCo2K

— Chicago Cubs (@Cubs) October 19, 2020
Cubs' Birthdays: Celebrating Friday were ex-Cubs Felix Doubront (33), John Lackey (42), Solly Drake (90), and posthumously, Mike Sullivan (154).
Happy 42nd birthday to John Lackey!

During his Cubs tenure in 2016-2017:
• 23-20
• 3.94 ERA
• 329 strikeouts
• Didn't come for a haircut
• 2016 World Series Champion

& this moment when Lackey called the ump a "f*cking pussy" ?? pic.twitter.com/jfX6pOFbVQ

— Cubs Live (@Cubs_Live) October 23, 2020
Baseball Quotes: In an interview with Ian Happ on "Intentional Talk," Happer was asked about his teammates and coffee. When asked about which teammate needed to drink less coffee, Happer replied that he wasn't sure if Willy Contreras even drank coffee, but if not, they needed to make sure that he didn't start.
Theo Epstein on 2021 and beyond: "At some point, there's going to be a transition," And what's next with the Cubs is more important than what may be next for me. But I'm invested in the Cubs. ... We're all focused on how to be successful in '21, and how to improve our postseason performance in '21, and how to how to build that long-term success."
WORLD SERIES NEWS AND NOTES
World Series Update: My money is on the Rays, but they have certainly (and expectedly) had their hands full with the Dodgers.
Through three games, the teams have been trading punches. The Dodgers took game-1 by a final of 8-3. In Game-2, Tampa rebounded to outscore Los Angeles by a final of 6-4, but then last night, Los Angeles pulled ahead again, beating the Rays by a final of 6-2.
Tampa needs to win tonight to bring this World Series down to a best of three competition. Letting the Dodgers gain a two-game lead could be disastrous.
If Tampa does manage to squeak by (I took the Rays in seven), I'd have little doubt that Randy Arozarena will likely be named MVP, as that kid - in his rookie year, nonetheless - has been raking like crazy.
Game-4 (Tonight at 7:08 Central on FOX) will feature Julio Urias ((LHP) for Los Angeles, while the Rays (home team tonight) will trot lefty Ryan Yarbrough out to the hill.
Game-5 (Sunday, October 25th, 7:08 Central on FOX) will see Clayton Kershaw take the hill for Los Angeles, while Kevin Cash has yet to name his starter for the Rays.
If necessary, after an off-day on Monday, Game 6 will be played on Tuesday, October 27th (7:08 Central on FOX), with both pitchers to be determined.
Game -7 (if necessary) w9ould be on October 28th (same time, same channel). Although no pitchers have been announced, last night's broadcast stated that the likely starters would be Charlie Morton for the Rays, squaring off against Walker Buehler for the Dodgers.
Upgrade Your Account
Unlock premium boards and exclusive features (e.g. ad-free) by upgrading your account today.
Upgrade Now

Tags: Chicago Sports Baseball
,
Kyle Hendricks
,
Alec Mills
,
Willson Contreras
,
Anthony Rizzo
,
,
Jason Heyward
,
Kris Bryant
,
Yu Darvish
,
Jeremy Jeffress
,
John Lackey
,
Ian Happ
,
Theo Epstein