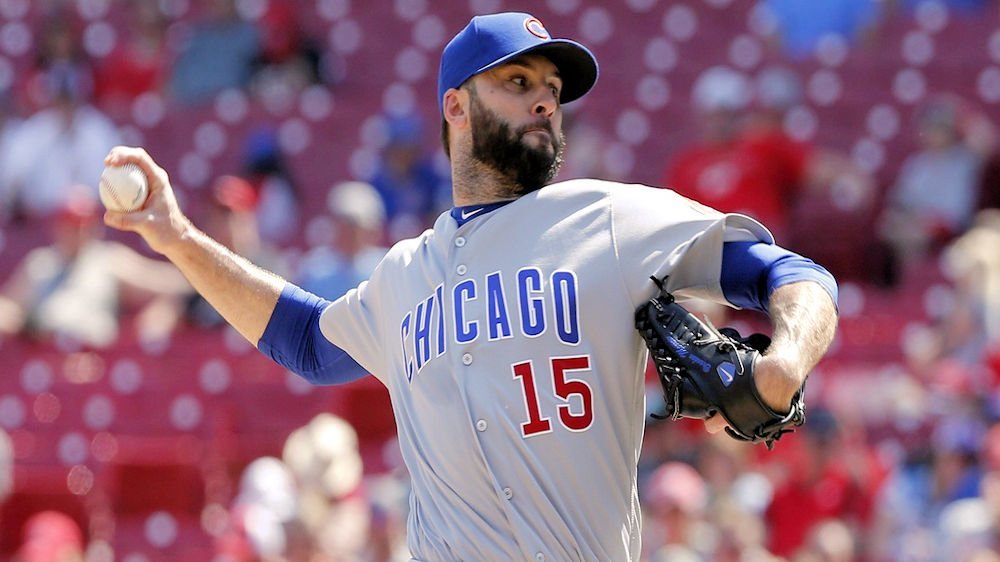 | | |
| --- | --- |
| Cubs News and Notes: Morrow released, Rizzo's back, Baez extension talk update, more | |
---
CUBS NEWS AND NOTES
Morrow released: It only took three years, but the Cubs have finally cut Brandon Morrow loose, issuing him his release on Wednesday. Morrow was a lights-out kind of guy when healthy, the operative word being "when."
Over the course of 2018 and 2019, the Cubs paid Morrow the healthy sum of $21 million to ride the DL (now the IL). – all for the grand total of just 35 appearances. During 2018 when Morrow was functional, he posted a 1.47 ERA in his 35 games (30.2 IP), racking up 22 saves along the way.
Prior to joining the Cubs in 2018, Morrow spent 2015 and 2016 with the Padres, where he earned nearly $3M in injured pay, due to shoulder issues.
Morrow accepted a non-roster invite to camp this year, hoping to show the fans and the team that he was willing to earn what he'd been paid, however – you guessed it – another injury left him down and out before the season ever came to a halt in April.
I am flabbergasted that some people think the Dodgers need Brandon Morrow.

— Jim Furlong (@EWOKinLA) July 8, 2020
Morrow's heart was in the right place, but his body? Not so much. When Morrow underwent another minor nerve procedure recently, and that sealed his fate.
Brandon Morrow had a minor nerve procedure and would take a bit of time to ramp up so with a 60-game season it made sense for the Cubs to release him, as they have done. Morrow is only on pause and does intend to pitch next year.

@ByRobertMurray 1st

— Jon Heyman (@JonHeyman) July 8, 2020
Here's a piece of advice for the Cubs, as they now get past this debacle. As my dad used to say to me as a teenager (when I repeatedly made the same mistakes), "You know what the best part about beating your head against a brick wall is? It feels really damn good when you stop."
Rizz still down: After sitting out the other day during a scrimmage, Anthony Rizzo remains day-to-day with ongoing back issues. For his part, Rizz says he is starting to feel better, but the fact that he's sitting already – this early into camp – is a little disconcerting.
David Ross doesn't anticipate Anthony Rizzo to do much today at summer camp. Cubs still taking things day to day with his lower back, but Rizzo said yesterday he is feeling better.

— Tony Andracki (@TonyAndracki23) July 9, 2020
I'd think that losing all the weight would have helped him, as now his spine isn't trying to handle the excess baggage but nagging back injuries are unpredictable. If you've never had one, then be thankful. For those of us who deal with it, you know that there never seems to be any rhyme or reason as to what makes it flare-up. Some days I can bend and lift, then feel fine in the morning, while other days I can relax all day and still hurt like hell.
Better Rizzo rests now, as opposed to having to do so when the season starts. Hopefully, he'll be able to suit up in a little over a week, as the Cubs host the White Sox in preseason action.
Still no deal for Baez: It was supposed to be priority #1 for the Cubs this year. And like so many other things they attempted, re-signing Javier Baez to a long-term extension has also fallen flat. All hope is not lost, but time is grinding away.
Javier Báez on contract talks with Cubs: "Everybody wants to get paid, but we got to wait for the right time. On each side, we got to see and we got to know what's right for each other. I'm not in a rush. We're trying to win this season that is going to be so weird."

— Patrick Mooney (@PJ_Mooney) July 9, 2020
Tom Ricketts is going to have his hands full and his wallet emptied if they attempt to re-sign even half of the core, leading me to believe that at least one or two trades of key players is inevitable by the end of the upcoming winter. With the August 31st trade deadline now just 7-1/2 weeks away, look for the rumor mill to start churning again.
Javy then offered up a bit of an ominous quote to the media. "I've got one year [more] I'm going to be in arbitration. We'll see. They know me. I'm pretty sure every team knows me and knows what I can do. I'm not in a rush. We'll just see what happens this season and how it goes for me and with this 60 games and be ready for next season."
When he said, "I'm sure every team knows me," it almost sounded as if he was fully prepared to walk as a free agent after 2022's season concludes. Javy isn't about to slam the Cubs publicly, but there's no secret that the Cubs have unsuccessfully attempted to re-sign several players including Baez and Kyle Schwarber.
Anthony Rizzo is probably not a huge fan of young Cubs' players signing team-friendly extensions as he locked himself into one back in 2012. Kyle Hendricks and David Bote each signed extensions last season, Hendricks playing for four years at $55.5M, and Bote agreeing to stay in Chicago for five years at the cost of $15M.
Javy Baez on contract talk with the Cubs: "It's been really difficult with everything happening right now. We have communication. When this goes past we're going to talk."

— Jesse Rogers (@JesseRogersESPN) July 9, 2020
Baez vs Berrios: With the shortened and improvised season, the Cubs will face the Minnesota Twins a total of four time this season. There'll be one matchup in the preseason (July 22nd), then three times at Wrigley in the regular season (September 18th – 20th).
For those who may not know, El Mago's brother-in-law, Jose Berrios, is a pitcher for the Twins. Javy and Jose worked out together this winter, with Berrios pitching to Javy in order to keep Baez accustomed to facing live pitching.
What did El Mago say about his brother-in-law?
Javy Baez, on facing Jose Berrios, his brother in-law, during baseball's shut-down period to see live pitching:

"It was kind of scary, man. He throws too hard for that early."

— Jordan Bastian (@MLBastian) July 9, 2020
Cubs' Birthdays: Celebrating yesterday were ex-Cubs Miguel Montero (37), Guy Hoffman (64), Willie Wilson (65), and posthumously, Gene Fodge (89), Turner Barber (127), Charles "Buck" Herzog (135), Dave Shean (137), and Jimmy Cooney (155).
Baseball Quotes: "We're all watching the same movie. The trades at the middle of last summer were really kind of the end of the beginning for us. We're looking forward (to) winning now. … We feel like this is the year where we're going to start to show our results." – Chairman Tom Ricketts, Feb. 25, 2015
That space between the white lines, that's my office. That's where I conduct my business. -Early Wynn pic.twitter.com/xAT3y8GGUi

— Baseball Quotes (@BaseballQuotes1) April 3, 2020