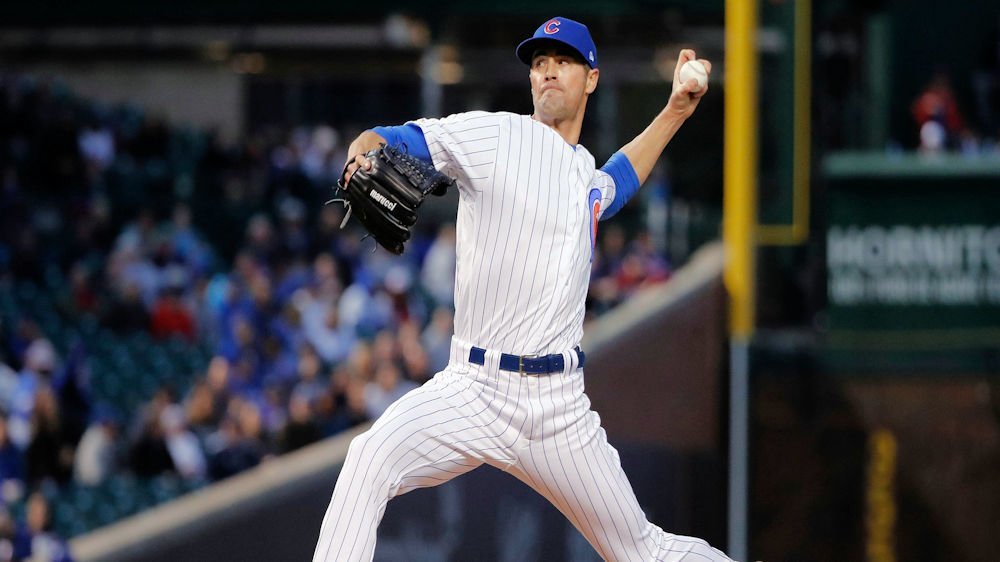 | | |
| --- | --- |
| Cubs News and Notes: No Cubs offer for Hamels, Roster moves, MLB Hot Stove is blazing | |
---
| | | |
| --- | --- | --- |
| Monday, November 4, 2019, 8:17 PM | | |
CUBS NEWS AND NOTES
Hamels gets no offer: Cole Hamels was eligible to receive a qualifying offer from the Cubs, but he won't be getting one. I said in a recent article that this was a bit of a conundrum for Theo, as the QO had to be made for the Cubs to receive draft pick compensation, but if Hamels accepted (which he likely would do), the Cubs would have been on the hook for nearly $18M this year for him – something they simply can't afford. Fangraphs is predicting Hamels to earn a two-year/$28M deal, considerably less than the QO.
Graveman released: Much to my surprise, the cubs have announced that they will not be exercising their $5M club option on RHP Kendall Graveman. The 28-year-old righty was paid by the Cubs to rehab last season, after undergoing Tommy John surgery. Graveman was expected to compete with Alec Mills, Tyler Chatwood, and others for the #5 spot in the cubs' rotation.
While Graveman joins the free-agent poolnow, the possibility still exists that the Cubs try to re-sign him to a different type of contract. Chicago will be looking for depth behind its MLB rotation.

— Jordan Bastian (@MLBastian) November 4, 2019
Phelps released: The Cubs have also announced that they will not be picking up the $5M option on righty-reliever David Phelps, making him a free agent as well.
Phelps option was only $3M but increased to $5M once he hit 40 appearances. This was the last option decision the Cubs had to make.
Quick recap: Anthony Rizzo and Jose Quintana options were picked up, and the options belonging to Derek Holland, David Phelps, Kendall Graveman, and Tony Barnette were declined. Barnette will remain on the restricted list after leaving Iowa, following his temper tantrum over not being promoted.
Also this week: Kris Bryant's grievance hearing resumed. So will still be a bit before we get that decision.

— Jesse Rogers (@ESPNChiCubs) November 4, 2019
Cubs lose personnel: According to reports, perhaps having to do with Tim Buss (who recently left the Cubs to join Maddon and the Angels), assistant athletic trainer Matt Johnson, massage therapist Laura Paluch and yoga instructor Christine Schwan won't return for the 2020 season; Johnson had been with the Cubs since 2000. All three were a part of the Cubs' traveling party and played vital roles in the players' daily preparation. Stay tuned; more changes are coming soon.
Colin Rea: As expected, the cubs have RHP Colin Rea to the 40-man roster.
Webster out: The Cubs have outrighted Alan Webster to AAA Iowa. The 40-man now stands at 32.
3rd anniversary of a Cubbie Blue Chicago River. pic.twitter.com/uIbXZK1jn6

— Wrigley Aerials (@WrigleyAerials) November 4, 2019
Carl Edwards Jr.: Edwards kind of fell off the rails this year and things keep getting worse. After being outrighted, Edwards has now cleared waivers and accepted free agency.
Cubs' Birthdays: Celebrating yesterday were former Cubs John Grabow (41), Eric Karros (52), Ángel Salazar (58), and posthumously, Dick Selma (76), Carl Sawatski (92), Emil Kush (103), Tommy Leach (142), and Tom Hernon (153).
Baseball Quotes: "Baseball is littered with obstacles. You have to learn how to overcome them to be successful." -Dave Winfield
Sports should be about kids and their passion, not about parents and their goals. -Mike Matheny pic.twitter.com/Y31wLMLzGc

— Baseball Quotes (@BaseballQuotes1) November 2, 2019
MLB and the Hot Stove
NL Central Hot Stove:
Brewers: Rather than accepting an outright assignment, 1B/OF Tyler Austin has elected free agency. The Crew has also declined the $7.5M option on 1B/OF Eric Thames while picking up the option on catcher, Manny Pina. Milwaukee has also reinstated RHP Bobby Wahl and RHP Corey Knebel from the 60-Day IL.
Speculation is that the Brewers are shaving money in an attempt to land one of the big-name free agents (Hey, Theo… pay attention, please.) Rumor also has it that they'd bring back Thames if he agrees to less than the $7.5M that he should have made – sounds a little shady, but this is baseball…
Pirates: The Pirates have elected to exercise their $9M club option on righty, Chris Archer and Starling Marte (figure unknown). The Bucs have also outrighted James Marvel, Alex McRae, Yefry Ramirez, and Wei-Chung Wang.
Reds: Cincinnati has outrighted INF Christian Colón, INF/OF Derek Dietrich, RHP Keury Mella, RHP Jackson Stephens to Triple-A Louisville.
From the rest of MLB:
"Not my president:": Anthony Rendon, Javy Guerra, Joe Ross, Wander Suero, Wilmer Difo, Michael A. Taylor, Victor Robles, and Sean Doolittle are not on the official attendance list for today's ceremony at the White House.
Kurt Suzuki showed up…
Kurt Suzuki donned a MAGA hat on the Nats' visit to the White House. Trump gave him a hug.

— Jon Heyman (@JonHeyman) November 4, 2019
Oh well, at least there is this: Hot Stove is officially underway. (I know, it started the day the season ended, but when free agency starts, it's like the oven has finally reached temperature.)
Free agency officially begins in less than two and a half hours. @keithlaw ranked the top 50 free agents available. You should read it: https://t.co/5yTQK34BKw ($)

— Jeff Passan (@JeffPassan) November 4, 2019
Qualifying Offers: Only ten players received a $17.8M qualifying offer this year. Players issued the offer will have ten days to assess their options. Should a player reject the offer and fail to work out a deal with their existing team, he will enter the market carrying the requirement that a signing team sacrifices draft compensation.
Players receiving QO: 1B Jose Abreu (CWS), SP Madison Bumgarner (SFG), SP Gerrit Cole (HOU), 3B Josh Donaldson (Braves), SP Jake Odorizzi (MIN), OF Marcell Ozuna (STL), 3B Anthony Rendon (WSH), RP Will Smith (SFG), SP Stephen Strasburg (WSH) and SP Zack Wheeler (NYM).
Astros: The Astros announced today that they had selected the contract of lefty Kent Emanuel. That move will prevent him from reaching a minor-league free agency. The Houston organization also declined a $2.825M club option over righty Chris Devenski.
Blue Jays: Lefty Buddy Boshers has opted for free agency after clearing waivers. The Jays have also managed to acquire former Brewers' hurler, RHP Chase Anderson, in exchange for MiLB first baseman, Chad Spanberger.
Braves: Atlanta has reached a new deal with catcher, Tyler Flowers. This is weird: The Braves have agreed to re-sign Flowers after paying a $2MM buyout on his $6MM club option. Declining Flowers' option was a purely on-paper move, as he'll be brought back on a $4MM deal for the upcoming season. The Braves have also made a similarly structured deal to keep Nick Markakis for another year.
By declining the option on Markakis for $2M rather than trigger it at $6M, then paying him $4M for 2020 he still receives the $6M. The braves just move one-third the money to 2019.

— Jon Heyman (@JonHeyman) November 4, 2019
Atlanta has also declined the options on righty Julio Teheran and center fielder Billy Hamilton and has made a qualifying offer to third baseman Josh Donaldson.
Mets: New York says that it intends to make a qualifying offer ($17.8M) to RHP Zack Wheeler. Wheeler won't accept the offer, but NY made it so that they didn't lose a draft pick.
Royals: KC has reinstated catcher Salvador Pérez, 3B Kelvin Gutiérrez from 60-day IL; designate RHP Jacob Barnes for assignment.
Rockies: Colorado has reinstated INF Brendan Rodgers, RHPs Jon Gray, Scott Oberg from 60-day IL.
Red Sox: The big news for Boston fans is that JD Martinez will not opt-out of his remaining deal. By remaining with the Red Sox, Martinez can earn $62.5M over the next three years. He also has an opt-out clause after the 2020 season. Boston has also outrighted catcher Juan Centeno; he has elected free agency.
Indians: Cleveland has reinstated INF Christian Arroyo, OF Tyler Naquin, LHP Tyler Olson, RHPs Corey Kluber, Cody Anderson, AJ Cole, Danny Salazar from 60-day IL; and has outrighted Anderson, Cole, Olson, Salazar.
Twins To Issue Qualifying Offer To Jake Odorizzi https://t.co/WNSGHTl9LP pic.twitter.com/9NVOXklJ2T

— MLB Trade Rumors (@mlbtraderumors) November 4, 2019
A's: Oakland has claimed lefty TJ McFarland off of waivers from Arizona.
Angels: The Halos have declined the option on OF Kole Calhoun.
Yankees: As the clock winds down, it appears as though the Yanks are going to withhold a qualifying offer for Didi Gregorious.
Phillies Philadelphia declined club options over righty Jared Hughes, righty Pat Neshek, and lefty Jason Vargas. Also heading to the open market are five players who were were outrighted: infielder Phil Gosselin and righties Jerad Eickhoff, Mike Morin, Blake Parker, and Edubray Ramos.