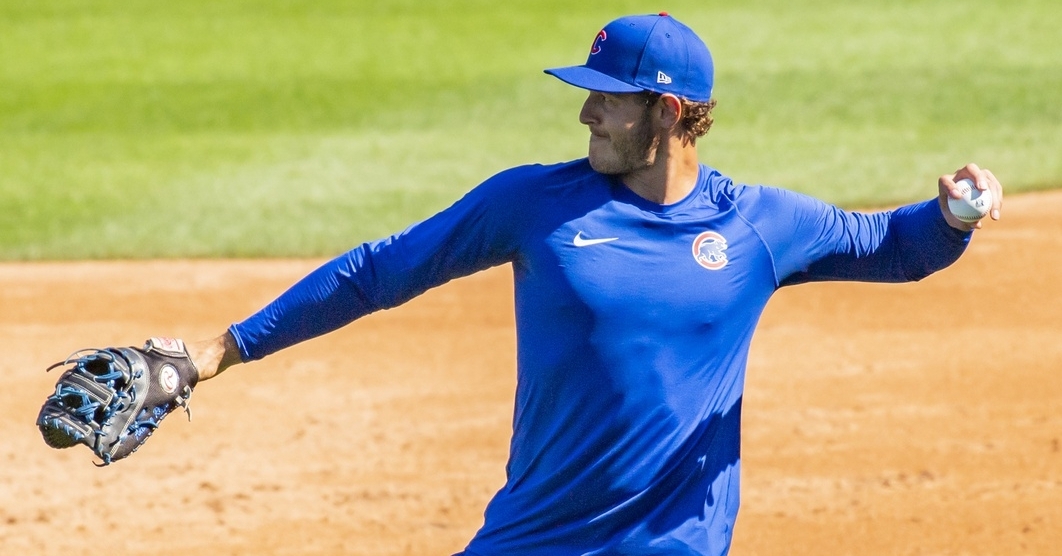 | | |
| --- | --- |
| Cubs News and Notes: Opening Day on ESPN, Rizzo sits, Cubs camp highlights, Virtual fans | |
---
| | | |
| --- | --- | --- |
| Wednesday, July 8, 2020, 6:11 PM | | |
CUBS NEWS AND NOTES
Next Game: It's been a while since I wrote the words "next game," in fact it's been way too long. The countdown is now on, however, as the Cubs will host White Sox for the first of their three preseason games on Sunday, July 19 at 7:05 PM. Just 11 more days! Following that, they'll see more exhibition matches as they visit the White Sox on 7/20 (7:10 PM) and will next host the Twins on 7/22 at 6:05 PM.
Opening Day: Brewers at Cubs: July 24, 2020 at 6:10 PM. Starter to be determined, although the smart money says that it'll be RHP Brandon Woodruff (11-3, 3.62 ERA, 143 Ks in 2019) vs RHP Yu Darvish (6-8, 3.98 ERA, 229 Ks in 2019). This game will be aired on ESPN.
According to a Press Release issued by ESPN, "ESPN's MLB season-opening slate continues on Friday, July 24, with an Opening Day presented by John Deere tripleheader.
At 4 p.m., the New York Mets and Jacob deGrom will host the Atlanta Braves and Ronald Acuña, Jr. At 7 p.m., the Chicago Cubs, led by new manager David Ross, will host the Milwaukee Brewers and Christian Yelich. At 10 p.m., the Los Angeles Angels and Mike Trout visit the Oakland Athletics and Matt Olson. (Select games on July 24 may be subject to local blackout restrictions.)"
Rizzo sits out: It's no secret that Anthony Rizzo has had ongoing back issues, causing the Cubs to be without his services at various times last season. Nagging back injuries never seem to go away, and this year is already no different for the unofficial Cubs' captain.
Yesterday, Rizz had to miss a scrimmage due to a flareup in his back. Wisely, the team elected to have him sit, rather than to try and have him work through the pain. Rizzo was set to be reevaluated sometime today.
This screen shot is from the very first time Tony Rizzo injured his back, Aug 26, 2014.@Cubs #GoCubsGo pic.twitter.com/1gZzLenGMK

— Billy Krumb (@ClubhouseCancer) July 8, 2020
The Cubs can't afford to be without Rizzo, his leadership, or his bat. Likewise, Rizz can't afford to be sitting during the regular season. Up for debate, is whether or not the Cubs will either (a) Dare to trade Rizz (this upcoming offseason), in order to possibly (b) Avoid having to pay the team's $16.5M option. Even beyond 2021 – should Rizz remain in Chicago – is the issue of what will be an extension deal.
Going back to 2013, Rizz allowed himself to be signed to an extremely team-friendly, 8 year/$60.5M deal. He's paid his dues and he hasn't complained, but he'll rightfully demand to be paid the equivalent of his first base counterparts throughout MLB. Rizz deserves his payday, but whether Tom Ricketts obliges is yet to be seen.
Scrimmage highlights: With or without Anthony Rizzo, the show must go on. The Cubs scrimmaged again yesterday, providing these highlights.
Hmmm… did you hear applause? That because the Cubs decided to pipe in the audio of fans cheering. I'm reading that a lot of Cubs have considered doing this, as it'll somehow help the players on a psychological level far too deep for me or most others to understand. If the Oakland A's pick up on this, their virtual fans (all cardboard cutouts) might actually turn out to look like a pretty good idea.
El Mago vs Willy: During Tuesday's scrimmage, Willson Contreras – Killer Will as my wife likes to call him – took Craig Kimbrel deep. The Cubs PA people were on it, "serenading" Contreras as he rounded the bases.
That ball is gone!

Willson hits one out & provides a glimpse of what home runs in 2020 sound like. pic.twitter.com/5iwzFP99y4

— Marquee Sports Network (@WatchMarquee) July 8, 2020
Not to be outshined, Javier Baez took his turn at sending one out – way out – during this morning's practice session. On the next offering, El Mago went deep again.
Javy Baez sends one clanking off the Nuveen sign behind the LF bleachers, and then sends next BP pitch to the basket in RF. pic.twitter.com/QAtdRW5xRG

— Jordan Bastian (@MLBastian) July 8, 2020
.
Lester took his turn on the mound, making Kyle Schwarber look bad…
#Cubs Jon Lester live BP against Kyle Schwarber pic.twitter.com/kPK1WI00OI

— Taylor McGregor (@Taylor_McGregor) July 8, 2020
Followed by a chance to face Kris Bryant, which didn't go quite as well…
Lester v. Bryant pic.twitter.com/tUaJX0rdJ2

— Jordan Bastian (@MLBastian) July 8, 2020
Stay tuned, more sights (and now sounds) coming from Wrigley in the days ahead.
COVID-less Cubs: The COVID-19 samples taken at Wrigley on Sunday revealed no positive tests for the Cubs players or coaching staff, according to GM Jed Hoyer. Hoyer went on to say that the team had tested everyone on Sunday and that they think they can now get into a "routine."
"Do I want to get a sheet back every single time with 80 negatives? Of course," he said. "I don't know if we can do that for the whole year. I don't know if that's realistic. But that has to be the goal for us and every team: Do everything you can to avoid an outbreak. Be as mindful of every situation as you can. Hopefully, we can continue that. But I don't think we're doing anything different than other teams. Everyone's working hard at this."
Knock on wood, but thus far, the Cubs are the ONLY team in the NL not to have a positive test, so long as you discount Tommy Hottovy's bout with the virus prior to the team's reporting back to camp on July 1st.
Cubs' Birthdays: Celebrating today, were ex-Cubs Jaime García (34), Bobby Ayala (51), Jerome Walton (55), Ken Patterson (56), Al Spangler (87), and posthumously, Charlie Gilbert (101), Harold "Rowdy" Elliott (130), and Herbert "Buttons" Briggs (145).
Baseball Quotes: "It's always sunny in Chicago, right? I'm very optimistic about it. I'm not here to make any bold predictions, except that every spring I go to camp, I expect to go to the playoffs. I do not like playoff baseball beginning and I'm in the backyard cooking steaks. I hate that. I want everybody else cooking steaks while we're playing baseball in October." – Joe Maddon
Playing baseball was my fantasy of what life offered. -Lou Brock pic.twitter.com/md51zf5dm0

— Baseball Quotes (@BaseballQuotes1) April 17, 2020

Tags: Chicago Sports Baseball
,
Yu Darvish
,
David Ross
,
Anthony Rizzo
,
Willson Contreras
,
Craig Kimbrel
,
Javy Baez
,
Kyle Schwarber
,
Jon Lester
,
Kris Bryant
,
Joe Maddon
,
Tommy Hottovy