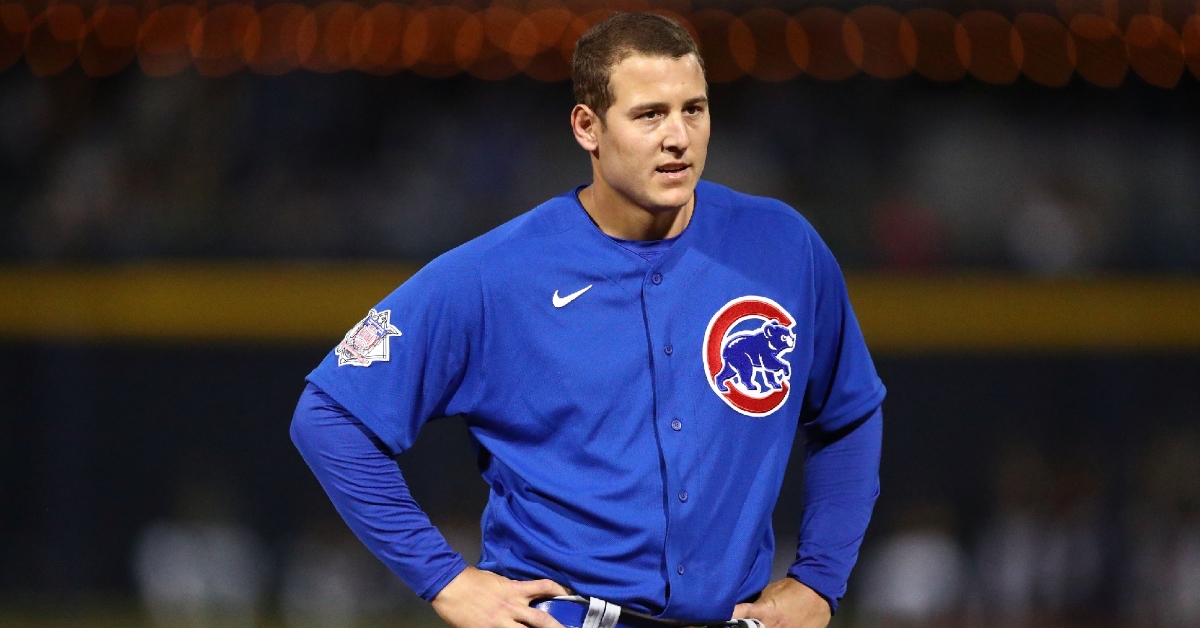 | | |
| --- | --- |
| Cubs News and Notes: Rizzo's message, Cubs option pitcher, No baseball in London, more | |
---
| | | |
| --- | --- | --- |
| Friday, March 27, 2020, 6:07 PM | | |
CUBS NEWS AND NOTES
Opening Day: Postponed.
Captain Rizzo: The Cubs' unofficial captain, Anthony Rizzo, has a message for the fans as COVID 19 continues to keep the country in limbo.
"It's just such a strange time. The more all of us can stay connected to others, the better we all are," Rizzo said in an interview with ESPN recently. "Whether you are a professional athlete or a fan, just trying to stay positive right now, it is so important to keep moving any way you can.
"My message and biggest piece of advice: Get into some sort of routine, daily, to get you through, so you're not just wasting away time. Somehow make the most of this forced downtime.
"We have to keep moving and keep people encouraged. "We just have to wait and stay healthy right now. I hope that for everyone."
Rizzo talking to ABC News: Rizzo talked to ABC News about delivering food to hospital workers during the pandemic.
"There's a lot of people in tough times right now, and we're just trying to help out any way we can," @ARizzo44, of the Chicago @Cubs, says about delivering food to hospital workers amid the novel coronavirus pandemic. https://t.co/6GtIoekOe1

"We're going to get through this." pic.twitter.com/7Pr9xWdHRQ

— ABC News Live (@ABCNewsLive) March 27, 2020
I don't know about you guys, but these days, about half the time, I have to think about what day it is. I'm fortunate enough to be able to work from home, but with my son out of school (until at least April 24th now), the day of the week is getting harder and harder to keep track of. I do know that today is Friday… well, at least I think it is…
Best-case would be late May start. Hope is still for about 140 games. Regular season would go into mid October. Changes to add games would include doubieheaders, fewer off days and expanded rosters.

— Jon Heyman (@JonHeyman) March 27, 2020
Cubs option reliever: Instead of an Opening Day game in Milwaukee last night, David Ross and the Cubs' front office made another cut from the spring roster. Reliever Dillon Maples was optioned to Triple-A Iowa, ending his bid to make the Opening Day roster.
MLB TR writes, "Despite great strikeout totals, the 27-year-old righty has gotten knocked around to the tune of an 8.06 ERA in 22 1/3 frames as a Cub since 2017. Walks have been a major problem for Maples, who has doled out almost 8.5 free passes per nine in the bigs. He wasn't much better in that department in Triple-A last year when he walked more than 7.5 hitters per nine.
Nevertheless, thanks in large part to a whopping 16.53 K/9 and a tremendous GB percentage of 62.1, Maples pitched to a respectable 3.77 ERA in 43 innings."
I haven't been all that impressed with Maples. The kid has good breaking stuff, but his control always seems to be an issue. I can't see the Cubs hanging onto him much longer, as at age 27, he should be in the majors on a full-time basis by now. If I were to guess, they'd give him this year (whenever it starts), but if he doesn't show improvement, I wouldn't be surprised to see him either demoted or traded.
The Cubs still have a bunch of cuts to make, leaving hopeful players waiting to see their decision.
I've yet to make an opening day roster, it's the next goal I aspire to achieve in my career and I look forward to the day I can say I did just that. For now that dream is on hold, and my thoughts are with everyone being affected by this pandemic. #OpeningDayAtHome

— Casey Sadler (@sadler_squared) March 27, 2020
No baseball abroad: According to reports, the Cubs/Cards series that was supposed to be played in London this summer has been canceled due to the coronavirus outbreak. No official announcement has been made, but it stands to reason that even beyond the outbreak and contamination concerns, MLB would probably like to keep the abbreviated season on this side of the pond.
2016 World Series: How many of you got to catch the replay of the 2016 Word Series (Game-7) last night? I recorded it and didn't get to start watching until 10:00 PM last night, but it was so worth it.
That game already seems so historical, that it's hard to believe it's only been a little over four years. Then again, I don't even know what day it is… Javy Baez, Kyle Schwarber and even Jon Lester looked so young, making me feel even that much older.
People forget that @kschwarb12 slashed .412/.500/.471 in the 2016 World Series after missing the entire season due to injury. pic.twitter.com/qhA2Y9qmH5

— Chicago Cubs (@Cubs) March 27, 2020
Obviously, I knew the outcome, but even that didn't stop me from getting mad at Maddon for pulling Hendricks so early. I'd forgotten how bad Lester looked, as he came in with two out in the fifth and runners on base. I don't recall ever seeing the ball that Lester spiked that bounced up and hit David Ross in the head. I certainly would have remembered Rossy stumbling and falling to a knee, before fielding the wild pitch that needed the Indians a run.
I remember the homers by Javy, Rossy and Dexter Fowler, but I managed to relive every one of them like the game was happening in the here and now. So strange to see Fowler, Jake Arietta and Aroldis Chapman wearing Cubbie blue again, even if it was just a trip down memory lane.
Jake needs a place to hang. Something to do for tomorrow #StayAtHome pic.twitter.com/QdciwppHvb

— MBDChicago (@MBDChicago) March 27, 2020
So many of the players from that 2016 team are gone. Guys like Carl Edwards Jr. and Mike Montgomery played pivotal roles in that game (one good, one bad), but just three seasons later, they were moved off to other cities.
A scoreless outing in the World Series from Mike Montgomery. pic.twitter.com/PsWnWjaj9D

— Marquee Sports Network (@WatchMarquee) March 27, 2020
Times change, but we'll always have November 2nd, 2016.
Happy Thoughts. pic.twitter.com/lTca1giDJ3

— Wrigley Aerials (@WrigleyAerials) March 27, 2020
Baseball Quotes: "There are three types of baseball players: those who make it happen, those who watch it happen, and those who wonder what happened." - Tommy Lasorda
Opening Day, West Side Park, Chicago, 1908. The @Cubs would go on to win the World Series that year. Opening Day, 1908. #Cubs vs. #Reds pic.twitter.com/cXoKjkm7vy

— MLBcathedrals ?? (@MLBcathedrals) March 26, 2020

Tags: Chicago Sports Baseball
,
Anthony Rizzo
,
David Ross
,
Dillon Maples
,
Casey Sadler
,
Javy Baez
,
Kyle Schwarber
,
Jon Lester
,
Dexter Fowler
,
Aroldis Chapman
,
Mike Montgomery