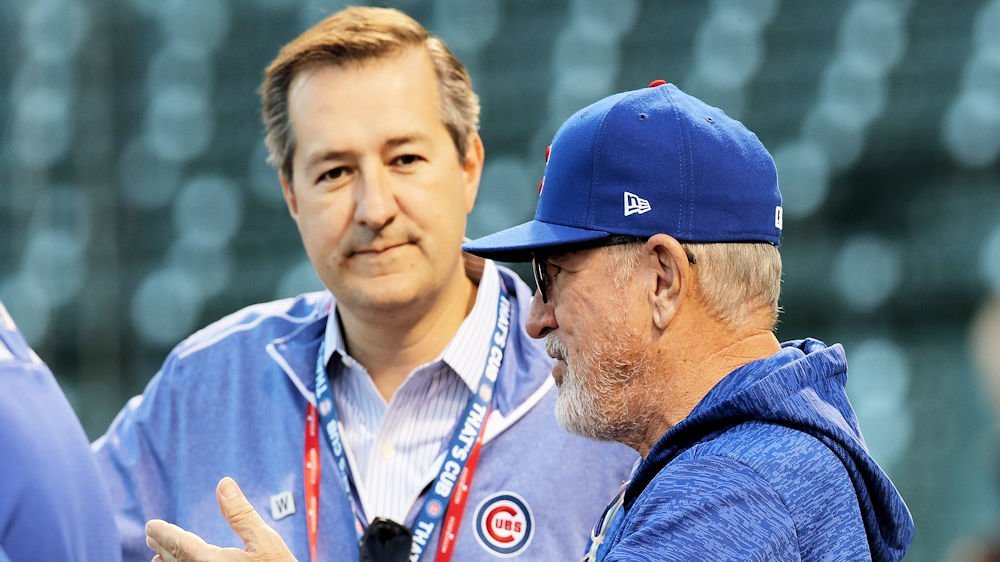 | | |
| --- | --- |
| Cubs News and Notes: Tom Ricketts on team salary, Starling Marte, Nats win, Hot Stove | |
---
World Results
Congratulations to the Washington Nationals, your 2019 World Series Champions
GAME-7: Nationals-6; Astros-2 (W-Scherzer; L-Harris)
Last night it was winner take all, and both teams set out to do just that. Unfortunately, only one could emerge as the 2019 World Series Champion. Mad-Max Scherzer would only last five innings in the finale, while his counterpart, Zack Greinke would make it through 6.1 frames.
This is going to surprise many of you, but...my favorite Game 7 in sports history is actually when the Cubs beat the Indians to win the 2016 World Series, overcoming a 3-1 deficit.

— Corey Freedman (@CFCubsRelated) October 30, 2019
The Astros would grab a 1-0 lead in the second, then ride quietly behind Greinke's one-hitter until the fifth, when Houston added an insurance run. Washington had come to far this season to go out like that, and in the seventh inning, a sleepy offense sprang into action.
Collecting home runs from both Anthony Rendon and Howie Kendrick, the Nationals overcame the deficit, putting themselves up 3-2 in the top of the seventh. The Nationals pitching (Corbin) would hold in the seventh, allowing Juan Soto the opportunity to add an insurance run in the eighth, when his single scored Eaton.
Tack on another pair in the ninth, and you have yourselves a World Series win. Congratulations to Davey Martinez and his Nationals; you've earned this. Thanks to both the Nationals and Astros for a very enjoyable and memorable World Series.
"You guys cured my heart ... tonight I'll celebrate with my boys, because WE are the World Champions!" -Davey Martinez
"You guys cured my heart ... tonight I'll celebrate with my boys, because WE are the World Champions!"

Davey Martinez delivers a heartfelt celebration speech. pic.twitter.com/7glSRka9u0

— MLB (@MLB) October 31, 2019
The best possible thing in baseball is winning The World Series. The second best thing is losing The World Series. -Tommy Lasorda pic.twitter.com/oGZpeveGk0

— Baseball Quotes (@BaseballQuotes1) October 30, 2019
World Series Recap
GAME-1: Nationals -5; Astros -4 (W-Scherzer; L- Cole);
GAME-2: Nationals -12; Astros -3 (W-Strasburg; L- Verlander);
GAME-3: Astros-4; Nationals-1 (W-Greinke; L- Sanchez)
GAME-4: Astros-8; Nationals-1 (W-Urquidy; L- Corbin)
GAME-5: Astros-7; Nationals-1 (W-Cole; L- Ross)
GAME-6: Nationals-7; Astros-2 (W-Strasburg; L-Verlander)
GAME-7: Nationals-6; Astros- 2 (W-Scherzer vs L-Harris)
At lunch today, sat next to a couple of Nationals fans and a couple of Astros fans. They spent the whole time talking about how much they like players on each others' teams, how much fun this season has been and how excited they are for tonight.

Sometimes, baseball is good.

— Jared Diamond (@jareddiamond) October 30, 2019
World Series MVP: Stephen Strasburg. Great run, Stras – 5-0 this postseason.
Just this once, there is crying in baseball pic.twitter.com/xjDf1SkdRI

— Baseball Quotes (@BaseballQuotes1) October 31, 2019
At no point during this World Series did the home team ever win a game, which constitutes a record for MLB, the NBA and NHL.
The average visitor's score was 7, while the home team averaged only two runs per game.
One final note: Baseball is now over for the next four months – and it only comes back then if you acknowledge spring training. Bring on the Hot Stove!
CUBS NEWS AND NOTES
Dear Theo: The World Series has now ended. I'm tired of seeing nothing on the Cubs' transaction page. Please fix this.
Ricketts on money and winning: Cubs' owner Tom Ricketts wasn't afraid to say (in not-so-many words), that he wasn't exactly happy about the dollars to wins ratio on the north side of Chicago: "It's not how much you spend. It's how much you win. The correlation isn't as strong between those two as much as we'd like it."
Starling Marte to the Cubs? Another site suggested that with the Pittsburgh Pirates in shambles, Starling Marte could be a potential trade target for the Cubs this winter. Ken's take: Not hardly.
Marte is undoubtedly a gifted player but the Cubs are probably not looking his way due to declining skill based on his age. Look at the injuries this season, then examine the corresponding ages of the owners of those injuries. Marte is only 31, but in baseball, that's almost as bad as dog years. Either get your meat hooks into Mookie Betts or get busy re-signing Nicholas Castellanos.
The Cubs middle infield: As I see it Chicago has three choices for a middle infield in 2020: (1) Keep Nico Hoerner up north and use him and Javier Baez up the middle;
(2) Send Nico back down, leave Javy at short and sign (or trade for) a second baseman. If the Cubs want to stay at or under the age-30 mark, the free-agent pool is limited to Starlin Castro (sounds familiar), Wilmer Flores, Scooter Gennett, Brad Miller, Chris Owings, Hernan Perez, Jonathan Schoop or Jace Peterson;
(3) Scoot Javy back to second and grab a new shortstop. Again, staying at or beneath the 30-year mark, choice numbers 1-12 would be trade for Francisco Lindor, followed by Freddy Galvis, Didi Gregorius, Jose Iglesias or Hernan Perez. Personally, I'm all for choice 3… and 5… and 9… and…
Cubs' Birthdays: Celebrating yesterday, were ex-Cubs Roe Skidmore (74) and posthumously, John Burrows (106), Roy Joiner (113), Elwood "Kettle" Wirts (122), Charlie Deal (128), Rudy Sommers (150), and Tom Nagle (154).
Baseball Quotes: "There's nothing better than a team that comes out of nowhere and finds themselves in the World Series." -Tom Glavine
Funny, I don't remember ever seeing this, but boy, did Francisco Cervelli steal this call. Watch closely.
Francisco Cervelli frames a pitch that he misses, then asked the umpire for a new ball after getting the call ???? pic.twitter.com/9qGGCRjE1U

— Baseball Quotes (@BaseballQuotes1) October 29, 2019
MLB and the Hot Stove
Condolences: The Seattle Mariners have announced that broadcaster, Ron Fairly has passed away; he was 81
Yankees: In addition to interviewing Michigan pitching coach Chris Fetter on Tuesday, the Yanks also interviewed Arkansas Razorbacks pitching coach, Matt Hobbs yesterday.
Giants: SF has claimed LHP Tyler Anderson off waivers from Colorado.
Giants Designate Kyle Barraclough https://t.co/Be6d7F7kPP pic.twitter.com/c7l04wub3P

— MLB Trade Rumors (@mlbtraderumors) October 30, 2019
.@Rockies outright RHP Tim Melville to Triple-A Albuquerque; RHP Chad Bettis clears waivers, elects free agency.

— MLBRosterMoves (@MLBRosterMoves) October 30, 2019
Escobar to Japan: Former major league shortstop Alcides Escobar has signed with the Yakult Swallows of the Nippon Professional Baseball league.
Phillies: Looks like former Reds' manager, Bryan Price, is about to become the Phillies, next pitching coach.
Orioles: Baltimore has claimed infielder, Pat Valaika off waivers from the Rockies. In turn, Baltimore has outrighted RHP Ryan Eades, RHP Luis Ortiz, LHP Josh Rogers, RHP Tayler Scott to Triple-A Norfolk.