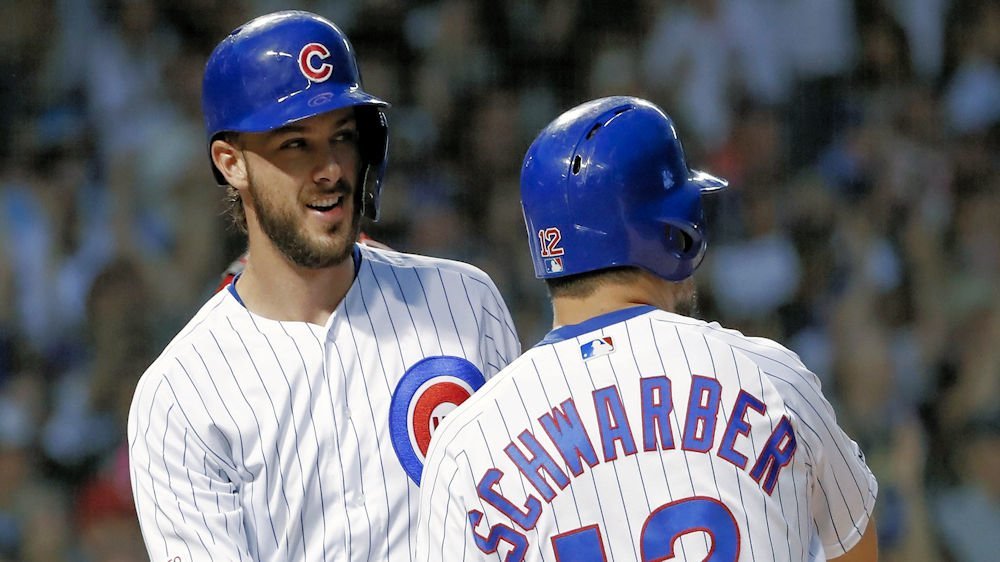 | | |
| --- | --- |
| Cubs News and Notes: Trade rumors, Darwin Barney, Cubs video, Hot Stove, more | |
---
| | | |
| --- | --- | --- |
| Friday, January 3, 2020, 8:38 AM | | |
CUBS NEWS AND NOTES
Next Game: Next Game: 50 days – Saturday, February 22, 2020: Athletics vs Cubs (Sloan Park)
Opening Day: 85 days – Thursday, March 26, 2020: Cubs vs Brewers (Miller Park)
Trade time: An MLB Trade Rumors' poll asked two questions. (1) Will the Cubs trade a major player this winter and (2)who will it be? While the fans certainly don't dictate when, if or who the Cubs will trade, the consensus says that it'll happen,
Of the over 14,000 votes, a resounding 68.83% agree that a big trade is on the way, with 57.34% agreeing that Kris Bryant will be the one who gets moved. Second place belonged to Kyle Schwarber (16.93%), with Willson Contreras placing third (11.82%). Anthony Rizzo managed to get 2.58% of the vote, with Yu Darvish placing fifth with 2.08%.
Whatever the move will be, it most likely won't come for a while yet. The smart money says that KB will be the one who's dealt, with the possibility of Contreras or even Rizzo getting moved ONLY if the Cubs can't move Bryant. With any luck, a decision on Bryant's grievance will come sometime in the next three weeks, lending clarity to the rest of the offseason for Theo and Company. In the meantime, all we can do is wait (some more).
I know it's still early..... but
2020 seems a lot like 2019.

— Tim Dillard (@DimTillard) January 1, 2020
Marcel Ozuna: Why is Ozuna in the "Cubs News" section? Simple: Ozuna is to Nicholas Castellanos, what Josh Donaldson is to Kris Bryant. Once Ozuna gets signed, there's little doubt that Castellanos will quickly follow, and now the reds, Cards and Rangers are all being reported as the frontrunners for Ozuna.
Texas is also reportedly a frontrunner for Castellanos, so if Theo is going to re-sign Nick, he'd better find some money. I remain confident that the Cubs will find a way, but Castellanos won't (and shouldn't) wait forever.
Josh Donaldson: JD now has a minimum of four, four-year offers on the table, reportedly including a $100M bid from Atlanta. Bryant's grievance – which is now almost four years and a month old (December 7, 2015) – should be settled in the next couple of weeks, so it would sure be nice if Donaldson would take somebody's money and run.
#Nats pursuing trade options in case Josh Donaldson signs elsewhere, but sources say they've been reluctant to make Victor Robles available in discussions with #Rockies on Arenado and #Cubs on Bryant. @MLBNetwork @MLB

— Jon Morosi (@jonmorosi) January 2, 2020
Then, there's this…
Sources: Nolan Arenado has roughly a 50/50 chance of being traded, with a half-dozen teams having checked in, as I just reported on @MLBNetwork. The #Dodgers are *not* the most likely destination, as #Rockies prefer not to trade Arenado in the division. @MLB

— Jon Morosi (@jonmorosi) January 2, 2020
Nico Hoerner: Congratulations to Nico Hoerner are in order. After making his Cubs' debut last fall, Hoerner returned to Stanford this winter and completed his degree in American Studies.
"My parents sacrificed a lot for me to get a good education. Finishing it for them was a good part of it." -Nico Hoerner
Too many young athletes forego completing their educations in order to play professional sports, often times winding up bankrupt after an injury or failed professional sports career. Nico deserves all the credit in the world for having his priorities straight in this screwed up world.
Darwin Barney: Former Cubs' infielder Darwin Barney, has been named manager of the Rangers' Triple-A affiliate in Nashville.
New Videos: The Cubs have released a new video for their YouTube channel, highlighting the best pickoffs from 2019. These are beautiful and Kyle Hendricks and Jose Quintana own a bunch of them.
Cubs' Birthdays: Celebrating yesterday, were ex-Cubs Roberto Rivera (51) and posthumously, Randy Bobb (72), Ethan Allen (116), Teddy Kearns (120), Laurence "Hack" Miller (126), Tom Downey (136), Virgil "Ned" Garvin (146), and Hugh Nicol (162).
11 years ago today: the Winter Classic at Wrigley Field: #Blackhawks pic.twitter.com/qMA5yFNh3M

— Christopher Kamka (@ckamka) January 1, 2020
Condolences: Former Cubs Don Larsen has passed away; he was 90.
We are deeply saddened to learn of the passing of Don Larsen, who remained a welcome & familiar face at our annual Old-Timers' Day celebrations. The Yankees organization extends its deepest condolences to Don's family and friends during this difficult time. He will be missed. pic.twitter.com/OgOdofzSTS

— New York Yankees (@Yankees) January 2, 2020
Baseball Quotes: "The biggest thrill a ballplayer can have is when your son takes after you. That happened when my Bobby was in his championship Little League game. He struck out three times & made an error that lost the game. Parents swearing at us as we drove off. Gosh, I was proud." -Bob Uecker
I knew when my career was over. In 1965 my baseball card came out with no picture. -Bob Uecker pic.twitter.com/0xo8V4mO2D

— Baseball Quotes (@BaseballQuotes1) December 22, 2019
MLB and the Hot Stove
The biggest trades of the past decade: https://t.co/x92z0Gvq2c pic.twitter.com/70mvmgtNjE

— MLB Trade Rumors (@mlbtraderumors) January 2, 2020
Twins: Just a day after it was announced that the Twins had signed former Dodger Rich Hill, news surfaced that both Hill and his wife were arrested at Gillette Stadium, just prior to the Patriots/Bills game on December 23rd. Hills wife allegedly attempted several times to get an oversized bag past security, going from gate to gate, each time she was turned away. Security finally told her to leave the premises, at which time Hill intervened.
Before it was over, Hill's wife arrested and charged with trespassing and disorderly conduct, while Hill was charged with disorderly conduct and resisting arrest. The couple was arraigned Monday, with the charges downgraded to civil infractions by Norfolk County Dist. Atty. Michael Morrissey's office. Hill's felony charge of resisting arrest was dropped by Morrissey's office in the "interests of justice," an office spokesperson said
JUST IN - An attorney for former Red Sox pitcher Rich Hill & his wife has released a statement regarding their arrests this weekend at Gillette Stadium. @boston25 pic.twitter.com/1nCX5wNxon

— Kirsten Glavin (@kirstenglavin) December 23, 2019
Rockies: In what's being dubbed as "buyer's remorse," Colorado is reportedly interested in shopping three relievers: Jake McGee, Bryan Shaw and former Cub, Wade Davis.
Yankees: Yank's righty Domingo German has been suspended 81 games following an investigation into allegations of domestic violence. German had been placed on administrative leave back in September after MLB was notified that he'd been in an altercation with his significant other.
Yankees starter Domingo German will miss the first 63 games of the 2020 season as part of his suspension for a domestic incident last year, a source confirms to ESPN. On top of the 18 games served, it's one of the most significant suspensions for domestic violence MLB has levied.

— Jeff Passan (@JeffPassan) January 2, 2020
Robinson Chirinos: Reports say that former Astros' backstop, Robinson Chirinos is nearing his decision on where to sign.
Red Sox: While we wait for Chirinos' decision you can scratch another catcher from the board. Boston has signed Kevin Plawecki to a major league contract.
Control freaks: The White Sox look to be in a lot better shape than the Cubs, with regard to controlling players.
The White Sox control players through the following years:

Luis Robert: 2027
Eloy Jimenez: 2026
Dylan Cease: 2025
Tim Anderson: 2024
Michael Kopech: 2024
Lucas Giolito: 2023
Yoan Moncada: 2023
Yasmani Grandal: 2023
Dallas Keuchel: 2023

Madrigal, Vaughn, Dunning: at least 2026.

— Jeff Passan (@JeffPassan) January 2, 2020
Nationals: Washington has signed free agent reliever, Will Harris to a three-year/$24M deal.
Catcher Jason Castro and the Los Angeles Angels are in agreement on a one-year, $6.85M deal, pending physical, sources tell ESPN. Castro rounds out an Angels lineup that added Anthony Rendon and should have top outfield prospect Jo Adell in the big leagues early this season.

— Jeff Passan (@JeffPassan) January 3, 2020