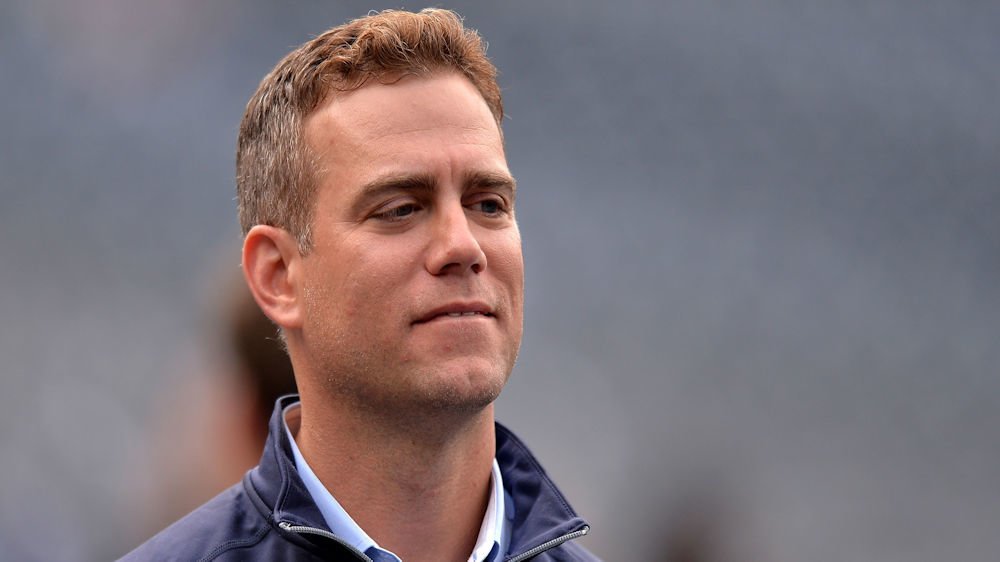 | | |
| --- | --- |
| Cubs News and Notes: Trade rumors at Winter meetings, Maddon on Cubs, Hot Stove, more | |
---
| | | |
| --- | --- | --- |
| Tuesday, December 10, 2019, 6:48 PM | | |
CUBS NEWS AND NOTES
Theo Epstein: "Activity is picking up [at the Winter Meetings], but we're not close to anything."
That statement presumably refers to the trade market. However, the Cubs have also now been tied to a high-profile free agent.
Theo also addressed questions surrounding the Cubs' current financial situation, saying that the team will address those issues once they're done executing their plan. Theo did caution critics that the offseason is still in its early stages.
Theo on payroll scrutiny: pic.twitter.com/dVs140VqBc

— Mark Gonzales (@MDGonzales) December 10, 2019
Theo on trades: "There are a lot of promising leads out there."

— Jesse Rogers (@ESPNChiCubs) December 10, 2019
Dallas Kuechel: Despite a tight budget, the Cubs have now been reportedly connected to free agent, LHP Dallas Keuchel. Keuchel – like just about every other pitcher in MLB – had a bit of a down year in 2019, posting a 3.75 ERA in 19 starts for the Braves.
Throughout his career, Keuchel has offered solid pitching, but I still can't help but think that the Cubs are misdirecting their (limited) resources by looking at starters. Interestingly, Keuchel is another Boras Brat, which never seems to bode well for the Cubs when it comes to signing/retaining free agents, but I guess we'll see.
"We're fairly confident in what the outcome is going to be, but the timing is a bit frustrating. It would be nice to know. We're at the winter meetings, and there hasn't been a ruling. I understand these things take time. It's not going to be more than a couple weeks away, but it would be nice to have that final confirmation." -Theo Epstein on Kris Bryant's grievance
More Theo: "We're not gonna force anything. We're not gonna make change just for change's sake."

— Tony Andracki (@TonyAndracki23) December 10, 2019
KB Market: The one name that keeps surfacing as a possible trade partner for Kris Bryant is the Braves, though the Dodgers also factor in, should they not land Anthony Rendon. There's certainly nothing wrong with Justin Turner on the hot corner in LA, but acquiring Rendon or KB would mean that Davey Roberts would have to move him.
A new suitor has entered the sweepstakes though – the Washington Nationals. Most likely realizing that Rendon is now an unaffordable luxury, the Nats are going to do whatever it takes to keep a high profile third baseman on the diamond.
Cost overrun: According to Tom Ricketts (via Sports Business Journal ), the Wrigley renovations may have run slightly over budget… The Cubs' owner says, "We probably missed our budget by around 100%." And to think that I get mad at my wife for blowing our monthly budget…
Maddon weighs in: Joe Maddon says that it's "weird" to hear that Kris Bryant, Willson Contreras, or others may be dealt this winter, stating, "They're still going to get better."
When asked if he'd like to have either one on his roster in Anaheim, Maddon smiled, saying, "No comment. I like them both."
Joe also found a little time to slam David Kaplan:
Hey @thekapman,

Do you need some ice after that Joe Maddon burn? ?? pic.twitter.com/iIOa133W3Y

— Cubs Talk (@NBCSCubs) December 10, 2019
Contreras rumors: If the Cubs are going to deal Wilson Contreras, then the Padres may have an interest – they certainly have a need. The Friars have a great defensive catcher in Austin Hedges; however, Contreras's offense is exponentially superior.
Rosenthal on Bryant: "The Cubs are awaiting the signings of free-agent third basemen Anthony Rendon and Josh Donaldson, believing the losers of those sweepstakes will be prime targets for a Kris Bryant trade, sources said.
Bryant will require less of a financial commitment than Rendon or Donaldson — he is under control for two more seasons, one if he wins his service-time grievance, and MLBTradeRumors.com projects his 2020 salary in arbitration to be $18.5 million."
Zo to the Cubs? Neither the Cubs nor Ben Zobrist have ruled out a reunion for 2020, but Zo still doesn't even know if he's going to continue to play.
Willson Contreras: Good news for those who want to see Contreras stay in a Cubs' uniform – the Cubs' asking price is reportedly "absurdly high."
The Cubs aren't going to trade anyone from their core for pennies on the dollar, as evidenced by a recent report:https://t.co/gyQhbl8vna

— Cubs Talk (@NBCSCubs) December 10, 2019
Brandon Kintzler: If Theo doesn't snag Nicholas Castellanos up, he may want to seriously consider sitting down with Brandon Kintzler and his agent, Kevin Kohler. Kintzler put up record numbers in 2019, he wants to stay a Cub, and he's not asking for the moon or multiple years. Do. This. Theo.
Multiple teams calling on reliever Brandon Kintzler. Had a career-type year in 2018 as a middle/set-up man. Unclear if the Cubs are interested in a return engagement. Career low 1.018 WHIP last season. https://t.co/VgGE4jLPjH

— Jesse Rogers (@ESPNChiCubs) December 10, 2019
Cubs' Birthdays Celebrating today, were ex-Cubs Mel Rojas (53), Rick Wrona (56), Paul Assenmacher (59), Steve Renko (75), and posthumously, Ed Donnelly (87) and Jimmy Johnston (130).
MLB and the Hot Stove
NL Central News:
Brewers: Milwaukee is now reportedly showing interest in Didi Gregorius, with the Reds and Phillies also interested. The Crew managed to obtain middle-infielder Luis Urias last month but may now be looking at using Urias at second while playing Didi at short.
Reds: After shoring up the infield with the signing of Mike Moustakas, the Reds are looking for outfield help. The team is now reportedly pursuing Marcell Ozuna.
From the Rest of MLB:
Josh Donaldson: As the third base market develops, Josh Donaldson is reportedly looking for a four-year deal – something that he may be able to secure, due to a shortage of quality third baseman.
MLB Drug Testing: Per Ken Rosenthal, "As part of a new agreement on opioids being negotiated between Major League Baseball and the players' union, MLB will remove marijuana from the list of banned substances for minor leaguers, sources tell The Athletic. Major leaguers have not been subject to testing for marijuana."
Rangers: Texas has agreed to a two-year/$5.5M deal with lefty Joely Rodriguez.
Yankees: According to reports, the Yanks are now "actively" trying to trade lefty reliever, JA Happ.
MLB Draft: And you though St. Louis was boring?
BREAKING: The 2020 #MLBDraft is moving from New Jersey to Omaha. The draft will be held Wednesday, June 10 through Friday, June 12, the eve of the @NCAACWS

— Kendall Rogers (@KendallRogers) December 10, 2019
Red Sox: Trade fever is catching on; now the Red Sox are actively attempting to trade Jackie Bradley Jr.
Tigers: Detroit has been linked to backstop Jason castro.