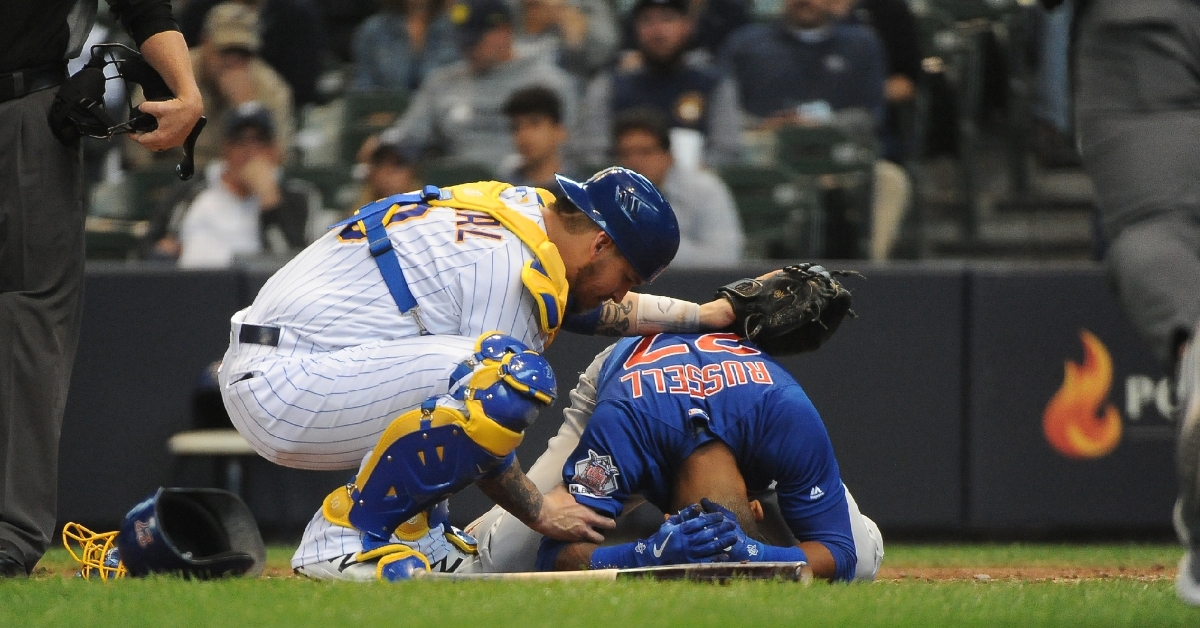 | | |
| --- | --- |
| Cubs News and Notes: Wounded Cubs, Russell hit in head, Danny Hultzen's MLB debut, more | |
---
| | | |
| --- | --- | --- |
| Monday, September 9, 2019, 8:57 AM | | |
Next Game: > Monday: Kyle Hendricks (9-9, 3.47 ERA) vs RHP Cal Quantrill (6-6, 4.57 ERA). Game information: 9:10 PM CDT; Televised on WGN.
Sunday's Game Recap:
After dropping a second-straight game to the Brewers on Saturday night, the Cubs looked to pull even in the series yesterday. Joe Maddon would make a late change in his scheduled starters on Saturday, removing Kyle Hendricks and then inserting Jon Lester. Big Jon would face Milwaukee righty, Adrian Hauser.
Lester would get himself in trouble from the first salvo, allowing a leadoff single to Cain, followed by back to walks to Grandal and Yelich. Braun would hit into a 6-4-3, but the Brewers would tally a tun in the process. Cubs down 1-0 after one.
The Cubs' half of the third got off to a rough start, as Addison Russell would take a 93.7 mph fastball to the head, though after nearly five minutes'
worth of evaluation, he remained in the game.
Hard to believe, but Russell would steal second on the first pitch after play resumed, then take third on David Bote's single to right, and subsequently score on an errant throw by Yelich.
Maddon said Russell stole second base on his own.

— Mark Gonzales (@MDGonzales) September 8, 2019
Next, back-to-back doubles by Lester and Ben Zobrist would put the Cubs up 3-1 in the third.
Three-run 3rd inning for the #Cubs!#EverybodyIn pic.twitter.com/p5WwHq3j2T

— Chicago Cubs (@Cubs) September 8, 2019
Russell would, however, be removed to start the fourth. There was no word as to whether this move was precautionary or due to an injury that was beginning to manifest itself.
Lester's outing would collapse in the fourth, as Jon gave up enough hits and runs to give the Brewers a 6-3 lead. This is not what the Cubs needed.
Maddon, apparently a glutton for punishment, would let Lester continue into the sixth. Jon would promptly give up a long ball to Thames, then allow one more before it was over for him, bringing the tally to 8-3 in favor of Milwaukee.
Danny Hultzen would make his MLB debut in the seventh and would hold the Crew at bay (more on that below), then Strop would shutout Milwaukee in the eighth.
The Cubs showed signs of life in the ninth, collecting a pair of runs on Jason Heyward's two-run bomb to center, but that's all the cubs would get. Final: Cubs-5; Milwaukee-8. With this win, Milwaukee wins the season series 10-9.
The Cards also won, meaning that the Cubs are now 4.5 games out of first, 3.0 games ahead of Milwaukee for third place and they remain 1.5 games ahead of Arizona for the second NL wildcard spot.
CUBS NEWS AND NOTES
Cubs/Padres Probable Pitchers: Tuesday: LHP Jose Quintana (13-8, 4.00 ERA) vs RHP Ronald Bolaños (0-1, 3.00) Game information: 9:10 PM CDT; Televised on NBC Sports Chicago+, MLB Network (out of market only). Wednesday: LHP Cole Hamels (7-6, 3.95 ERA) vs RHP Chris Paddack (8-7, 3.54 ERA). Game information: 9:10 PM CDT; Televised on ESPN, ABC-7, ESPN (out of market only). Thursday: RHP Yu Darvish (5-6, 4.12 ERA) vs RHP Dinelson Lamet (2-4, 3.95 ERA). Game information: 2:40 PM CDT; Televised on NBC Sports Chicago.
Russell injured: The Cubs' shortstop shortage almost went from bad to critical when Addison Russell took a 93.7 mph fastball to the head/face in the top of the third.
Addison Russell. Yikes. pic.twitter.com/OhV0kRo4aF

— Josh Tolentino (@JCTSports) September 8, 2019
As the pitch struck him, Yasmani Grandal immediately motioned to the Cubs' dugout, indicating that this may be bad. Russell, with tears streaming out of his eyes and blood running from his nose, was attended to by Cubs' trainer, Nick Frangella, as well as the Brewers' team doctor. After several minutes of observation, evaluation, and treatment, Russell would stay in the game. This incident was not, by any means, intentional on the part of Houser.
Cubs say Addison Russell sustained a nasal contusion (bruised nose) and he's under evaluation for concussion symptoms.

— Jordan Bastian (@MLBastian) September 8, 2019
Hultzen's MLB Debut: If there was son e bright spot in yesterday's loss to Milwaukee, it was Danny Hultzen, who made his major league debut after nearly a decade in the minors. Hultzen would start his career by allegedly hitting Yelich (looked like Yeli struck out if you ask me), and giving up a single to Gamel, but he'd fan the next three to escape the inning without harm. His fastball was cruising in the mid-90 mph range, while his slider was touching the low to mid 90's — good movement on everything, including the fastball. Congrats Danny. Welcome to the majors.
Career Ks No. 1, 2 and 3 for Danny Hultzen. pic.twitter.com/Nmczjo57MM

— Chicago Cubs (@Cubs) September 8, 2019
Lester plummeting: A horrific outing yesterday that saw Lester last just 5.1 innings while allowing 8 earned runs on seven hits (two homers) and three walks. About the only bright spot of the day was that Lester managed to rake seven strikeouts.
With that, Lester's ERA climbed to 4.45, making the Cubs' number-one starter, now number five in terms of the rotation's ERA. Currently, his rotation teammates' ERA are: Hendricks- 3.39; Hamels- 3.95; Quintana- 4.00; Tyler Chatwood- 4.02 and Darvish 4.12.
Is El Mago done for the year? Reports spilled out over social media on Sunday morning, stating that Javier Baez's thumb injury would take him out of action for the remainder of the season. As of yesterday morning, the Cubs still hadn't placed Baez on the IL, leading me to believe that this is speculation- especially considering that the Cubs stated on Saturday that Baez would see a hand specialist later today, at which time a timeline would be established.
Could he be done for the year? Absolutely, but I also believe that at some point between now and the end of 2019- no matter when that maybe- you're likely to see Javy emerge unexpectedly from the dugout with either a glove or a bat and do what he feels is necessary.
Maddon on Cubs' situation: "There's only one way to deal with moments like this, and that is in the moment. Anxiety lives in the future. You've got to stay right here, right now. Things can change just as quickly."
Russell on his throwing error: On Saturday night, Addison Russell committed a throwing error in the ninth, which would end up costing the Cubs the game. This was Russell's second such error in as many nights, and following Saturday's game, Russell had this to say: " "Even though the ball is struck pretty well, I tried to take my time, and I just sailed it. I just sailed it. In that situation, you have to be on point, especially where we're at during the season, coming down to the wire. But it's good to have that happen. I hate that it has to happen that way, but moving forward for September, I think that's just gonna be more motivation to get better and work on some things."
Bryant sidelined again: Kris Bryant got hot for a while, but this nagging knee injury of his continues to hinder the Cubs. Bryant was sidelined again yesterday, but if his knee is impeding his offense that badly, it's probably for the best.
Maddon said Bryant's right knee is "still barking." Third baseman came into the manager's office after Saturday's game to let him know it was still an issue. Day to day.

— Jordan Bastian (@MLBastian) September 8, 2019
Since July 27 (36 games), Bryant has turned in an abysmal .216/.295/.366 slash line, with only five homers, and 13 RBI. His strikeout since then has soared to 29.5%, while his walk rate declined to only 8.7%. Adding to Bryant's issues may have been the foul ball that he hit off his right knee on Saturday.
Maddon noted that there was a foul ball Saturday night after which Bryant struggled to maintain his balance. In the 8th on Saturday, Bryant actually fouled a Hader pitch off his leg near his right knee. pic.twitter.com/FARVeke1zg

— Jordan Bastian (@MLBastian) September 8, 2019
Joe Maddon: Before the start of this month, Maddon remarked, "September creates its own energy." When asked yesterday if this was still the case, the cubs' manager replied, "It needs to. Please, Mr. September, bring it on. We're ready for your energy." Almost sounds like some bizarre, hippy chant…
Baseball-Reference: I use BR regularly- they're great for up-to-date stats and facts, but I stumbled upon something a little odd yesterday morning as I was researching for an upcoming article. Look at the line for Joe Maddon…
Does @baseball_ref lnow something that we don't? Shows Maddon's "end date" as Manager being yesterday... pic.twitter.com/GjL14SGWYX

— Ken Allison (@KenAllison18) September 8, 2019
Baseball Quotes: "It's hard to beat a person who never gives up." -Babe Ruth
The way I figured it, I was even with baseball and baseball with me. The game had done much for me, and I had done much for it. -Jackie Robinson pic.twitter.com/BhcNdIlJHk

— Baseball Quotes (@BaseballQuotes1) September 8, 2019
Cubs Birthdays: Celebrating yesterday, were ex-Cubs K.C. Wise (87), Johnny Schulte (123), and Al DeMaree (135). (all posthumously)
THIS WEEK'S NL CENTRAL SCHEDULE:
(Wins in green, losses in red)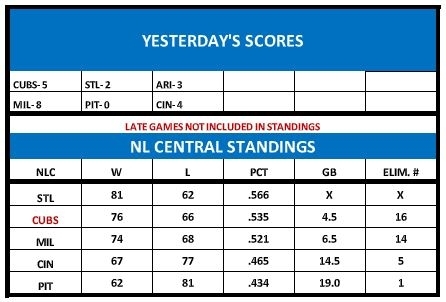 Tags: Chicago Sports Baseball
,
Kyle Hendricks
,
,
Addison Russell
,
David Bote
,
Ben Zobrist
,
Jason Heyward
,
Jose Quintana
,
Cole Hamels
,
Yu Darvish
,
Tyler Chatwood
,
,
,
Joe Maddon