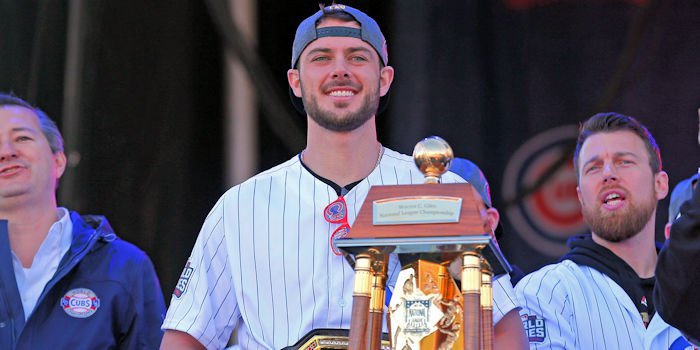 | | |
| --- | --- |
| Cubs Odds & Ends- Cubs may not spend, Kris Bryant's value, Mookie Betts, Cole's Faux Pas | |
---
Tom Ricketts on spending: Via an interview on 670 The Score, Tom Ricketts says, "The real key is you have to develop players. You can't really buy teams. You have to build them. I think everybody in baseball understands that. Our guys know that. We have to really just refocus on drafting well and then working out a lot of the newer analytics and newer strategies for developing players to get their maximum potential. That's really what our challenge is now looking forward."
Translation: No Gerrit Cole this winter, no Anthony Rendon this winter and no Mookie Betts, unless, of course, this involves Kris Bryant, a trade and some other financial wrangling.
Obviously, the top couple teams in the league [this year in terms of payroll didn't] make the playoffs. We spent more than every team that made the playoffs, and probably a couple of them combined. But even if you really thought that spending was the answer, the free-agent market is always fraught. I don't think anyone is any better than anyone else in the free-agent market. It's always a high-risk thing" – Tom Ricketts
I projected in my end of the year series that the Cubs would once again be strapped for cash, and fighting to get back under the salary cap won't help matters any. Chicago is already committed to $110 million for a handful of players, and once arbitration salaries and other payroll gets factored in, they're hovering around the $200M mark. That leaves Theo about $8M to work with (which isn't enough), and the only remedy is going to be sacking a bunch of players while trading one or two others.
Kris Bryant, Mookie Betts and rationale for trading
Cubs fans (and maybe even more than a few players) want to see Mookie Betts (among several others) in blue pinstripes next season, but I can't see a deal like that occurring unless an extension for Betts could be negotiated as part of the trade. Likewise, the Red Sox would be foolish to assume the liability of Kris Bryant, his MB grievance, and the uncertainty of when he'll actually gain free agency unless they could extend him ahead of a deal.
Betts would provide speed, a solid bat, and Gold Gove defense, but so would a handful of other guys who are eagerly awaiting assignments to their new teams.
Even without acquiring Betts, I still think KB has punched his own ticket for a trade this year. If the grievance isn't enough to make Tom, Theo, and Jed wince, Bryant's string of injuries should certainly pose a concern. Bryant is just 27 years old, yet he's previously dealt with knee issues, a shoulder problem, and has suffered at least one concussion. Cortisone shouldn't even be in KB's vocabulary, much less his body, and despite his age, KB has already racked up over $3M in pay ($3,149,982.00 to be exact) in salary during the periods when he couldn't play. While the concussion may have been an isolated incident, the knee issue has already become a nagging injury and could get worse with time.
KB will become a free agent at the end of 2021. However, if he miraculously wins his grievance, he'll be launched into free agency at the end of this year. The grievance alone has devalued Bryant, as the uncertainty of his status looms. Further complicating the issue is that the decision on his grievance will not be rendered for "several months," meaning that any team who takes him on in trade is buying into the unknown.
2019-2020 Offseason calendar:
Courtesy of MLB Trade Rumors, this is how this is all going to shake out this winter. I love this time of year (despite requiring blood pressure medication most days…).
Today: Eligible players officially file for major or minor-league free agency
November 4: End of "quiet period" during which teams have exclusive negotiating rights with their free agents. Deadline to issue qualifying offers ($17.8MM) to eligible free agents. Deadline to exercise or decline options and opt-outs (unless sooner by operation of a contract; Stephen Strasburg & Aroldis Chapman reportedly must decide by November 2).
November 11-14: General Manager Meetings (Scottsdale, AZ); General Manager Meetings in Scottsdale, AZ; Deadline for qualifying offer recipients to accept or reject (November 14).
November 20: Deadline for adding Rule 5-draft eligible players to the 40-man roster.
December 2: Non-tender deadline.
December 9-12: Winter Meetings (San Diego, CA); Rule-5 Draft (December 12).
January 10: Deadline to exchange arbitration filing figures if an agreement has yet to be reached.
February 3-21: Arbitration hearing period.
Mid-February: Spring Training starts.
March 26: Opening Day: 147 days; let's start counting down.
Gerrit Cole's (bad) judgment:
Directly following the conclusion of the World Series, media members raced to Gerrit Cole for comment. I refuse to believe that Cole had the audacity to tell the media that he was no longer an employee of the Houston Astros but could (technically) speak to the media as his own representative. What? OK, I guess Cole was technically right, but have a little couth; will ya?
Listen, Gerrit, on the field; you're everything right for baseball. You bring excitement to the game, and you'll undoubtedly be the highest-paid free agent pitcher ever – but how about showing a little class? The Houston Astros and your fellow teammates helped to make you what you've become, but wasn't it just a little too soon for a remark of that nature? I know losing the World Series may have stung (a lot), but you certainly could have said something to the effect of, "Hey, I'm not sure what my future holds, but I just want to take what may be my final moments as an Astro and thank AJ Hinch and my teammates for a great run."
I know that you're a part of the Boras Brat Pack, but try not to get so egocentric that you become the starting pitcher's version of Bryce Harper. Then again, not even Bryce pulled off a remark like that. You should have somehow looked across the stadium at Anthony Rendon – another product of The Boras Corporation – and one who'll also be getting an extremely large contract from someone this winter. Rendon is only 94 days older than you are, but he handled the situation in the opposing clubhouse with poise, gratitude, and graciousness. He helped to win a World Series for Washington, and even though he'll also soon be entering the bowels of free agency, he was certainly a member of the Nationals last night.
You may be worth north of $200M on the field, but in my mind, your stock crashed last night.
Gerrit Cole, now playing for Boras Corp., is about to make a Mystery Team very happy. pic.twitter.com/3s6SjpjMvz

— Marc Carig (@MarcCarig) October 31, 2019