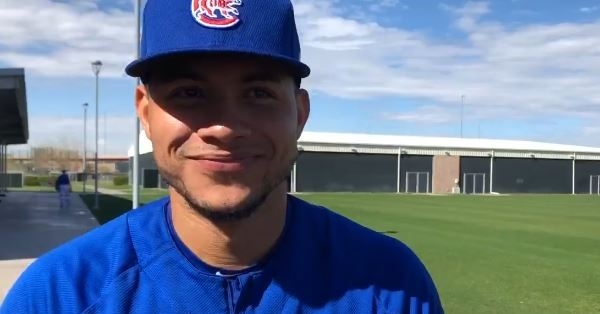 | | |
| --- | --- |
| Cubs Odds and Ends: Mother nature and Mesa, Marquee Network update, Rizzo trolling | |
---
| | | |
| --- | --- | --- |
| Friday, February 21, 2020, 12:07 PM | | |
Mother Nature has plans
Ugh. Just about the time that we were all on the edge of our seats anticipating the return of Cubs' baseball tomorrow, it looks like we may possibly have to wait a little longer.
Although the temperature will be a beautiful 65 degrees in Mesa, Arizona, the entire region is now under a flash-flood watch. According to the National Weather Service, "Rain totals approaching 1 inch, and rain over 1.5 inches [in some areas] ... Rain may be heavy at times and could lead to flash flooding of washes, creeks and other low elevation locations."
Well, best to get the rainouts out of the way now, I guess.
Not looking good for the Cubs' spring training opener tomorrow. pic.twitter.com/e9i6MQmpgB

— Ken Allison (@KenAllison18) February 21, 2020
If you're bored and eager for some baseball, there's some other preseason action today: All times Central
12:05 PM: Huskies vs Red Sox (JetBlue Park, Fort Myers, FL); 12:05 PM: Fire at Tigers (Publix Field at Joker Marchant Stadium, Ft. Myers, FL); 2:05 PM: Rangers at Royals (Surprise Stadium, Surprise, AZ); 5:05 PM: Golden Gophers at twin (CenturyLink Sports Complex (Ft. Myers, FL).
I'll be handling the game recaps for the Cubs Spring Training games again this year, then my buddy Cole Little will be back to handle the regular season recaps. Look for updates soon after the game ends. In addition to play-by-play type info, I'll also give you pertinent stats for the Cubs.
Marquee Network update
I finally found a viable number for Sinclair Broadcasting – the parent company for the Marquee Sports Network. If you're still wondering about coverage and carriers for Marquee, their number is 410-568-1500. Be prepared, they might give you the runaround.
I had to call several times this morning, as they were apparently having phone tree issues (just my luck). After finally being transferred successfully to an extension of a person who handles the Cubs' portion, I ended up with a message to leave a voicemail.
Two hours later, I was still awaiting that callback.
I'm not sure how this could have been fumbled this so badly. One would think that before they parted ways with WGN and NBC Sports Chicago, they would have deals carved in stone with Dish, DirecTV, YouTube TV, and other streaming services. Deals that should have been solidified by the time that they announced the network. The network is due to launch tomorrow, and I'll bet if I polled our readers, not many have access.
I encourage you to hammer Marquee with phone calls. Somebody has eventually got to get something done there, or the Cubs are going to lose a whole lot of viewers (and a ton of money). It's not uncommon for issues to exist with a new network, but this (at least in my humble opinion) has now transcended the boundaries of what's acceptable. Maybe a delay for viewers outside of Chicago is somewhat understandable, but for crying out loud, over half the city and suburbs are without coverage.
I have little doubt that the network will eventually get it figured out, but in the meantime, that does little good for viewers who are without. Making it especially bad, are all of the hype videos, articles, tweets and other social media posts that almost seem to be taunting and teasing those without access.
If this guy ever calls me back, I'll ask the questions that you've messaged me about, and I'll be happy to update you – that is if I actually get any answers.
Rizzo trolls the 'Stros
Well, you knew it wouldn't take long for Cubs' comedian Anthony Rizzo to get on the anti-Astros train. Rizz got some shots in, stating, "I think it's safe to say I won't lead the league in hit by pitches this year..." Rizz put that in an Instagram post, including three trash cans at the bottom.
The funny part is, he's probably not wrong. Baseball Commissioner Rob Manfred has already warned against retribution, but unless a hit by pitch is blatantly intentional, there's not much that can be done about it. For the record, Rizz got beaned a total of 27 times last year; the Astros (as a team) got nailed a total of 66 times in 2019.
Rizzo stands awfully close the plate, but I'm somehow certain that it won't really matter where Altuve and some others may stand. Even more than the amount of HBPs, I'm curious to see how many brawls Houston winds up in this year. You can almost rest assured that any HBP is going to result in a fight, especially if it comes from anything remotely close to being up-and-in.
Manfred refused to dish out punishments, but I have a feeling that they're coming. The Cubs play the AL East in interleague games this year, so they won't be seeing the Astros.