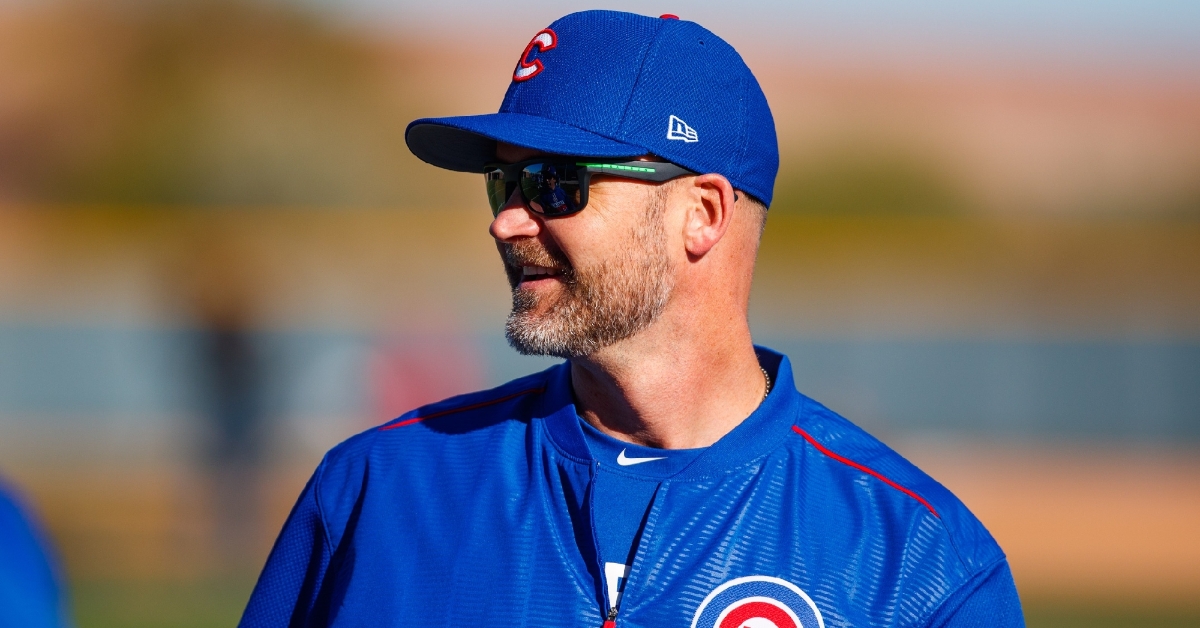 | | |
| --- | --- |
| Cubs Odds and Ends: Third base market, Elusive Free Agents, David Ross | |
---
| | | |
| --- | --- | --- |
| Tuesday, December 31, 2019, 8:30 AM | | |
As the winter grinds on, there seems to be never-ending twists and turns affecting the third base market and Kris Bryant's fate.
Just last week, the Braves were reportedly interested in orchestrating a trade with the Rockies for Nolan Arenado. Still, as of yesterday, the Braves were "unlikely to aggressively pursue" Arenado, according to MLB Network's Jon Morosi. Atlanta seems to be the most likely landing spot for Bryant, should Theo Epstein finagle a trade, but now, according to Morosi, if Josh Donaldson signs elsewhere, the Braves may once again pursue a deal for Arenado.
Further muddying the waters is the lack of a decision on Bryant's grievance. There's a ton of difference between a team having control for two years as opposed to one, and Theo is unlikely to find a buyer until this thing gets settled.
Interesting, although it would be nearly impossible to prove, I've had readers ask whether Scott Boras may have colluded with arbitrator Mark Irvings, to have the decision delayed. Boras seems to know everybody in baseball, so I suppose that theory is plausible, but it's highly unlikely. I'm quite sure Boras is overly happy with the delay, especially if Bryant wishes to remain in Chicago. Although certainly an inconvenience to Theo Epstein, the delay on Bryant's decision, coupled with Josh Donaldson's hesitancy to sign, is only delaying what I believe to be the inevitable.
Briefs from both sides in the Kris Bryant service-time grievance were due today. A decision will come in the new year. Unclear if it will be as soon as January — hundreds of pages need to be sorted through by arbitrator Mark Irvings.

— Evan Drellich (@EvanDrellich) December 21, 2019
I remain steadfast in my opinion that the Cubs can compete with their current roster, and I still think that they can do so, even if KB is dealt with. Adding some middle to upper-tier free agents (especially relievers) could bolster the team's chances, but as Tom Ricketts points out, the money that he's spent on high-dollar free agents hasn't exactly panned out.
As I wrote in Friday's column, there's plenty of talent out there via the trade sector, but Epstein is going to have deal smartly if he's going to plug the holes in the Cubs' roster.
Those elusive free agents
It was never any secret that the Cubs wouldn't be big players in the free-agent sweepstakes this winter, but 33 of the top-50 free agents have already signed, with six going to divisional opponents. Thus far, Milwaukee has been the big player in the NL Central (three), with Cincinnati, claiming another pair of them and the Cards snatching up one.
33 of MLB's Top 50 ranked Free Agents have been signed by MLB teams.

Where have they gone?

5, White Sox
4, Braves
3, Brewers
2, Yankees
2, Nationals
2, Angels
2, Twins
2, Phillies
2, Diamondbacks
2, Blue Jays
2, Reds
1, Cardinals
1, Tigers
1, Rangers
1, Red Sox
1, Mets

— Dan (@DanClarkSports) December 28, 2019
Theo still has time to iron out some trades, and despite the lack of free agents, I still believe they'll compete at a better level than they did last year.
Ross, complacency and accountability
Although David Ross has been nothing but complimentary of Joe Maddon, subtleties in his comments indicate that the 2020 Cubs will be operating on a completely different platform than the 2018-2019 Cubs.
It was a honor having the opportunity to play for Joe Maddon and winning a Championship with him during one of the greatest runs in the history of the Chicago Cubs. I learned a tremendous amount from him and wish him continued success in this game. pic.twitter.com/xr0OLFSTiZ

— David Ross (@D_Ross3) September 29, 2019
Ross has already stated that there won't be as much fun and games when Spring training rolls around, and he's seemingly committed to holding players accountable. How Ross will define accountability, and what he intends to do as far as punishing "violators" remains to be seen, but if it means benching an underperforming player – no matter who that player maybe – I'm all for it.
"If you're not practicing, somebody else is, somewhere, and he'll be ready to take your job." -Brooks Robinson
Robinson's words should be something that David Ross reflects on daily as he takes control of this team and attempts to resurrect it. Complacency has become commonplace with this group, and the sad truth is that it's been that way since the Cubs won the World Series.
In 2016, the Cubs went 103-58-1 for a winning percentage of .640. That number declined .563 in 2017 (92 wins), then after a short spike in 2018 (.583 winning percentage), plummeted to just .519 in 2019. Yes, players come and go each year, affecting the number of wins and losses, but Theo has – until perhaps now – elected to keep the core intact. The truth is, it's time for a change.
Nobody wants to see stars being benched, but the Cubs cannot sustain a winning season if players are underperforming. The team needs to be rejuvenated, and they need to find that hunger again, which is precisely why Epstein needs to re-sign Nicholas Castellanos and promote Nico Hoerner. Both of those guys bring a winning attitude and a desire not only to play, but to be competitive.
Too many players seemed to be phoning in their performances over the last couple of years, and unfortunately, Joe Maddon never put an end to it. Ironically, Maddon always seemed to focus more on his friendships with the players than actually managing them, while David Ross has had to endure countless questions about managing his friends.
Above anything else, I hate to lose. -Jackie Robinson pic.twitter.com/2e4E2WjNtG

— Baseball Quotes (@BaseballQuotes1) December 24, 2019
Sit back and watch; David Ross is going to be just fine.