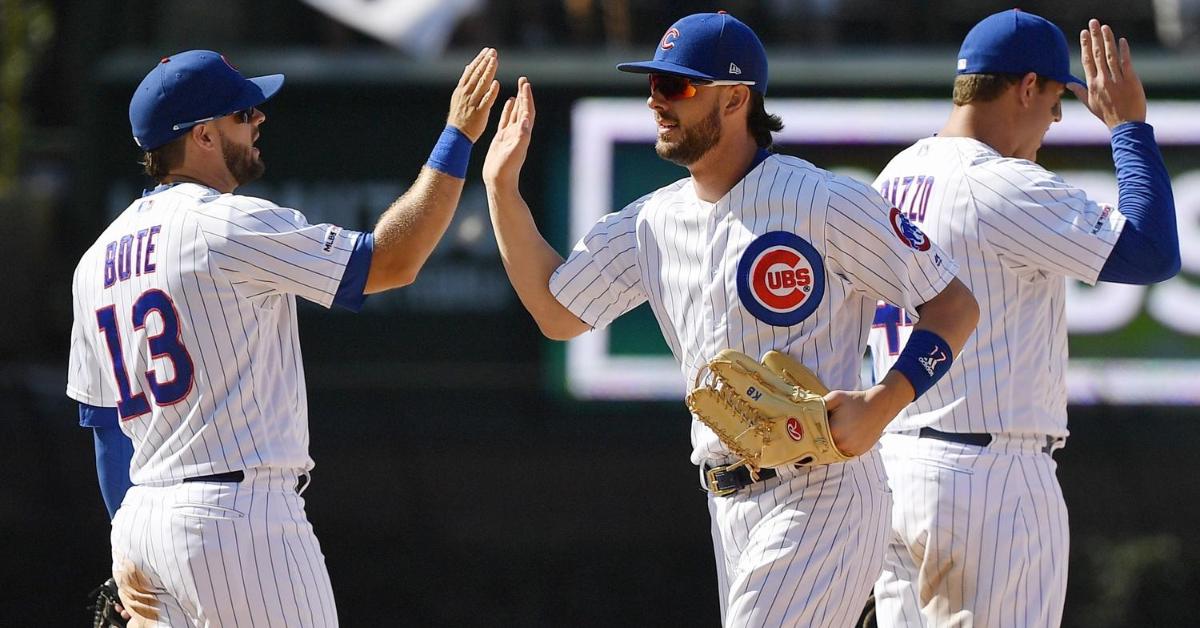 | | |
| --- | --- |
| Cubs Report Card 2020: Kris Bryant, other third basemen | |
---
| | | |
| --- | --- | --- |
| Sunday, October 11, 2020, 9:46 AM | | |
We continue to move across the infield with our season report cards as we reach third base. This is a position that the Cubs continue to hope for a lot of production. However, whether injuries or other factors, this is a position in question, perhaps more than ever.
They have players who they can count on, but at this point, how much longer can they depend on the production they are getting. Fans should keep an eye on this position all winter as one trade could drastically change the outlook of this team going forward.
Here are the season grades.
Kris Bryant: Ever since his MVP season in 2016, the Cubs have been waiting for Bryant to get back to that level. Unfortunately, whether through injuries or other stuff, he hasn't lived up to that type of performance since. We have seen signs of it in 2017 and 2019, but in 2018 he was riddled with shoulder injuries and this season never got going.
Entering the season, Bryant was chosen to be the leadoff hitter, given his high on-base skills. That seemed like a great thought on paper, but was it the best idea. Some players are not cut out to be a leadoff hitter, and Bryant is one of them. Not only did he struggle out of the gate, but his power ultimately was nonexistent all season. This was a classic case of Kyle Schwarber when he tried the leadoff role a few seasons ago.
Along with Bryant's struggles, he continued to battle through some nagging injuries, becoming a growing concern for the Cubs. A guy that is counted on to put up 30 plus homers and drive in 100 RBI's hasn't looked like that player for years, and fans are starting to wonder if he will ever become that player again.
Since arriving in the league in 2015, Bryant has never hit worse than .270 in any season. This year he saw his average plummet to .206 after sitting in the 180's much of the season. Along with that average, Bryant struggled to showcase his power-hitting just four homers and driving in 11 runs. Two of those homers came the final week of the season, but once again, not what the team is expecting out of him.
Bryant played in just 34 games this season, and if you take what he did and average that out through the entire season, he was still on a 20-homer pace. He was also on just a 60 RBI pace, which is not a good season for one of your big bobbers. Bryant is entering the final year of team control this offseason, and guys like Christopher Morel might have more roles with the ballclub sooner than later.
Kris Bryant on the 2020 Cubs: "I'm sad [to go home] because I had so much fun with these guys."

— Tony Andracki (@TonyAndracki23) October 2, 2020
Season Grade F: I don't know what has happened to Bryant the past four seasons, but it isn't a good trend. Granted, you can't blame him for injuries, but those injuries are becoming a concern when he is continuously getting hurt. The thing that is most concerning is his overall power. Yes, he hit 27 homers in 17 and 32 last season, but the power is not where it was three years ago.
I don't know the contributing factor, but the Cubs are not going to pay him 30 million a season if this is the production they get. If the Cubs and Bryant want to reach a deal, they need him to produce close to his MVP level again. Anything less will probably be the end of the road for him in Chicago. The question is now: Do the Cubs want to turn him over and get something in return or ride him out and risk losing him for nothing.
David Bote: Quickly becoming a fan favorite and a player known for dramatics, David Bote is an interesting player. For starters, he is a utility infielder who can play anywhere on the infield. Bote is good enough to play every day, but he is good enough to see plenty of action while bringing above-average defense with him.
While his defense continues to improve, his offense is still very inconsistent, although he is one of the team's best hitters with runners in scoring position or clutch situations. Bote has been a guy who has lived around .275 across his minor league career. However, since coming to the bigs, he has had a hard time hitting above .250.
One thing that has improved each season was his power-hitting six homers in 2018, followed by 11 homers last season. Despite a career-worst .200 average this season, Bote managed to connect seven homers and 29 RBIs across 45 games. Put that into perspective for an entire season, and you're looking at a player who easily would have set a career-high in RBIs and probably in homers also.
The thing that stands out with Bote this season is average aside the guy produced this year. His 29 RBIs led the team, which tells you how much that offense struggled. I like Bote, and he is an excellent fit for this team, but if he is your long-term option, then there is a problem.
David Bote takes the team RBI lead with a blast! pic.twitter.com/s9Lu8N0TJi

— Chicago Cubs (@Cubs) September 27, 2020
Season Grade C+: Bote didn't swing the bat well much of the season, but often came through with a big hit. It seemed like whenever the Cubs needed a run, Bote was there to help. His team lead in RBIs showed incredible production for a player not known as a high RBI guy.
A lot of that had to do with him seeing more everyday reps, but you would think his average would improve too. The fact that it dropped nearly 50 points is a big concern and something the Cubs need to look at long term. Bote is under contract for three more seasons at a very team-friendly cost. I don't think he will be an everyday player on this team. Maybe for one season, but not long term.