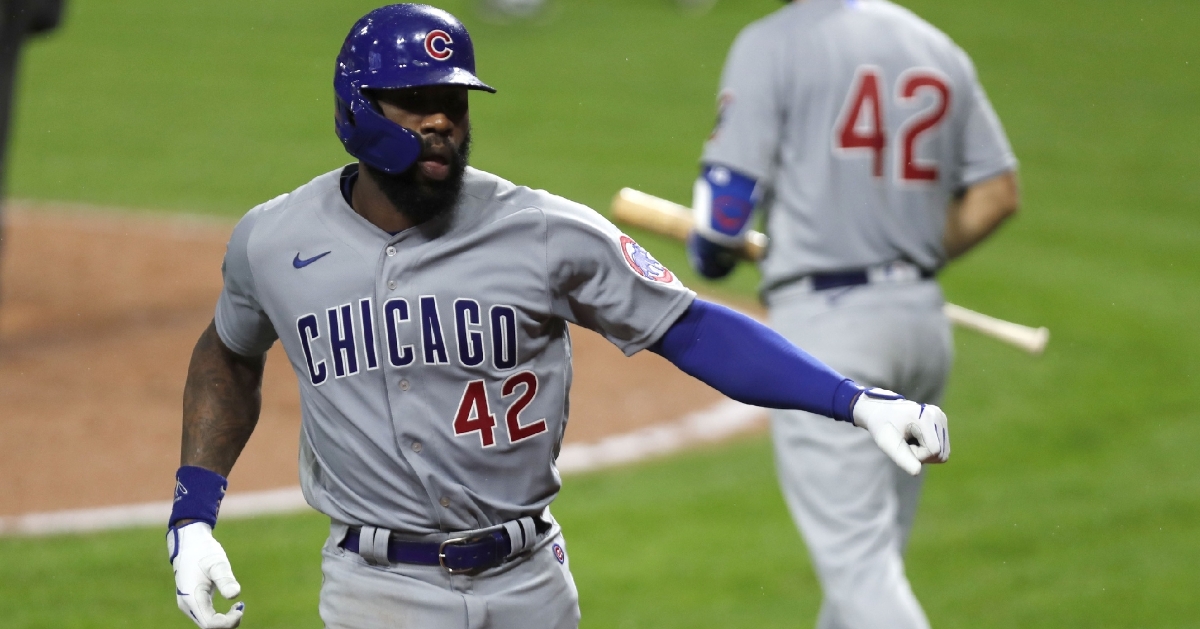 | | |
| --- | --- |
| Cubs Report Card 2020: Jason Heyward, other right fielders | |
---
| | | |
| --- | --- | --- |
| Thursday, October 15, 2020, 12:10 PM | | |
We have reached the final position in terms of our season report card series as the pitchers will take center stage tomorrow. Today, we focus on right field and what the season looked like from that side of the outfield. The Cubs have had one of the best defensive outfielders in Jason Heyward, patrolling right across the past five seasons. His defense has never been a question. However, his offense has not lived up to his massive contract, and most fans are growing accustomed with that.
Heyward has quietly gotten better each season he has been in Chicago, including his best season as a Cub in 2019. Before the end of this season, Heyward was not only on track for another solid season but was in line to have perhaps his best season in a Cubs uniform in 2020. Hopefully, that continues into next season.
Here are my grades for the right fielders.
Jason Heyward: When the Cubs signed Heyward to that huge free-agent contract in 2016, he was viewed as the missing and perhaps final piece for a Cubs team on the verge of World Series contention. Coming off what he did during his tenure in St. Louis and Atlanta prior to that, you can see why the Cubs wanted him so bad even if they had to overpay to get him.
As good as Heyward has been with the glove, and no one will question that, his bat has been very inconsistent, especially for a guy his size. Heyward is a 6-5 240-pound right fielder who you would think hits 30 homers like nothing. That is not the case. He only has two seasons of 20 plus homers with 21 last year and his career-high 27 in 2012. Heyward also has seen his average rise and fall like a roller coaster with a career-high .293 in 2015 and a career-low .227 in 2011. He hit .230 in his first season in Chicago.
Even though Heyward may frustrate fans at times, you expect what you get out of him at this point. Despite his size, Heyward is a line-drive hitter who likes to use the gaps and the opposite field a lot. He is a career .261 hitter but has topped that mark twice in the past three seasons, so maybe he is starting to figure things out offensively. In terms of power, many people expect more from Heyward, given his size and contract. That is a valid point, but at this point, fans should expect 15-18 homers annually as hitting for power isn't part of his game anymore.
Whatever thoughts Cubs fans have on Heyward, he is still one of the most beloved players on this team and is a great leader and teammate. I will admit I expected a little more offensively out of him, but I have come to terms that his 27 homers outburst with Atlanta will not be the norm. Even his 21-homer season was a bit of a surprise, but after seeing what he did this year, maybe another 20-homer season isn't out of the question.
Down 2-0 in the 9th with two on against Josh Hader who has allowed zero home runs this season and Jason Heyward says what's up. pic.twitter.com/cFK268bPSX

— Jared Carrabis (@Jared_Carrabis) September 13, 2020
Season Grade A: Of all the players on this year's team, Heyward was the group's most consistent hitter. Unlike everyone else, Heyward never went into a prolonged slump. There were times when he struggled at the plate, but it never seemed to last more than a few games instead of months for the rest of the players.
His .265 average led the team among qualified players while his six homers and 22 RBIs continued to display his recent power surge. Heyward was on pace for a 16 homer 70 RBI season, which is about what you can expect from him on an annual basis. In the past three seasons, Heyward is starting to be a much more consistent hitter. In terms of the Cubs and their contract with him, I guess better late than never.
Steve Souza Jr.: One of the more under the radar free agent signings by any team this season was the signing of Souza Jr to the Cubs on a one-year deal. The former Tampa Bay and Arizona outfielder has been bitten by the injury bug the past few seasons after a strong three year run with Tampa. During his time with the Rays, Souza averaged to play in 131 games a season, posting a .238 average and averaging 21 homers. 30 of those homers came in 2017, where he put together his best season as a pro.
Following that big offensive season, Souza signed with the Diamondbacks as he was hoping to continue his breakout play. He lasted just 72 games across two seasons as a series of severe leg injuries forced him to miss nearly all of 2018 and the entire 2019 season. The Cubs took a chance on him this season and signed him to a team-friendly one-year contract.
Coming into the season, Souza knew what his role on this team would be, and he embraced it. Nothing more than a fourth outfielder would get his fair shot against lefties with hopes that would earn him more playing time. Unfortunately, Souza was bitten by the injury bug again and played in just 11 games this year before the Cubs released him following a doubleheader.
Steve Souza threw a foul ball to the fans at Wrigley & they threw it back ?? pic.twitter.com/VI1fPsgWoC

— FOX Sports: MLB (@MLBONFOX) August 14, 2020
Season Grade D: Souza gave the Cubs several fantastic at-bats this season, but the results never showed. Although he did have one homer and five RBI's across those 11 games, his .148 average wasn't going to cut it. Add in another injury this season, and Souza never got rolling as he hoped. The sole reason I gave him a D grade was for being a great teammate. Even when the Cubs let him go the way he did, he backed them all season long. Souza may never start for another team again, but he deserves a fair shot on someone's roster in 2021.