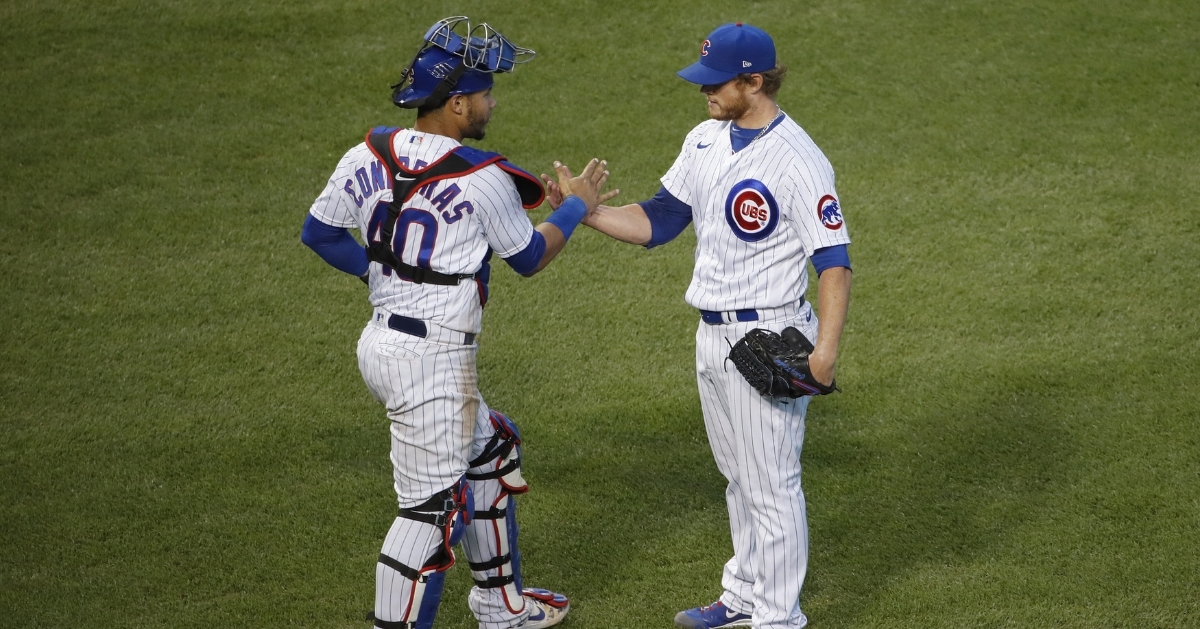 | | |
| --- | --- |
| Cubs Report Card 2020: Relief pitchers | |
---
This will be the final installment of our season in review series as the relief pitching will be covered today. Unlike every position of the past, there are too many pitchers to discuss individually. Instead, we will group them in graded categories from F through A and discuss how things went for them.
Here are how the grades stack up.
Rex Brothers, Casey Sadler, Dillon Maples, Brailyn Marquez, and James Norwood F: Coming into the season, the Cubs counted on Maples and Norwood to significantly impact the pen. Norwood never got going because an injury ended the season, while Maples is Maples, and he still can't throw strikes. Marquez appeared in one game but wasn't ready for the majors as his command was all over the place.
Both Brothers and Sadler signed as free agents and made the team out of camp. They each had moments of success in the early part of the season, but they struggled to stick on this roster for the most part. Sadler ended up getting releases while Brothers bounced around between South Bend and Chicago most of the season.
Kyle Ryan and Josh Osich D: Ryan was the lone lefty for much of the season, and the Cubs were counting on him. Instead, Ryan struggled immensely all season, and teams made him pay dearly. The end of the season showed some positive signs as Ryan put together several strong outings to close out 2020.
Osich, on the other hand, was picked up at the deadline from Boston and immediately made an impact in the pen. His ability to get both right and left-handers out was huge across his first few appearances, but he fell apart after that. Eventually, he found himself back in South Bend, and now his future is up in the air beyond 2020.
Andrew Chafin, Duane Underwood Jr., and Craig Kimbrel C: This group of arms had their moments of struggles and showed some of the most improvement as the season went on. Underwood and Kimbrel are prime examples of that. Both seemingly couldn't get anyone out the first few weeks of the season. Kimbrel lost his job as a closer, and Underwood was only used sparingly.
Eventually, David Ross went back to them, and they both started to show signs of improvement down the stretch. Underwood put a nice stretch of scoreless outings, making him an intriguing piece going forward. Kimbrel emerged as a dominating reliever once again, where he was striking out two hitters per outing. He now becomes a potential trade piece.
Chafin falls into this group mainly because the Cubs didn't get a good look at him. He missed a lot of time with a finger injury, then made a couple of appearances in September where his results were mixed. I don't expect him back in 2021, but the other two should have shots.
Ryan Tepera, Dan Winkler, and Rowan Wick B: Last season, the Cubs appeared to have a diamond in the rough in Rowan Wick. This season, Wick was immediately thrown into the back of the bullpen to handle high leverage situations. He did great for the most part as he picked up several saves after Kimbrel lost the job. He then had a few rough outings before an oblique injury ended his season. Wick is a huge piece in the pen, and there is no question he will be back.
Tepera and Winkler were two of the biggest surprises in the pen. Both were added via free agency this season, and both gave David Ross countless great outings. Winkler was called up from South Bend in August and then went on to put up a strong September to earn a spot next season potentially.
Tepera was by far the Cubs best reliever the first two weeks of the season but then hit a couple of rough patches in August when his command wavered. He did recover for the most part, and if the money fits the Cubs next season, he is another option for the Cubs to consider next year.
Jason Adam and Jeremy Jeffress A: Two relievers deserve an A for the season, which goes to Adam and Jeffress. Starting with Adam, the Cubs may have found an exceptional talent in him as they picked him up this offseason. After a bumpy showing his first few outings that sent him to South Bend, Adam not only returned to the club in August but was impressive.
His fastball sits in the 95-96 range, and he offsets that with an incredible curve. Adam proved to be a massive piece for the Cubs pen this season and may have put himself in a closer conversation next year. That tends to happen when you're averaging nearly 17 strikeouts per nine innings, which is where Adam sat at the end of the year.
Jeffress earned his keep with the Cubs this season, and the team would be foolish not to extend him. Signed for a veterans minimum this season, Jeffress was the Cubs most consistent and best reliever this season. Not only did he lead the team in saves, but he posted the lowest ERA on the team finishing the season in the 1.48 range.
Yes, his command wasn't always crisp, but he knew how to get people out, and the Cubs always trusted him. Despite his velocity being a bit down earlier in the year, Jeffress saw his velocity get back up to the 94-95 MPH range, which was the highest it's been since 2018. Given his age, he will not attract a long-term deal, but the Cubs need to bring him back for at least one more year.