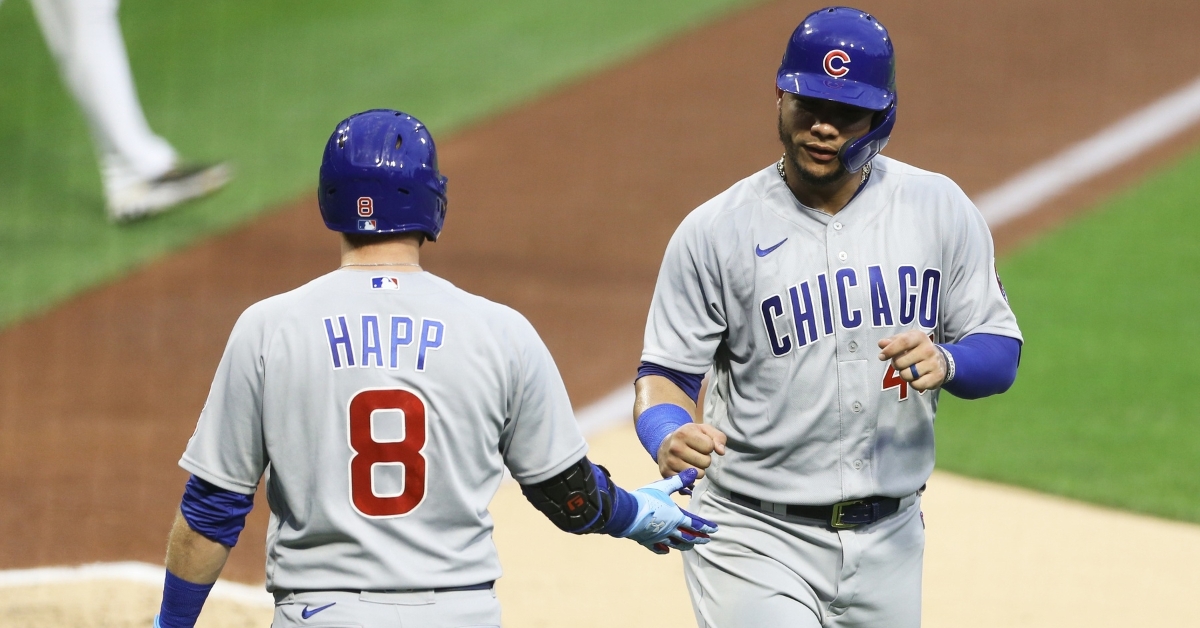 | | |
| --- | --- |
| Cubs come out on top in 11-inning slugfest versus Pirates | |
---
PITTSBURGH — A long, strange game that featured multiple downpours, several wacky plays, a managerial ejection and the Chicago Cubs (21-14) squandering a five-run lead ended with the Cubs coming out on top in a grueling 11-inning matchup with the Pittsburgh Pirates (10-23). Lasting approximately 5 1/2 hours, including a rain delay that spanned a little over an hour, Tuesday's series opener at PNC Park was a marathon, to say the least.
Playing in his hometown, Pittsburgh native Ian Happ led the charge for the Cubs, going 3-for-6 and driving home the winning run in the top of the 11th. Jon Lester started on the mound for Chicago and was fantastic through five innings before imploding in the sixth. While the Cubs went 3-for-13 with runners in scoring position, the Buccos were a woeful 3-for-19, and two costly errors committed by shortstop Erik Gonzalez did not help matters, either. In the end, the Cubs earned a hard-fought 8-7 win in a contest that featured a combined 22 hits, 11 walks and 14 different pitchers toeing the rubber.
---
Inning-by-Inning Breakdown:
---
T1: Happ gave the Cubs an early edge and established a new franchise record in the process when he skied a leadoff home run in the first plate appearance of the game. The 434-foot blast to right, which bounded out of the park and toward the Allegheny River, marked Happ's 60th home run in a Cubs uniform, which is a record for a Cubs switch hitter. Pirates starter Chad Kuhl gave up the bomb on just his second pitch of the evening.
b>Score: Cubs 1, Pirates 0
.@ihapp_1's 10th home run of the season!@BinnysBev pic.twitter.com/9wgiEiXMBU

— Chicago Cubs (@Cubs) September 1, 2020
---
B1: A leadoff walk of Gonzalez led to the shortstop reaching third with one out. The Pirates were unable to bring him home, though.
Score: Cubs 1, Pirates 0
---
T2: Back-to-back singles were followed by Gonzalez's first error, which prevented a routine 6-4-3 double play from coming to fruition. Gonzalez's fielding blunder gave way to a bases-loaded walk of Jason Kipnis that forced in a run.
Score: Cubs 2, Pirates 0
---
B2: Colin Moran led off with a double to deep right and eventually scored on an RBI groundout by Adam Frazier.
Score: Cubs 2, Pirates 1
---
T3: A couple of deep flyouts took place in the top of the third. Several fly balls were hit to the warning track in the early innings.
Score: Cubs 2, Pirates 1
---
B3: Pittsburgh garnered a couple of baserunners in the bottom of the third, but Jacob Stallings flied out to leave them stranded.
Score: Cubs 2, Pirates 1
---
T4: Willson Contreras drew a leadoff walk, and Jason Heyward singled after that. Jose Martinez, who was making his first Cubs appearance since being dealt to the club, grounded into a double play, but Kipnis proceeded to plate Contreras via a base knock.
Score: Cubs 3, Pirates 1
¡@TheJK_Kid con su 2da carrera impulsada de la noche! ??#Cachorros pic.twitter.com/vhtR0Cl42X

— Cachorros de Chicago (@cachorros) September 2, 2020
---
B4: A leadoff infield single by Moran was all that the Pirates mustered at the plate.
Score: Cubs 3, Pirates 1
---
T5: Kris Bryant made his return from the injured list on the night, and he kicked off the fifth with a single that chased Kuhl from the game. Tyler Bashlor took the mound thereafter and proceeded to allow three runs to score. Bryant's top-notch baserunning acumen was on full display when he perfectly judged a one-out double hit by Javier Baez to deep left and motored all the way home from first. Kyle Schwarber then crushed a mammoth 436-footer out to center, eyeballing the two-run shot off the bat before beginning his trot around the bases.
Score: Cubs 6, Pirates 1
It feels like when it comes to Kris Bryant, ALL people EVER want to talk about is his bat.
Or his EYES. Or his SMILE.
Or his versatility on defense, his accolades, his adorable family, his Netflix queue.

But we don't talk enough about his legs. @KrisBryant_23 has great legs. pic.twitter.com/P86ymrgFBu

— Chicago Cubs (@Cubs) September 2, 2020
Here's the thing about @kschwarb12: pic.twitter.com/hHSrAO9hAW

— Chicago Cubs (@Cubs) September 2, 2020
---
B5: Lester worked a 1-2-3 fifth inning.
Score: Cubs 6, Pirates 1
---
T6: Happ singled with two outs but did not advance beyond first base.
Score: Cubs 6, Pirates 1
---
B6: With one away in the bottom of the sixth, Lester came unglued after giving up a single and issuing a walk. In his big league debut, Ke'Bryan Hayes showed out for the Pirates, beginning with an RBI double that jumpstarted a sixth-inning rally. Frazier tabbed an RBI single after that, and an ensuing RBI double from Jose Osuna resulted in a pitching change. Colin Rea came out of the bullpen and outed the first two batters he faced. Gonzalez hit a sacrifice fly for the second out, pulling the Pirates to within one run of the Cubs. However, Happ saved the tying run from scoring by pulling off a phenomenal diving catch in center field to snag Gonzalez's line drive.
Score: Cubs 6, Pirates 5
First Major League hit: ??#LetsGoBucs pic.twitter.com/f2vnV61dyv

— Pirates (@Pirates) September 2, 2020
We scored 4?? in the sixth & we're within a run!#LetsGoBucs pic.twitter.com/kA5GacONsK

— Pirates (@Pirates) September 2, 2020
Mind the Happ. pic.twitter.com/C8LBSJpqmn

— Chicago Cubs (@Cubs) September 2, 2020
---
T7: Anthony Rizzo stole his first base of the year after drawing a leadoff walk but did not score.
Score: Cubs 6, Pirates 5
---
B7: Rea and Kyle Ryan combined to pitch a scoreless seventh.
Score: Cubs 6, Pirates 5
---
T8: Heyward was walked to start the eighth inning. During the course of Heyward's plate appearance, Pirates manager Derek Shelton was ejected for arguing balls and strikes with the home plate umpire. Several low pitches were called strikes against both teams throughout the game. A double play groundout followed, and the Cubs were unable to score an insurance run ahead of the rain delay.
Score: Cubs 6, Pirates 5
---
B8: The heavy rain that began falling in the top of the eighth resulted in a delay coming into play midway through the eighth. Following a 71-minute layoff, play resumed, and Hayes wasted no time in knotting the score at six runs apiece. Hammering a 410-foot dinger out to straightaway center field, Hayes took Cubs reliever Dan Winkler deep. The rain began to fall even heavier than before soon after that, but play continued. The contest remained tied heading into the ninth.
Score: Cubs 6, Pirates 6
YOUNG HAYES!#LetsGoBucs pic.twitter.com/IWFeLhQmHh

— Pirates (@Pirates) September 2, 2020
---
T9: The Pirates were able to survive a pair of defensive gaffes without giving up the go-ahead run. Bryant reached on an infield single with one out. Gonzalez then caught a liner hit by Rizzo and nearly doubled off Bryant at first. However, Gonzalez's throw caromed off Bryant's helmet, enabling Bryant to reach second. Gonzalez was charged with his second error, as a result. A wild pitch allowed Bryant to take third base, and Bryant's interesting baserunning excursion was capped off by an inexplicable play at the plate. Making a rookie mistake, Hayes fielded a chopper hit to third by Baez, and, instead of throwing to first for the inning-ending force out, Hayes went home with the baseball. A close play at the plate saw Stallings tag Bryant out in the nick of time, as Bryant nearly put the Cubs on top in the wake of Hayes' blunder.
Score: Cubs 6, Pirates 6
---
B9: Speaking of close calls, Kevin Newman barely missed out on a walkoff homer when he led off the bottom of the ninth. Barreling a line drive out to deep left-center, Newman cruised into second with a double after the ball hit off the wall. Rowan Wick, who gave up the leadoff double, was relieved not long after that by Cubs newcomer Josh Osich. Osich was composed in his Cubs debut, and he forced extra innings.
Score: Cubs 6, Pirates 6
---
T10: Baez began the 10th on second base, and he subsequently scurried to third on a groundout. "El Mago" then made a wise decision by diving back toward the bag, instead of trying to score, on a grounder hit to second by Contreras, who managed to reach base safely on a play that was scored as a fielder's choice. A sacrifice fly off the bat of Heyward plated Baez with ease, and Victor Caratini next hit a single that moved Contreras over to third. Making his first appearance since being traded to the North Siders, Cameron Maybin pinch ran for Caratini and stole second without facing a throw from behind the plate. Nico Hoerner left the two baserunners stranded by grounding out.
Score: Cubs 7, Pirates 6
---
B10: With Hayes starting off at second, Osich forced back-to-back grounders, the second of which scored Hayes, who was nearly tagged out while sliding toward the dish. Jeremy Jeffress then entered to pitch and drew an inning-ending double play.
Score: Cubs 7, Pirates 7
Yada, yada, yada. Something about your DMs...#LetsGoBucs pic.twitter.com/Yp6QDXvNd4

— Pirates (@Pirates) September 2, 2020
---
T11: Happ came through in the clutch by slapping a single to center off Kyle Crick and scoring Hoerner. The Cubs suffered three straight outs after that.
Score: Cubs 8, Pirates 7
---
B11: Jeffress struck out the leadoff man and drew a groundout before Josh Bell was intentionally walked for the second time. Stallings struck out looking to end the dramatic, action-packed game. The only other game that the Cubs have been a part of this season that lasted at least 11 innings was also an 11-inning victory versus the Pirates.
Jeffress earned the win to become 3-1, while Crick fell to 0-1 with the loss. Rea picked up his first hold, and Ryan was credited with his third hold. Winkler suffered his first blown save of the season.
Final Score: Cubs 8, Pirates 7
Ice cold, @JMontana41. pic.twitter.com/E09XlZrJ5k

— Chicago Cubs (@Cubs) September 2, 2020
---
Statistical Breakdown:
Chicago Cubs: Batting: 8 R, 12 H, 1 2B, 2 HR, 8 RBI, 1 2-Out RBI, 1 SF, 2 GIDP, 3-13 RISP, 10 LOB; Baserunning: 2 SB; Fielding: 0 E, 1 DP; Pitching: 10 H, 7 R, 6 ER, 7 BB, 9 K, 1 HR, 0 HBP, 2 IBB, 0 WP
Pittsburgh Pirates: Batting: 7 R, 10 H, 4 2B, 1 HR, 7 RBI, 1 SF, 3-19 RISP, 12 LOB; Fielding: 2 E, 2 DP; Pitching: 12 H, 8 R, 5 ER, 4 BB, 6 K, 2 HR, 0 HBP, 0 IBB, 1 WP
---
Studs of the Game:
Chicago Cubs: Ian Happ (CF): 3-6, 1 R, 2 RBI, 0 BB, 3 K, 1 HR, 1-2 RISP
Pittsburgh Pirates: Ke'Bryan Hayes (3B): 2-5, 3 R, 2 RBI, 0 BB, 2 K, 1 2B, 1 HR, 1-3 RISP
---
Duds of the Game:
Chicago Cubs: Jose Martinez (DH): 0-3, 0 R, 0 RBI, 0 BB, 0 K, 1 GIDP, 0-2 RISP
Pittsburgh Pirates: Josh Bell (1B): 0-4, 0 R, 0 RBI, 2 BB, 2 K, 0-2 RISP, 2 defensive assisted DP
---
Up Next: The second installment of the three-game set will begin at 6:05 p.m. CDT on Wednesday, Sept. 2. Right-hander Kyle Hendricks (3-4, 4.09) will toe the rubber for the Cubs and face off against Pirates left-hander Derek Holland (1-2, 7.62), who pitched for the Cubs last season. There is a chance for rain in Pittsburgh again on Wednesday night, meaning that the contest could be delayed or postponed.
---
Highlights:

Tags: Chicago Sports Baseball
,
Ian Happ
,
Jon Lester
,
Willson Contreras
,
Jason Heyward
,
Kris Bryant
,
Javy Baez
,
Kyle Schwarber
,
Colin Rea
,
Anthony Rizzo
,
Kyle Ryan
,
Daniel Winkler
,
Rowan Wick
,
Victor Caratini
,
,
Jeremy Jeffress
,
Kyle Hendricks