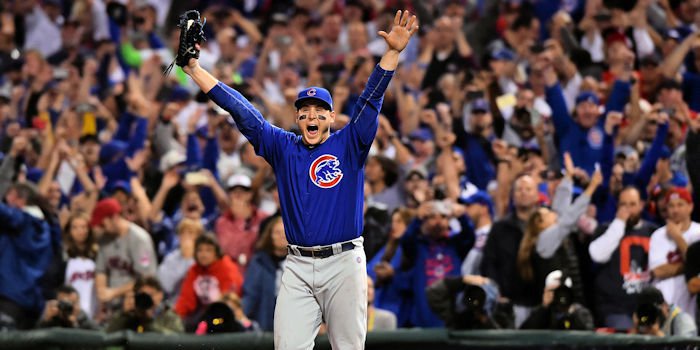 | | |
| --- | --- |
| Cubs fans share the most memorable games they've ever attended | |
---
Today was another baseball-less day, so I asked all of you to share memories of the greatest Cubs' game you'd ever attended. The response was overwhelming, so much so, that I couldn't get all of your replies into one article. Fear not, I plan a part two. Does anyone remember these Ws?
Darryl Whipple: "6/28/69! Greatest doubleheader in the history of Chicago Cubs baseball. Billy William's day! We won both games, and Billy was instrumental in both wins. And he also set the NL record for most consecutive games played. The place was packed by 8 AM!
Frank Corral: "Daryle Ward with a three-run blast of Kevin Gregg. Mostly Cub fans on a muggy August Friday night. Marlins fans taunting all game about the 2003 NLCS."
Logan Ohlhaver: May 6, 2007. "Theriot hit a walk-off single to beat the Nationals."
Dustin Riese: "May 27th, 2013. Memorial Day weekend with my wife in Chicago. That was when she finally saw my love for the cubs, and now it trickled down to my kids."
Kyle Danielson: "5/6/98. Wood's 20K game. He was my favorite player as a kid, and that is the single greatest game I have ever seen pitched and likely will never be topped. The only thing that could top that was if I could have been at the '16 world series game seven, which is the greatest game I've ever watched.
Honorable mention goes to a game I saw at Kauffman 7/16/2000, I think? Sosa mashed a couple of HR, and then my mom got up to go to the restroom and while she was gone the crowd erupted a 3rd time which she thought was a 3rd Sosa HR, but no, it was a streaker jumping over the 3rd base dugout and racing across the field. He proceeded to dive headfirst into 2nd base (RIP his manhood, and I feel sorry for him when he sobered up in jail later that night) and then pop right up and take off into right field where he attempted to jump the right-field wall. He was eventually corralled by five or so security guards who tried to wrestle him to the ground while another tried to cover him in a towel. It was the funniest and most entertaining non-baseball action at a baseball game I've ever seen. Was a high scoring fun game, and if I'm not mistaken, Wood won that game too, though his stat line was not pretty."
Chris Mirus: "September 1992. In between a doubleheader, they filmed parts of Rookie of the Year. The scene where Henry is called from the bullpen and the crowd chants "Henry."
Chris Kinkaid: "Opening home game 2009. It was cold (I'm from Louisiana) and wet. Going off memory, but Ted Lilly made a run at a no-hitter. Cubs won, I was at the greatest ballpark in the world, I have never been so cold in my life, but I loved every second."
Jimmy Radzinski: "April 15, 2016, sat in first row BP box, back when the pen was on the field. My son shard several high fives with Jon Lester. To keep the Lester theme going, we were present. I think it was August 1, 2017, for Lester's first home run. That was pretty cool."
Brent Popdan: "8/8/88. The first night game, although it ended up being rained out."
Darryl Whipple: "September 2003- vs. the Cardinals. Game one of a day-night make-up doubleheader during the race for the division title.
The game went 15 innings before Sosa hit a walk-off.
Also - April 2004. Extra inning game vs. the Reds. Griffey Jr. hit a home run in the top of the 11th to take the lead for the Reds. Alou & Sosa went back-to-back in the bottom of the inning for the win."
Susan Lester: "My favorite game? 10/06/07, a playoff game I attended. Cubs & D-backs outcome 5-1 D-backs not the outcome we wanted, but I was there! The 7hr drive with my sons in my opinion LOL didn't last long enough! A great, GREAT road trip & memories made. The atmosphere with the fans. Unbelievable! The fans till the end never gave up hope till the final out. It was my first-ever playoff game. And enjoying it with my sons, I left Wrigley a winner!"
Chelle Daly: "July 8, 2018 - I was in Chicago for my mom's funeral. The first game against the Reds I went to the Cubs lost, (But it was Rizzo day, so I got a cool hat.) The 8th was my last chance. After that, I was on a plane home. It was fun and emotional trip, and I had a few drinks. (At a time.) I had some hope, and then the game was tied up. IT went into the 10th. Then I think Bote had a walk-off walk. It was so subtle, and I didn't see the pitch. And I was still tipsy. (more than tipsy) I was watching the team pour onto the field and celebrate, but I never heard the ball get hit. And the person next to me finally explained, and I was thrilled.
Also, on April 28, 2019 - the game against the Diamondbacks in Arizona - that one went into extra innings. 15 innings! We had two 7th inning stretches, but only one "last call". Many people didn't stay for the full game. But Albert Almora Jr. got on base, and we were all buzzing - it was mostly Cubs fans left. And Joe went through so many relief pitchers, so did the D-Backs. And then Chatwood came in - and we knew he could pitch a few innings if needed. Chatwood came up to bat, and we were kind of disappointed that there were no pitchers, so we couldn't swap for a better bat to push Almora forward. But Chatty hit a beauty of a double, and Almora ran from first base to cross the plate. He ran so fast, his helmet flew off, his hair was just starting to grow and curl over, and he had a bright red bandana on. He flew like the wind and almost made me want to run again just to feel the wind on my face (I won't, I can't.) That was such a relief to walk out of that game with my W flag proudly.
Brent Popdan: "I went to a game as a kid when we beat the Dodgers 20-1. It was Sammy Sosa bobblehead day. Some funny Dodger fan was at Wrigley trying to put a hex on my bobblehead, and Sammy hit three homers that game."
kenallison18

Well I am 42.

I went to my first Cubs game in 91 Braves at Wrigley.

Not sure the exact date!

Les Lancaster v John Smoltz

Cubs won 7-4.

I believe it was mid June.

— Howard Wilson (@PerfectSoul77) March 18, 2020
Great stories, everybody. We will do this again tomorrow, as I've had a ton of responses. Until then, keep flying those W's in your memory banks!