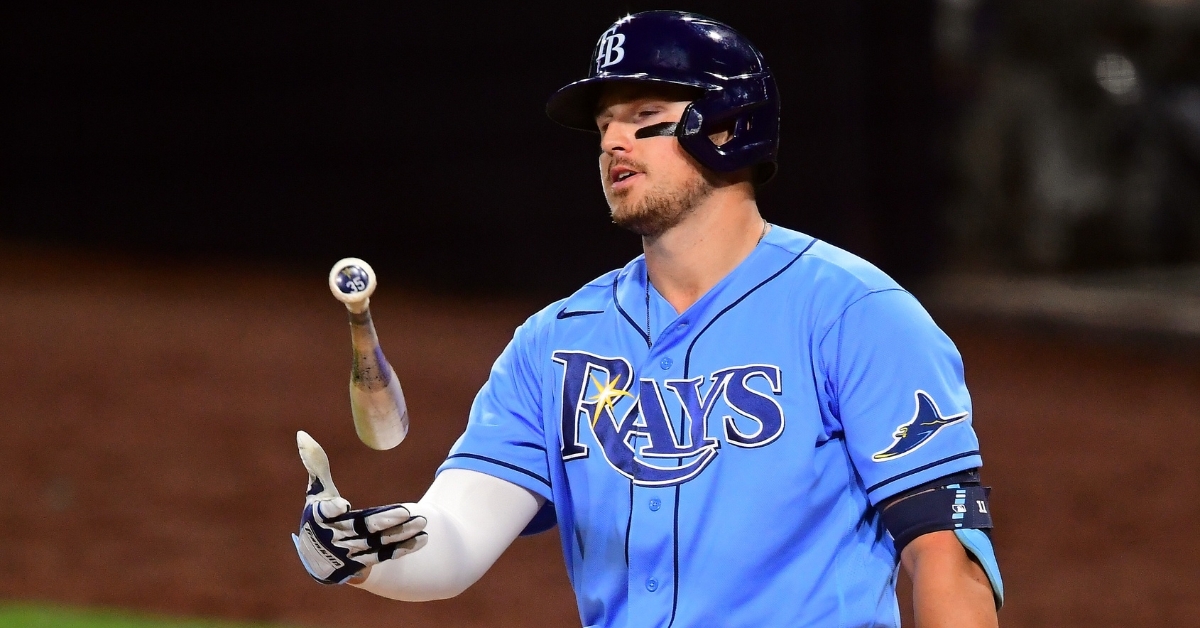 | | |
| --- | --- |
| Cubs free agency: Hunter Renfroe is available for DH duty | |
---
| | | |
| --- | --- | --- |
| Tuesday, November 24, 2020, 8:36 AM | | |
As it seems to be becoming more and more likely, the DH will be returning to the National League, and things could get a lot more interesting in free agency. Take Nelson Cruz or Edwin Encarnacion, for example. Both are guys nearing the end of their playing careers who are primarily a DH in this game.
That is a big reason why they have been stashed in the American for so long as they were the only league to have a DH up until last season. The DH was primarily added due to COVID, as many other rule changes were put in place to help get through the season. Many of those changes went over with the players, well, including having a universal DH return for 2021.
Although nothing has been decided on that just yet, multiple reports have indicated that it will happen and that it could also signify the beginning of a universal DH permanently. I like the DH coming back as it gives National League teams a chance to land Cruz, Encarnacion, and other big-name DHs to help their chances to win.
Well, make that another big-name free agent tossing his name into the ballot as he would make for a great DH fit or platoon player for the Cubs. I'm talking about Lefty-masher Hunter Renfroe as he will now be looking for work next season. The former San Diego Padre and now former Tampa Bay Ray is coming off a rough season in which he hit just .156 with eight homers and 22 RBIs across 42 games.
Those numbers are terrible, but it is just a microcosm of what Renfroe did before landing in Tampa. Viewed as one of the Padres' better pieces for quite some time, Renfroe burst onto the scene in 2016, hitting .371 with four homers and 14 RBIs in just 11 games. That was in the same season in which he hit 306 with 30 homers and 105 RBIs in AAA.
Still not convinced those numbers could translate full-time, San Diego once again sent him down to AAA to start the 2017 season. In just 14 games, the numbers spoke for themselves as he flat out mashed the baseball to a .509-batting average, four homers, and 18 RBIs. At this point, the Padres had no reason to keep him down, and they called him up immediately.
Renfroe showed tons of potential across his 122 games, belting 26 homers despite just 58 RBIs. His .231-batting average was undoubtedly a concern, as was his putrid 27 BB to 140 strikeout ratio. That made for a .282 OBP, which is not good. Looking to improve in all the aspects of his game, Renfroe raised his average 17 points the next season to .248 while still hitting 26 homers and adding 68 RBIs. Again, a low RBI total for those numbers, but the Padres struggled to score runs all season.
For the second straight year, however, the walk total was terrible as he took only 30 free passes. His strikeout numbers did decrease to 109, allowing his OBP to reach a career-high .302. That is still not great, but it was a step in the right direction. Hoping the past two seasons were signs of things to come, Renfroe broke out offensively and put together his best offensive season.
Despite his average dipping down to .216, his power numbers increased as he crushed a career-high 33 home runs to go with 64 RBIs. Renfroe also saw his walk total improve to 46, but his strikeout numbers reached a career-high .154 lowering his OBP to just .289. His game's fatal flaws remained, but Tampa still traded for him, banking on his power potential.
After another less than appealing season, Renfroe will be a free agent and be on the radar for some teams. Could the Cubs be one of those teams? I know what fans are thinking, why would the Cubs go after an all or nothing hitter who either hits homers or strikes out a ton. I agree with that sentiment, as it doesn't make sense looking at this signing in that way.
The Cubs already have a roster made up of a ton of Renfroe type players, so adding another one of those players doesn't seem logical even if some are dealt. The main reason why the Cubs may consider him is the overall success he has had against lefties, earning him the title of a lefty masher.
For whatever reason, the Cubs were one of the worst teams when hitting left-handers last season. No matter who was on the mound, the Cubs bats went silent even more than expected if it was a lefty. As a team, the Cubs barely hit .200 against lefties and struggled to average 2.0 runs per game. That simply won't get it done.
Renfroe can certainly help change things in that department. At just 28 years old, Renfroe is still young and could still turn himself into a serviceable hitter. An outfielder by trade, Renfroe may never be an everyday player again unless he turns into a DH option. Take last season away in which he hit just .146 against southpaws, and you're looking at a player who has a .272-career average against lefties. That includes a career-high .316 in 2017.
He is never going to be a guy to take a ton of walks or get on base at an elite clip, but the bottom line is he loves to hit lefties, and he hits them with pop. The Cubs lacked a real southpaw masher in their lineup last season and acquired Jose Martinez to change that. Unfortunately, Martinez went hitless during his time with the team.
Scheduled to make less than four million in his first year of arbitration, Renfroe could be a cost-friendly option for the Cubs if they find a person who can hit lefties. If the signing works out, the Cubs did their homework. If not, they won't be on the hook for a ton of cash, and he wouldn't be a long-term fix anyway.