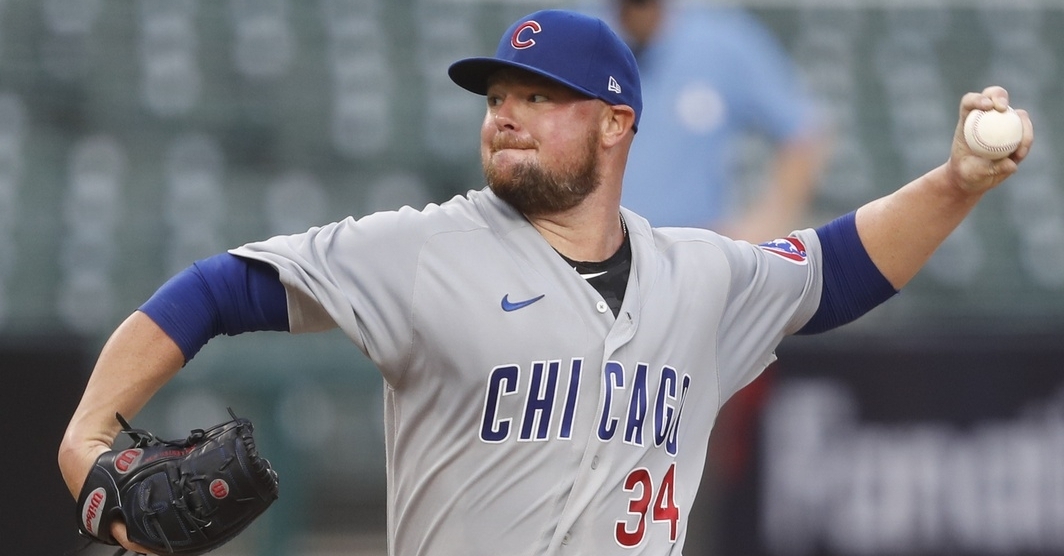 | | |
| --- | --- |
| Cubs' late comeback attempt falls short, as Tigers win rubber match | |
---
| | | |
| --- | --- | --- |
| Wednesday, August 26, 2020, 11:20 PM | | |
DETROIT — A ninth-inning rally came up just short for the Chicago Cubs (18-12) on Wednesday, as the Detroit Tigers (13-16) edged the Cubs out by a final score of 7-6. The Cubs did not catch too many breaks at Comerica Park on the night, as several well-hit balls off their bats were caught and several near-misses on defense failed to go their way.
A five-run sixth inning for the Tigers was the ultimate difference maker, but the Cubs plated three runs in the ninth frame before quickly flaming out with one out and the tying run on first base. Detroit outhit Chicago 18-11 and could have easily scored more runs, going 7-for-21 with runners in scoring position. The Cubs dropped two of three in the set and have now lost back-to-back series.
---
Inning-by-Inning Breakdown:
---
T1: Michael Fulmer started on the mound for the Tigers and made it through just three innings, resulting in seven different Detroit pitchers appearing in the game. Javier Baez hit a two-out single in the first but did not score.
Score: Cubs 0, Tigers 0
---
B1: Jon Lester got the starting nod on the bump for the Cubs, and, despite getting taken for eight hits in five innings, he gave up just one run. The Tigers tabbed a walk and a single off Lester in the first but failed to score.
Score: Cubs 0, Tigers 0
---
T2: Jason Kipnis drew a one-out walk before David Bote grounded into a 6-4-3 double play.
Score: Cubs 0, Tigers 0
---
B2: Back-to-back infield singles did not lead to any runs crossing the plate.
Score: Cubs 0, Tigers 0
---
T3: Nico Hoerner led off the third with a walk. Hoerner was inserted into the starting lineup less than an hour before game time due to a series of lineup adjustments made in the wake of Jason Heyward's decision not to play. In tandem with the other peaceful protests concerning social injustice that were featured prominently on Wednesday, Heyward removed himself from the starting lineup and received full support from his team. Likewise, Heyward supports his teammates' decisions to play.
An Ian Happ single advanced Hoerner to third, and Anthony Rizzo plated Hoerner via a base knock. Baez then scored Happ with a sacrifice fly before Kyle Schwarber lined out to end the half-inning.
Score: Cubs 2, Tigers 0
---
B3: Miguel Cabrera singled off Lester and made it to second on a wild pitch. He was left stranded, though.
Score: Cubs 2, Tigers 0
---
T4: Daniel Norris relieved Fulmer prior to the inning and tossed a three up, three down fourth.
Score: Cubs 2, Tigers 0
---
B4: With Jorge Bonifacio on first and no outs, Cameron Maybin hit a double to deep right that placed runners on second and third. Austin Romine drove in Bonifacio with a single. Maybin was tagged out on an ensuing fielder's choice, as Lester fielded a grounder and caught Maybin in a pickle between third and home. Another fielder's choice followed, and Lester escaped with minimal damage by forcing an inning-ending lineout with two men on.
Score: Cubs 2, Tigers 1
---
T5: Hoerner was doubled off at first after hitting a leadoff single, as Albert Almora Jr. lined out to third with Hoerner on the move to second. Happ singled after that, but Rizzo then struck out.
Score: Cubs 2, Tigers 1
---
B5: Other than an infield single, there was nothing doing for the Tigers at the plate in Lester's final inning.
Score: Cubs 2, Tigers 1
---
T6: Schwarber drove an opposite-field solo homer just over the left field fence. The 368-dinger off Joe Jimenez put the Cubs up 3-1. With two outs, Kipnis walked and took second on a wild pitch before Bote grounded out.
Score: Cubs 3, Tigers 1
6th home run on the season for @kschwarb12! pic.twitter.com/6hAMdl7g0H

— Marquee Sports Network (@WatchMarquee) August 27, 2020
---
B6: Rowan Wick and Ryan Tepera combined to produce a woeful pitching showcase in the bottom of the sixth, giving up five runs on seven hits in a lengthy half-inning. Maybin kicked things off with another double to deep right. Romine scored Maybin with a double of his own. Wick drew consecutive groundouts after that but was replaced by Tepera with two away. On Tepera's second pitch, Jonathan Schoop recorded an RBI single. Cabrera hit a base knock in the next at-bat, and former Cubs prospect Jeimer Candelario then slapped a single that Happ misplayed off the bounce in right field. Schoop scored, and, because of Happ's error, Candelario and Cabrera reached second and third, respectively. Nico Goodrum followed that with a two-run double and then reached third on a single by Bonifacio. With the Tigers batting around, Tepera finally put a stop to the barrage by striking out Maybin to end the inning.
Score: Cubs 3, Tigers 6
Five-run Sixth!#DetroitRoots pic.twitter.com/LmA2o0yzxu

— Detroit Tigers (@tigers) August 27, 2020
---
T7: Another leadoff single by Hoerner was followed by a fielder's choice groundout from Almora, who then took second on a wild pitch. Happ walked, leading to a pitching change, but Rizzo and Baez failed to reach base, leaving both baserunners deserted.
Score: Cubs 3, Tigers 6
---
B7: Three straight two-out singles off Colin Rea culminated in an insurance run for the Tigers. Cabrera plated the run with a base hit to right.
Score: Cubs 3, Tigers 7
---
T8: The Cubs were sat down in order in the eighth.
Score: Cubs 3, Tigers 7
---
B8: Craig Kimbrel walked Goodrum, who stole second soon afterward. However, Kimbrel worked a scoreless inning that included two swinging strikeouts.
Score: Cubs 3, Tigers 7
---
T9: What had all of the makings of a disastrous inning for reliever Buck Farmer ended with him bearing down and securing the Detroit victory. Bote led off with a double and scored on a Hoerner single. Almora slapped a double down the left field line that ushered Hoerner across, and Happ reached on a chopper hit to shortstop. Rizzo nearly powered out a go-ahead home run, as his towering fly was caught on the warning track in center field, which is quite deep at Comerica Park, scoring Almora. Baez then got jammed on an inside pitch that he made contact on, resulting in a routine flyout to left, and Schwarber ended the game by lining out to Farmer, who made a great catch of a comebacker.
Jimenez improved to 1-1 with the winning decision, and Tepera dropped to 0-1 with the losing decision and was also handed his first blown save of the season. Wick was credited with his second hold of the season, for what that is worth.
Final Score: Cubs 6, Tigers 7
---
Statistical Breakdown:
Chicago Cubs: Batting: 6 R, 11 H, 2 2B, 1 HR, 6 RBI, 2 SF, 1 GIDP, 3-6 RISP, 7 LOB; Fielding: 1 E; Pitching: 18 H, 7 R, 7 ER, 2 BB, 8 K, 0 HR, 0 HBP, 0 IBB, 1 WP
Detroit Tigers: Batting: 7 R, 18 H, 4 2B, 7 RBI, 5 2-Out RBI, 7-21 RISP, 13 LOB; Baserunning: 1 SB; Fielding: 0 E, 2 DP; Pitching: 11 H, 6 R, 6 ER, 4 BB, 4 K, 1 HR, 0 HBP, 0 IBB, 2 WP
---
Studs of the Game:
Chicago Cubs: Nico Hoerner (2B): 3-3, 2 R, 1 RBI, 1 BB, 0 K, 1-1 RISP; Ian Happ (RF): 3-4, 1 R, 0 RBI, 1 BB, 0 K, 1-1 RISP, 1 E
Detroit Tigers: Austin Romine (C): 3-5, 1 R, 2 RBI, 0 BB, 1 K, 1 2B, 2-3 RISP; Miguel Cabrera (DH): 3-4, 1 R, 1 RBI, 1 BB, 0 K, 1 2-Out RBI, 1-1, RISP; Jonathan Schoop (2B): 3-5, 1 R, 1 RBI, 0 BB, 0 K, 1 2-Out RBI, 1-2 RISP, 1 defensive assisted DP
---
Duds of the Game:
Chicago Cubs: Ryan Tepera (RP): 0.1 IP, 5 H, 3 R, 3 ER, 0 BB, 1 K, 0 HR, 0 HBP, 0 IBB, 0 WP; Rowan Wick (RP): 0.2 IP, 2 H, 2 R, 2 ER, O BB, 0 K, 0 HR, 0 HBP, 0 IBB, 0 WP; Willson Contreras (C): 0-4, 0 R, 0 RBI, 0 BB, 2 K, 1 SB allowed
Detroit Tigers: Isaac Paredes (3B): 0-4, 0 R, 0 RBI, 0 BB, 1 K, 0-3 RISP, 1 defensive assisted DP; Michael Fulmer (SP): 3.0 IP, 3 H, 2 R, 2 ER, 2 BB, 1 K, 0 HR, 0 HBP, 0 IBB, 0 WP
---
Up Next: Following an off day tomorrow, the Cubs will begin a four-game series at Great American Ball Park against the Cincinnati Reds (11-17). The Friday, Aug. 28, contest is scheduled to begin at 6:10 p.m. CDT. Righty Kyle Hendricks (3-3, 3.55) of the Cubs and righty Anthony DeSclafani (1-1, 5.71) of the Reds will to the rubber. There is a chance for storms in Cincinnati that evening, but, needless to say, that forecast could change between now and then.
---
Highlights:

Tags: Chicago Sports Baseball
,
Javy Baez
,
Jon Lester
,
David Bote
,
,
Jason Heyward
,
Ian Happ
,
Anthony Rizzo
,
Kyle Schwarber
,
Albert Almora
,
Rowan Wick
,
Ryan Tepera
,
Jeimer Candelario
,
Colin Rea
,
Craig Kimbrel
,
Willson Contreras
,
Kyle Hendricks