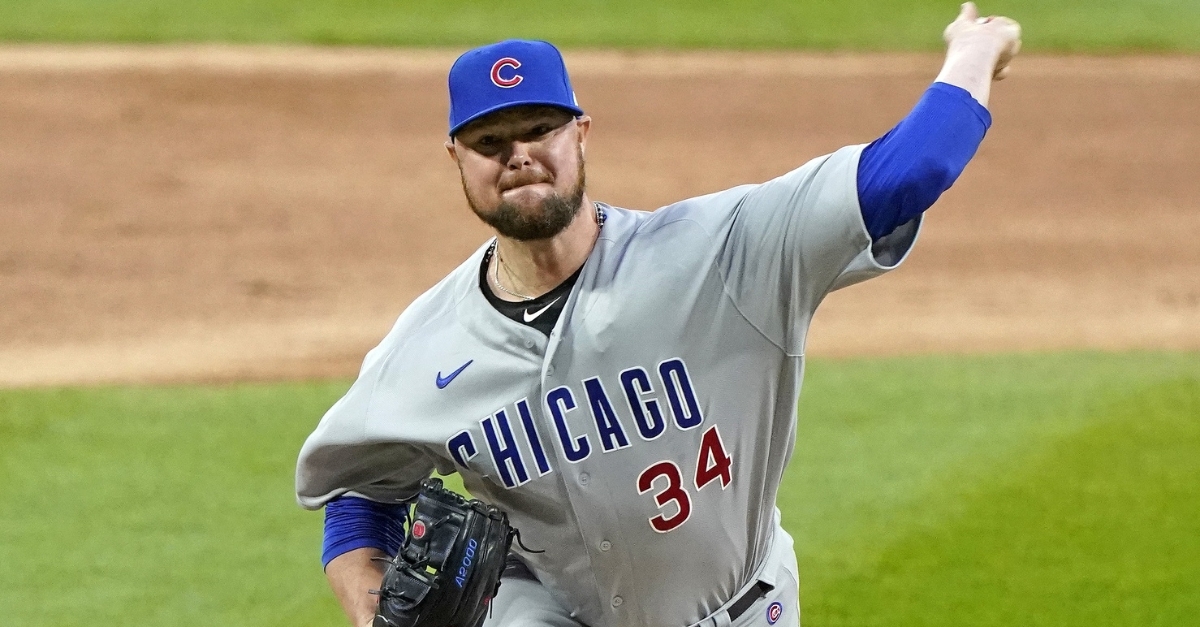 | | |
| --- | --- |
| Cubs lose to White Sox but win National League Central | |
---
CHICAGO — On a night of ups and downs for the Chicago Cubs (33-26), the North Siders fell to the Chicago White Sox (35-24) at Guaranteed Rate Field but still managed to clinch the National League Central title. The Milwaukee Brewers (29-30) defeated the St. Louis Cardinals (29-28) 3-0 at Busch Stadium, and the home loss eliminated the Redbirds from the division race, giving the Cubs the National League Central crown.
The Cubs received word of the Brewers' win late in their contest with the South Siders on Saturday night and celebrated in the dugout. However, the Cubs were not able to celebrate a win of their own, as the White Sox snapped a six-game losing streak by downing the Cubbies 9-5. Kris Bryant slugged a go-ahead grand slam that put the Cubs up 5-2 in the top of the third, but the White Sox, who bounced back following a 10-0 drubbing on Friday, went on to chase Jon Lester from his start and outscore their intercity rivals 7-0 the rest of the way.
The Chicago Cubs are your 2020 NL Central Champions! pic.twitter.com/xvRVnq4caA

— Chicago Cubs (@Cubs) September 27, 2020
The @Cubs celebrate after securing the NL Central! pic.twitter.com/U7qKL5Ku49

— Marquee Sports Network (@WatchMarquee) September 27, 2020
---
Inning-by-Inning Breakdown:
---
T1: Dane Dunning started on the mound for the White Sox and drew three consecutive groundouts in the top of the first.
Score: Cubs 0, White Sox 0
---
B1: In Lester's 1,000th inning pitched as a Cub, he mirrored Dunning by drawing three straight groundouts.
Score: Cubs 0, White Sox 0
---
T2: With Angel Hernandez calling balls and strikes, Jason Heyward was rung up on a highly questionable strike-three call. Bryant, who missed the previous four games due to injury, singled in his first at-bat back in the lineup. Kyle Schwarber drew a walk after that. Javier Baez then hit a comebacker, and Dunning fired to second base after fielding it. Second baseman Nick Madrigal's throw to first was off the mark, and the error enabled Bryant to score. Baez tallied his third steal of the season before Jason Kipnis flied out to the warning track in right.
Score: Cubs 1, White Sox 0
---
B2: James McCann slugged a game-tying solo shot out to right-center. Luis Robert singled and stole second, and Nomar Mazara plated Robert with a two-out base knock, giving the White Sox their first lead of the series.
Score: Cubs 1, White Sox 2
Up and out! pic.twitter.com/Qt7q88g5dm

— Chicago White Sox (@whitesox) September 26, 2020
---
T3: Victor Caratini was walked to begin the third frame. Ian Happ was then hit on the foot by a pitch, and an ensuing walk of Anthony Rizzo loaded the bases with no outs. An unlucky play prevented the Cubs from tying the game or taking the lead, as a chopper hit by Willson Contreras caromed off the glove of a defender and into Rizzo. Since another defender was behind Rizzo and setting up to make a play on the ball, Rizzo was called out on runner's interference, leaving the bases loaded. Heyward struck out in the next at-bat, but Bryant refused to let the Cubs' 2020 trend of struggling with the bases loaded evince itself, as he crushed his fifth career grand slam. The towering blast sailed inside the left field foul pole, and Bryant, who channeled Rizzo by wearing a gold chain on the night, grinned from ear to ear as he rounded the bases.
Score: Cubs 5, White Sox 2
That swing is worth FOUR runs. #KBoom@BinnysBev pic.twitter.com/CS14Gx0xvk

— Chicago Cubs (@Cubs) September 27, 2020
---
B3: Yoan Moncada reached via an infield hit. On a Jose Abreu grounder, Kipnis spoiled a potential inning-ending double play by committing a throwing error to first after recording the out at second. Lester bailed Kipnis out by forcing Edwin Encarnacion to fly out, thus concluding the third frame.
Score: Cubs 5, White Sox 2
---
T4: Matt Foster relieved Dunning to start the fourth and sat the Cubs down in order in his lone inning of work.
Score: Cubs 5, White Sox 2
---
B4: McCann started the bottom of the fourth with a bloop single that fell in between two defenders in right-center. Robert drew a walk, and Adam Engel popped out. Mazara was walked to load the bases, and Madrigal hustled for an RBI infield single after hitting a dribbler toward shortstop. Baez tweaked his ankle in his attempt at throwing the speedy Madrigal out but remained in the game. Lester rung up Tim Anderson but then walked Moncada to force a run home. Ryan Tepera relieved Lester and gave up a double to Jose Abreu that hit off the wall in left. Three runs scored thanks to Abreu's two-bagger, and Baez's off-target throw to the plate, which went down as an error, enabled Abreu to take third. Encarnacion fouled out to usher in the fifth inning.
Score: Cubs 5, White Sox 7
Let them know who your 2020 MVP is! pic.twitter.com/1r3gezyHoL

— Chicago White Sox (@whitesox) September 27, 2020
---
T5: Ian Happ tabbed a leadoff infield single and was later thrown out at second on a unique fielder's choice. With wind gusting through the ballpark, a routine popup off the bat of Contreras fell to the ground, but the White Sox were able to throw Happ out at second. With rookie flamethrower Garrett Crochet pitching, the Cubs failed to score in the fifth.
Score: Cubs 5, White Sox 7
---
B5: James McCann's leadoff walk led to him getting tagged out by Kipnis on steal attempt. McCann was initially called safe, but a Cubs challenge resulted in McCann being called out on the throw made by Contreras, as he slid off the bag with Kipnis applying the tag. Adam Engel drew a base on balls with two outs, but Jason Adam did not allow him to score.
Score: Cubs 5, White Sox 7
---
T6: Crochet retook the mound, and Baez accrued an infield single in an otherwise uneventful half-inning.
Score: Cubs 5, White Sox 7
---
B6: Adam walked Madrigal, who proceeded to steal second, and gave up a two-run jack to Moncada a few plate appearances later. Moncada's dinger to right brought Dan Winkler out of the bullpen. Winkler was taken for a single by Abreu before Bryant made a great diving stop at third that nearly resulted in a double play, with Encarnacion beating out the throw to first after the force out at second was recorded. McCann drew a walk to move Encarnacion into scoring position, but Robert lined out to leave both baserunners stranded.
Score: Cubs 5, White Sox 9
YoYo bat-drops are back. pic.twitter.com/s7ZkV6CgeF

— Chicago White Sox (@whitesox) September 27, 2020
---
T7: After walking Cameron Maybin to kick off the seventh, Aaron Bummer bummed out the Cubs by outing the next three batters.
Score: Cubs 5, White Sox 9
---
B7: After the Cubs made multiple defensive substitutions, Jeremy Jeffress tossed a scoreless inning.
Score: Cubs 5, White Sox 9
---
T8: Evan Marshall worked a 1-2-3 eighth.
Score: Cubs 5, White Sox 9
---
B8: Craig Kimbrel responded to Marshall's three up, three down inning with one of his own. In the process, Kimbrel struck Moncada and Abreu out swinging.
Score: Cubs 5, White Sox 9
---
T9: Alex Colome sat the Cubs down in order to secure the win for the White Sox, who stand at one game off the lead in the American League Central. Lester earned the loss and finished with a 3-3 record. Foster received the win, making him 6-1, and Crochet earned his first career hold. The South Siders lead the North Siders 3-2 through five installments of the 2020 Crosstown Classic.
Final Score: Cubs 5, White Sox 9
---
Statistical Breakdown:
Chicago Cubs: Batting: 5 R, 5 H, 1 HR, 4 RBI, 4 2-Out RBI, 2-5 RISP, 4 LOB; Baserunning: 1 SB; Fielding: 2 E, 1 CS; Pitching: 10 H, 9 R, 9 ER, 7 BB, 7 K, 2 HR, 0 HBP, 0 IBB, 0 WP
Chicago White Sox: Batting: 9 R, 10 H, 1 2B, 2 HR, 9 RBI, 5 2-Out RBI, 4-10 RISP, 7 LOB; Baserunning: 2 SB, 1 CS; Fielding: 1 E; Pitching: 5 H, 5 R, 4 ER, 4 BB, 8 K, 1 HR, 1 HBP, 0 IBB, 0 WP
---
Studs of the Game:
Chicago Cubs: Kris Bryant (3B): 2-4, 2 R, 4 RBI, 0 BB, 1 K, 1 HR, 4 2-Out RBI, 1-1 RISP
Chicago White Sox: Yoan Moncada (3B): 2-4, 2 R, 3 RBI, 1 BB, 1 K, 1 HR, 1 2-Out RBI, 1-1 RISP; Jose Abreu (1B): 2-5, 0 R, 3 RBI, 0 BB, 1 K, 1 2B, 3 2-Out RBI, 1-1 RISP
---
Duds of the Game:
Chicago Cubs: Jon Lester (SP): 3.2 IP, 6 H, 7 R, 7 ER, 3 BB, 3 K, 1 HR, 0 HBP, 0 IBB, 0 WP; Jason Adam (RP): 1.1 IP, 1 H, 2 R, 2 ER, 3 BB, 1 K, 1 HR, 0 HBP, 0 IBB, 0 WP; Jason Heyward (RF): 0-4, 0 R, 0 RBI, 0 BB, 3 K, 0-1 RISP
Chicago White Sox: Dane Dunning (SP): 3.0 IP, 3 H, 5 R, 4 ER, 3 BB, 2 K, 1 HR, 1 HBP, 0 IBB, 0 WP; Tim Anderson (SS): 0-5, 0 R, 0 RBI, 0 BB, 3 K, 0-2 RISP
---
Up Next: The regular season finale on Sunday, Sept. 27, is scheduled to begin at 2:10 p.m. CDT. While the North Siders, who are locked in as the No. 3 seed in the National League, will essentially be playing for nothing but posterity, the South Siders will be playing with their division's title still up for grabs. In a battle of righties, the Cubs' Adbert Alzolay (0-1, 3.31) and the White Sox' Reynaldo Lopez (1-2, 4.68) will start on the bump. Expect cloudy, windy conditions on the warm afternoon in Chicago.
---
Highlights:
Upgrade Your Account
Unlock premium boards and exclusive features (e.g. ad-free) by upgrading your account today.
Upgrade Now

Tags: Chicago Sports Baseball
,
Kris Bryant
,
Jon Lester
,
Jason Heyward
,
Kyle Schwarber
,
Javy Baez
,
Victor Caratini
,
Ian Happ
,
Anthony Rizzo
,
Willson Contreras
,
Ryan Tepera
,
Jason Adam
,
Daniel Winkler
,
Jeremy Jeffress
,
Craig Kimbrel
,
Adbert Alzolay