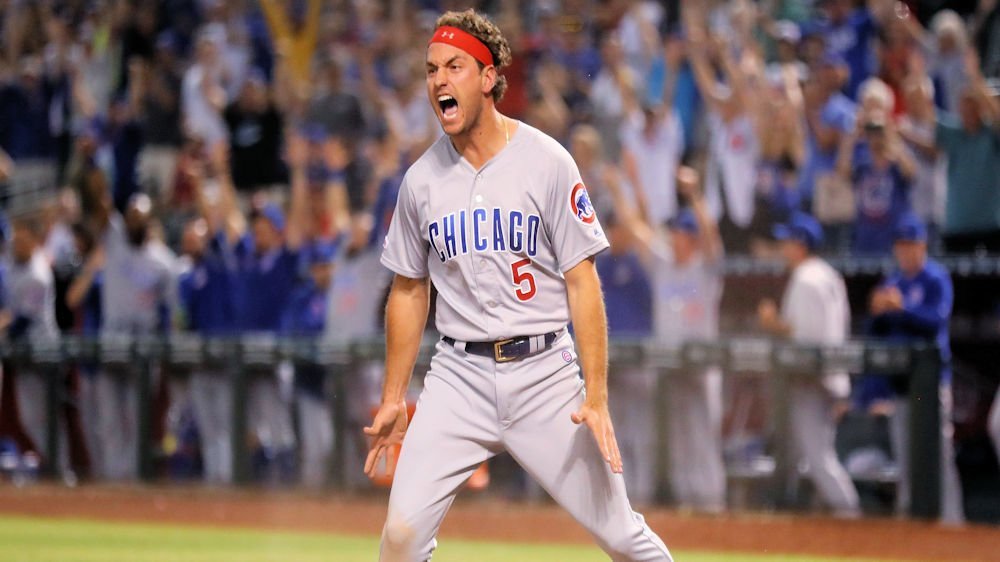 | | |
| --- | --- |
| Cubs reportedly view Albert Almora Jr. "valuable enough" to keep | |
---
After the way last season ended for Albert Almora, losing the starting CF job, getting sent to AAA, and barely playing once returning, it seemed as if he would be a legitimate trade candidate for the Cubs this offseason. Well, that may not be the case, and questions about what exactly to do with him are becoming more difficult to answer by the day.
At this point in his career, we have seen what he can do defensively in center field as he brings you gold glove caliber defense. However, outside of being able to hit lefties, his bat has yet to come around and ranks near the bottom in most offensive categories among outfielders. At this point, I see only three options for how to handle this situation.
The first way the Cubs could handle it is by continuing to keep him a platoon/bench player and start him against left-handers. Ideally, that is when he has had the most success as his average is nearly 150 points higher against lefties than it is against righties. That right there shows you he is not an everyday player at this point in his career.
The second option seems most logical to me, and that would be to option him to AAA to start 2020. With minor-league options still available on him, sending Almora would be a win-win for both him and the Cubs. For the Cubs, they would be able to keep him on the roster and see if he can develop in the minors with more consistent plate appearances.
For Almora, he wouldn't have to worry about the everyday pressure on the North Side and would be allowed to take his time in the minors while hopefully becoming an everyday player in the process. The main point of sending him down would be to get him more consistent at-bats against righties, which will do the kid wonders moving forward.
The final option, and what seems least likely at this point, is for the Cubs to either non-tender him or see what they could get for him in a trade. With Almora arbitration-eligible this season, bringing him back would cost the Cubs around 2 million, which is not all that much with regards to baseball salaries. However, given the way he performed last season, would that be an option for the Cubs.
The other question the Cubs must answer if they elect to trade him is what they would get in return. Had Almora been able to build off his solid 2018, he would have been a very nice trade chip for someone looking for a young defensive-minded centerfielder. However, after watching him plummet to rock bottom last year, I don't know the value he would bring in return. That leaves the Cubs in a real tight spot this season regarding his future with the team.
With the Cubs still pursuing Nick Castellanos about returning to Wrigley, several executives believe that Almora will remain with this organization but will not be the starting center fielder to open 2020.
"Albert Almora Jr. won't go into 2020 as the starter in center, but there is still a strong possibility he remains with the organization," Sahadev Sharma said. "After a dreadful 2019 that followed a brutal second half of 2018, Almora has little to no value on the trade market.
Almora's offensive numbers have been among the worst in baseball over the last year and a half, and in 2019, advanced metrics rated him as a below-average defender. But the Cubs still view him as valuable enough to not dump in a trade or non-tender."
Judging by that quote, it looks as if once December second rolls around, Almora will be tendered a contract to remain with the organization by default, given his decrease in overall value. I am not sure if I like the decision to bring him back, but I understand as to why the Cubs may be willing to give him one more chance with David Ross now in charge.
His defense along makes it hard to part from as the Cubs would be lucky to find anyone else on their roster that can play center as good as he can. Offensively, yes, overall, he struggles against righties. Still, when he was getting more at-bats against righties, he did start to show signs of improvement only to see a dramatic decline after an unfortunate incident in Houston last season.
Yes, I am talking about the foul ball that struck the young against the Astros, as I think that took a toll on Almora. Fans can say all they want that it happens all the time in baseball, but when you're the player that it happens too sometimes, it affects you more mentally than anyone can realize. That is what it did to Almora last season whether people want to believe it or not, but I think his decline was largely because of that as he was never the same player after that incident.
It almost seemed as if he was afraid to get back in the box as he pulled practically every pitch, making him the easiest out in the lineup for nearly two months. Going down to the minors was a good thing for him as it allowed him to get away from Chicago and clear his head a bit. Hopefully, the long offseason for the Cubs will help him do that once again, and he can return in 2020 with a bit of a chip on his shoulder.
I am willing to give him a mulligan for last season as mentally he just wasn't game ready for half of the year. Given his natural athletic ability, Almora could thrive as a bench player, but ideally, that is not what the Cubs want. That is why I expect them to look at other outfielders with leadoff potential, which could make the Almora decision so much easier.
Even if they find their next leadoff man in Whit Merrifield, Shogo Akymara, or someone else, I don't see any harm letting Almora work his way back into that mix. After all, when he was leading off in front of Javy in 2018, the Cubs went on a 13-3 run in which their offense was at their best all season. Almora was the first draft pick of the Theo regime, and you can bet he will do everything to figure out the best possible outcome for this man.