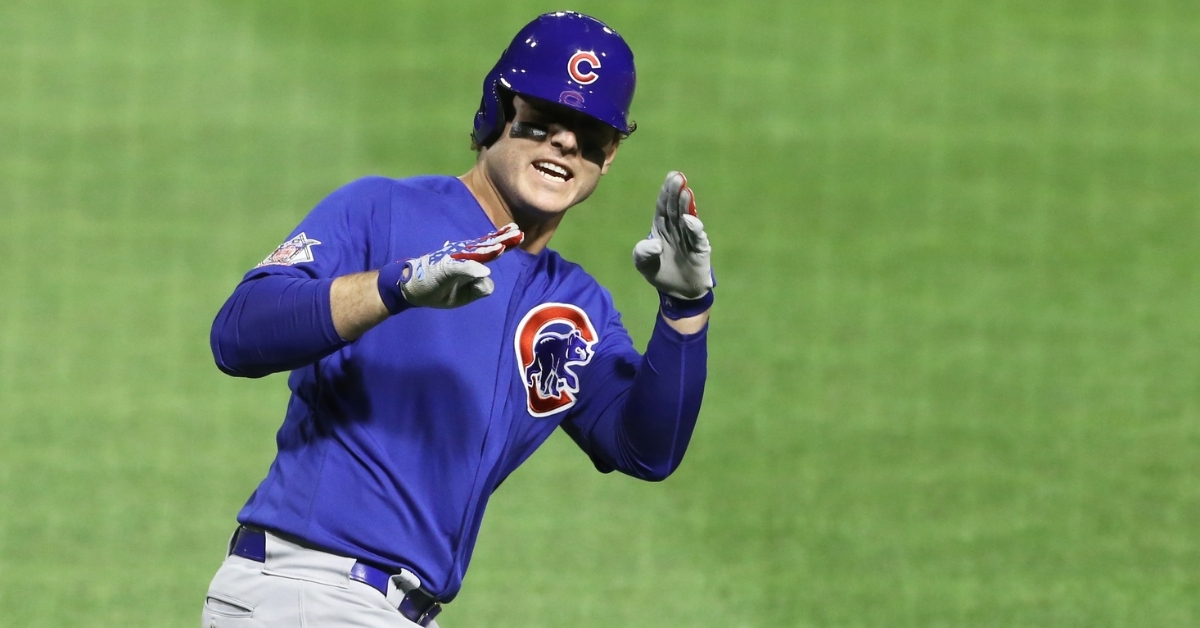 | | |
| --- | --- |
| CubsHQ Mailbag: Cubs lack of hitting, Future of rotation, J-Hey's worth, more | |
---
Last week, I reached out to our CubsHQ fans on various social media platforms to get their opinions and questions about the Cubs' upcoming offseason. It seems like a crucial one for the Cubs and for the legacies of many of these players, so let's answer some of your burning questions about the offseason that awaits.
Here is part one:
Question: With the bad batting averages for the Cubs and across the board, will the Cubs start looking at better at-bats rather than launch angle approach?
Kris Bryant is one of the biggest advocates for the launch angle approach that has essentially swept up the baseball hitting philosophy. From talking to Bryant's dad, the approach makes sense. A much higher percentage of balls in the air lead to hits instead of balls on the ground, and the only way to get the ball out of the ballpark is to lift it. However, the approach has its flaws. It is unknown if organization-wide the team's philosophy of hitting is the launch angle approach, but, without a doubt, this team relies on home runs and not small ball to win games.
But the long ball was not always plentiful for this group this year. Willson Contreras led the Cubs in terms of their core with a batting average of .243, fairy close to his usual average that sits around .260. The big disappointments came from Anthony Rizzo, Kris Bryant, Javier Baez, and Kyle Schwarber, all of whom missed their career batting averages by over .70 percentage points. While a lot of that can be blamed on the pandemic, lack of in-game video, injuries, and so on, the fact of the matter is the Cubs' stars struggled offensively for the third year in a row down the stretch.
Theo Epstein mentioned in his end of the year press conference that this team has had familiar disappointing endings three years in a row, and you can not continue to throw that group out there when you know how it will end. Epstein mentioned looking for 'different' hitters to sign this offseason. In my mind, the difference would be high contact, high average players to put the ball in play and get on base — a Rays approach if you will.
There is, of course, no indication of what baseball economics will look like post-pandemic or what type of budget the Cubs will be looking at, but different hitters is certainly something to monitor.
Question: Who do you think will make the starting rotation for next season?
The obvious answer is that Kyle Hendricks and Yu Darvish, both coming off of great seasons with sub 3 ERAs, will be the one and two starters for this team. I believe that Jon Lester has a possibility of coming back, as the Cubs will buy out his contract for 10 million and then possibly offer him an incentive-laden deal for no more than 5 million to return to be your third starter. I think your fourth starter then will be Alec Mills, who is coming off of his first season as a starter and pitched a no-hitter and finished as a finalist for the NL gold glove for pitchers. I don't think the Cubs will bring back Tyler Chatwood, which leaves an option for a fifth starter.
Whether or not the Cubs will look outside the organization is unknown, but it appears Adbert Alzolay may be in line to take a spot in the rotation. Alzolay finished 2020 with a 2.95 ERA and has really developed his slider. The youngster showed he has what it takes to make the rotation in the years to come.
What's the likelihood that Heyward could be moved? Everyone in baseball knows the cubs want that contract off the books no matter how well he bounced back.
If you subscribe to buy low, sell high theory, now would be a perfect time to trade Jason Heyward. Heyward is coming off his best year as a Cub, with a .265 batting average, a .392 on-base percentage, and an OPS north of .800. Heyward was named a Gold Glove finalist in right field and finished the season with six home runs and 22 RBIs.
I personally do not see the Cubs trading Heyward. First and foremost, the contract would be hard to take on for any team with the pandemic cutting their budget and magnifying this year's losses. I also think Heyward's leadership, in addition to his offensive improvements this year, should be more of a reason to keep him as opposed to trading him.
This team now needs so much despite winning a very, very weak division, we now we have rethink, restructure our bats/ line up..... cannot have too many more seasons with this kind of offensive production...
This isn't necessarily a question, but I agree with what was said. This team does have some glaring holes: too many strikeouts, lack of contact / on-base skills, lack of rotational depth, no development of homegrown talent, just to name a few. They say the definition of insanity is doing the same thing over and over again and expecting a different result. So, it would be insane for the Cubs to continue to roll out this offense and this team with the downfalls they have repeatedly shown.
Stay tuned to Cubs HQ for part two of these questions and answers!

Tags: Chicago Sports Baseball
,
Kris Bryant
,
Willson Contreras
,
Anthony Rizzo
,
Kyle Schwarber
,
Kyle Hendricks
,
Yu Darvish
,
Jon Lester
,
Alec Mills
,
Tyler Chatwood
,
Adbert Alzolay
,
Jason Heyward
,
Theo Epstein