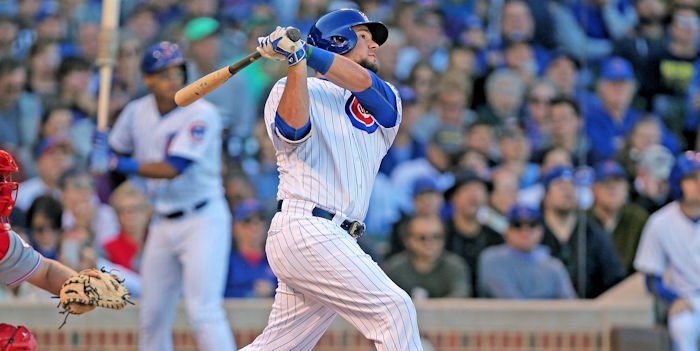 | | |
| --- | --- |
| Does the Universal DH benefit the Cubs? | |
---
As most of you may have heard by now, the latest proposal to restart the MLB season has been approved by the owners, which is a huge first step. The next step in the process is to send that proposal to the players, and hopefully, they can agree on the revitalized plan also. Should that happen, baseball will indeed be on track for the 2020 season, just with some slight modifications.
Some of the modifications will undoubtedly be fewer games in the range of 80-100, but now it seems like the number has dwindled to 80, which is basically half a season. Secondly, the divisions could be altered where the NL Central and AL Central will play no one besides those two divisions meaning eight or nine games against each one of those teams.
Perhaps one of the most significant changes outside of an expanded playoff field would be the adoption of the DH in both the NL and AL this season. Although a universal DH has been talked about for quite some time, nothing has ever come from it. While rumblings of a universal DH have been in the works for a while, could this be the breakthrough the MLB needs to make this happen?
As much as I once hated the DH, covering high school and college baseball over the past few years and I have come to realize that the DH rule is in place at those levels already, so I am completely over my once hatred for that rule. I do believe both the AL and NL should have the same rules, so if you can't beat them by forcing them to have pitchers hit, why not join them with a DH. I think experimenting with it this season could be a good thing, and if it works, get used to it sticking around.
With most people either on the fence about it or the ones who don't want it to come to the NL, keep in mind that this could benefit the Cubs more so than most teams. Not only will this eliminate the pitchers hitting which outside of Tyler Chatwood the Cubs rank near the bottom of the league in batting averages among pitchers, but it will also add a bat to the lineup every day which puts the Cubs at a significant advantage.
For starters, Kyle Schwarber immediately becomes the team's full-time DH as they will not only have his bat in the lineup every day but can make the team better by adding a few more everyday bats to the lineup in the process. With Schwarber moving to the DH spot, a void in left field would be created, which is where you could slide Ian Happ. Considering his switch-hitting ability, you just added another 20 plus homer guy to a lineup who could play every day at multiple spots.
If Happ moves to left, that opens center field in which Albert Almora would get more of a chance to play every day. Let's face it. After last season's struggles, some of us wouldn't want him on the roster with a significant role. However, a lot went into play for his struggles last season, and we have seen what he can do with a more prominent role. The best way to continue to get better is by having continuous in-game reps, and that is something that Almora and the Cubs have struggled with in recent seasons.
Make no mistake about it, the Cubs have had tons of offensive talent over the past five years and simply just not enough at-bats to come by. Players like Happ, Jorge Soler in the past, Almora, Addison Russell in recent seasons, Victor Caratini, and others at times all have the everyday mentality. Still, they could never find the consistent reps to stay in the lineup, which could be attributed to some of their struggles. Adding a DH would allow the Cubs to give these players more reps, which will help everyone moving forward.
When you have the Likes of Willson Contreras at Catcher, Anthony Rizzo at 1B, Javy Baez at SS, Kris Bryant at 3B, and Jason Heyward in RF, five of your eight everyday positions are set in stone leaving just three spots up for grabs. With the current format, Schwarber occupies left, and Happ will most likely be in center, leaving 2B open for the taking. With Almora and others needing at-bats to be valuable assets to the team, where would those at-bats come from if the group remained healthy?
The answer is clear, and it is precisely why the DH would help the Cubs moving forward. Ever since Joe Maddon arrived before his departure this offseason, the Cubs have always been built more like an AL team than an NL team. However, at times it was to their disadvantage because they sometimes pulled pitchers too early to get an extra at-bat in there where a DH you wouldn't have to worry about that at all.
Adding a DH to the NL will not only open a position in the field occupied by Schwarber, but it also lengthens the lineup by giving others more consistent reps at the plate. Whether that be Almora, Souza, David Bote, or Caratini, having a DH would allow these guys to be in the lineup every day while still having days off in the field. It is a win-win situation for the Cubs.
As we continue to await the many changes upon the new agreement, the one possible change I simply love is the universal DH. As the league continues to focus on batting focused players, the Cubs will finally have a chance to put an American League lineup on display all season. Should that stick long term, it could be problematic for some of the teams in the NL while some teams will start to unleash offensive prowess as we have never seen before.
Upgrade Your Account
Unlock premium boards and exclusive features (e.g. ad-free) by upgrading your account today.
Upgrade Now

Tags: Chicago Sports Baseball
,
Tyler Chatwood
,
Kyle Schwarber
,
Ian Happ
,
Albert Almora
,
Jorge Soler
,
Addison Russell
,
Victor Caratini
,
Willson Contreras
,
Anthony Rizzo
,
Javy Baez
,
Kris Bryant
,
Jason Heyward
,
David Bote
,
Joe Maddon