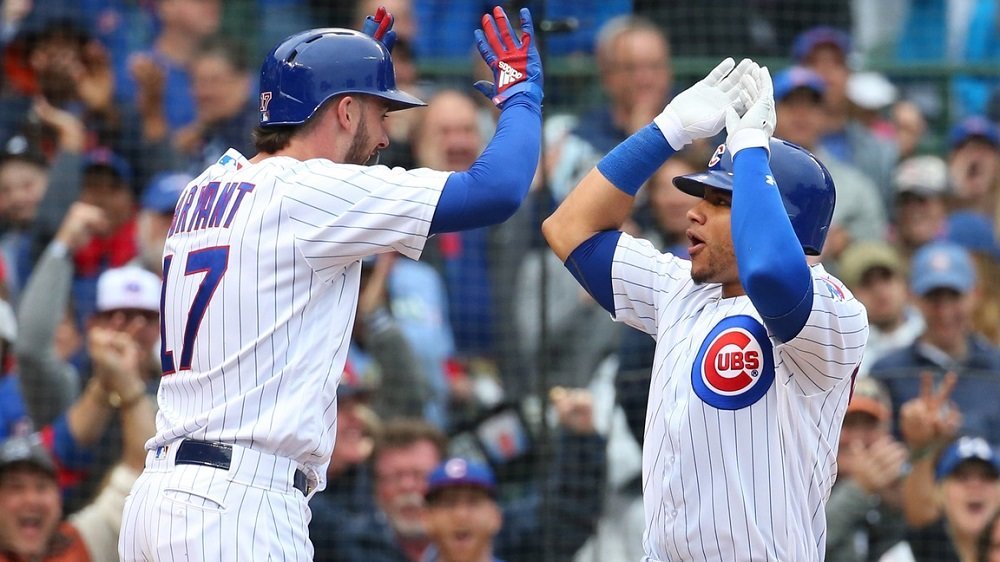 | | |
| --- | --- |
| Five Way-Too-Early Predictions for Cubs in 2020 | |
---
| | | |
| --- | --- | --- |
| Thursday, January 2, 2020, 8:36 AM | | |
It's that time of the year – everybody and their brother is making their 2020 predictions for the Cubs, so I may as well get my prognostications out there.
Kris Bryant's grievance gets resolved by January 22:
The Cubs' entire offseason seems to be hinging on what arbitrator Mark Irvings decides about Kris Bryant's grievance against the Cubs for manipulation of his service time. For whatever reason, Irvings seems to be dragging his feet on this one, but obviously, it has to end at some point. If Irvings were to announce his decision on January 22, Theo Epstein would be left with exactly one month to formulate his game plan before the start of the first Spring Training game.
Not only has this delay caused a mess for the Cubs' front office, but potential suitors for Kris Bryant – or other Cubs – are being held up, as Theo is unlikely to do anything regarding a major trade until this mess with Bryant is finally resolved.
The Nats were heavily interested in Bryant, but rumors say that they pulled back, based on what Epstein was asking in return. While that may be partially true, there's no doubt that they would be more receptive to meeting Theo's demands, knowing that they'd have Bryant for two years, as opposed to just one. The Braves also seem to have a fair amount of interest, but again, not knowing how long they'd be able to control Bryant has left them looking at re-signing Josh Donaldson, with a backup plan to trade for Nolan Arenado.
#Braves more focused on a Donaldson reunion than looking at a blockbuster trade for #Rockies star third basemanhttps://t.co/upmygbMi3P pic.twitter.com/qBhfmlcosP

— MLB Trade Rumors (@mlbtraderumors) December 29, 2019
Willson Contreras has been another name gaining interest, but Epstein seems far more interested in dealing Bryant. Neither will likely move until a decision is handed down from Irvings, and Contreras likely stays unless a potential deal for KB hits a snag.
Cubs go 91-71 under David Ross and finish second in the NL Central
I know they haven't made that colossal move yet, and I know they won't sign some superstar free agent. Even if KB is dealt, the Cubs won't likely get some big-name infielder in exchange, but I still think they'll exceed 90 wins in David Ross' inaugural year.
For all the good Joe Maddon brought to this team, it was painfully evident that somewhere in the machine, a cog had broken, and the tail begun wagging the dog. Ross is going to bring a fresh perspective to this team, and unlike Maddon's laissez-faire attitude, Ross seems intent on bringing change. Players will respond to someone willing to take charge to right the ship, and that response will show in the "wins" column.
It was a honor having the opportunity to play for Joe Maddon and winning a Championship with him during one of the greatest runs in the history of the Chicago Cubs. I learned a tremendous amount from him and wish him continued success in this game. pic.twitter.com/xr0OLFSTiZ

— David Ross (@D_Ross3) September 29, 2019
I don't believe that Ross is going to platoon players to the extreme that Maddon did, and guys like Albert Almora Jr. and Ian Happ will likely start to shine as a result. If Ross stays true to his word about holding players accountable, you'll probably see a more significant effort being made by players, especially if they know that consistent, subpar performances may carry a penalty of being benched.
As for that second-place finish, I think you'll see the Cardinals take the division again (unless Ross and the Cubs can pull a rabbit from El Mago's hat), with the Reds landing in third place this year. I can't see the Brewers getting it together, despite signing some key players, and as always, the Buc will be the cellar dwellers again.
In my buddy Anthony Pasquale's most recent Cubs Corner podcast, he touches on the possibility that Jose Quintana may be dealt, to shed salary, and help get the Cubs under the luxury tax threshold; I can't see it.
Happy New Year! Kick off 2020 with the latest episode of the #Cubs Corner: https://t.co/Ze35zrQX6o

— Anthony Pasquale (@Ant_Pasquale3) January 2, 2020
Anthony mentioned that Quintana didn't turn out to be the guy that the Cubs were hoping for when they traded Eloy Jimenez and Dylan Cease to the White Sox, but again, I must disagree. Q has never been a flashy player, but his ability to get the job done has been undeniable. Over 2-1/2 seasons with the Cubs, Quintana has put together a 33-23 (.589) record, while chewing up inning, averaging just over 5-1/2 innings per appearance.
For a comparatively modest $11.5M in 2020, the Cubs would be hard-pressed to replace Quintana, especially considering that Cole Hamels' spot still hasn't been officially filled. Yes, Q had an up and down year in 2019, but at age 31, he'll likely be able to rebound as he continues to contribute to the team.
The Cubs will re-sign Nicholas Castellanos
Something has to go right for Theo Epstein this winter, so it may as well be the ability to announce that the team has re-signed Nicholas Castellanos.
The Cubs want him back, and more importantly, Castellanos wants to stay, making this a deal that must get done, but whatever means. With an agreement reportedly in principle already on the table, the Cubs need only find a way to free up some cash to make this a reality.
For those who may not fully understand a deal (or agreement) in principle is defined as "a legally enforceable, but incompletely specified, an agreement between parties that identifies the fundamental terms that are intended to be or are agreed upon." In other words, it all boils down to, "I'll stay, but show me the money."
How can the Cubs not find the money for a guy who views every game as Opening Day? Or for the guy who slashed .321/.356/.646 over 51 games, while tallying 21 doubles and 16 dingers?
EVERYDAY IS OPENING DAY!!!! (all caps necessary) pic.twitter.com/nTeyIxg37B

— Cubs Talk (@NBCSCubs) December 31, 2019
The Cubs have extending Javier Baez on their to-do list this winter, but they still have two seasons to do so. The Cubs may have to put off extending Javy for the moment, but one way or the other, they're going to get Castellanos re-signed to what I believe will be a five to six-year deal worth $100M-$120M (AAV $20M).
I touched on this the other day in one of my columns, but I believe the four names listed above will all enjoy a huge turnaround this season.
Heyward has struggled immensely at the plate since coming to Chicago, and I think his time to shine has finally arrived. Since joining the Cubs, Heyward has batted around 10 points below his career average of .261, and while some of that is attributable to aging, a guy with his kind of power should be flourishing in Wrigley Field.
His thumb fracture impeded Javier Baez in 2019, but even before that, his season has suffered some inexplicable downhill turn. The slider in the dirt has continued to be Javy's Achille's heel, and very few and far between was the name El Mago mentioned last season.
Javy's bench time (due to injury) is bound to have made him hungry, and I expect to see him come out hungrier than ever in 2020.
Craig Kimbrel's extended offseason last year undoubtedly hampered his performance in 2019, but I believe with a regular winter and Spring Training, Dirty Craig will be back to his old self. The Cubs suffered through multiple setbacks with Brandon Morrow, so getting Kimbrel back on top of his game will be imperative to the success of the Cubs and Ross this year.
Jon Lester said it himself – he's been written off plenty of times before. Lester has two seasons left in Chicago, after which time he'll likely retire, as he'll be turning 38 before the start of the 2022 season, and you can be sure that Big Jon will want to go out with a bang.
Lester had a comparatively horrific 2019, leading the team in hits allowed with 205 while giving up nearly one homer per start. This is not the Jon Lester we all know and love, and I'd be hard-pressed to envision him repeating last year's performances.

Tags: Chicago Sports Baseball
,
,
Willson Contreras
,
David Ross
,
Albert Almora Jr
,
,
Jose Quintana
,
Cole Hamels
,
,
Jason Heyward
,
Craig Kimbrel
,
,
Brandon Morrow
,
Joe Maddon
,
Theo Epstein