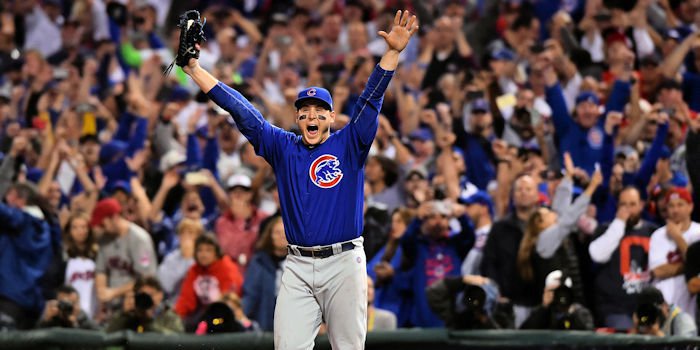 | | |
| --- | --- |
| Five reasons why Cubs haven't been back to World Series | |
---
| | | |
| --- | --- | --- |
| Monday, October 26, 2020, 12:03 PM | | |
Following the greatest moment in Cubs history in 2016, many fans and experts believed the Cubs were on the verge of a dynasty. How could you not think that way when you looked at their roster? You had a president in Theo Epstein who put together a team filled with young hitting talent while buying high priced free agents to fill out pitching needs.
Through 2017, the Cubs went to three consecutive NLCS and had that one world series title to their name, so the Dynasty talk was still relevant, just not as much. Since then, however, this team hasn't come close to those expectations, and it is the Dodgers now who are playing in yet another world series that has become the Dynasty the Cubs hoped they would be. What has gone wrong for Chicago?
When you look at the Dodgers roster and how they were assembled, you can see why the team is so good and in its position. They have strong starting pitching, an offense loaded with power hitters who can hit in the clutch, and a rich farm system that appears to have no end. While a lot of this seems like the Cubs' position were in four years ago, there are several reasons why this team failed to meet their expectations.
The dreaded luxury tax: One of the best things about baseball and quite possibly one of the worst things is that the MLB has no salary Cap. That means teams can spend as much as they want to a point to fill out their roster. Sure, you have small market teams like Tampa Bay and Miami that will never compete with the New York, Chicago, and Los Angeles teams, but that is how baseball works.
Being a big market team allows you to go pretty much after who you want, which the Cubs did for years. They not only did that but signed them to bigger contracts than they should have, hurting them long term. While there may be no salary cap, there is a thing called the Luxury Tax, which has crippled the Cubs in recent seasons.
The more you pass it, the more you get penalized, and the Cubs passed it far too often to continue. Instead of continuing to pass it and deal with the penalties, the Cubs have used that Luxury Tax almost like a salary cap. Maybe it is time to reevaluate the Tax threshold and spend once again.
Trading away quality talent for a ring: There is not one single Cubs fan that would want to return their ring from 2016. However, there are a lot of fans that question Epstein's deals in the process. Whether you agree or not, the Cubs do not win the title without Aroldis Champan coming from New York in exchange for Gleyber Torres. That deal most are ok with; it is the other ones that stings.
Trading a budding home run hitter in Jorge Soler to the Royals for one year of Wade Davis, trading away both Eloy Jimenez and Dylan Cease for an up and down Jose Quintana are the two trades that I feel ruined the Cubs dynasty chances. They had the pieces in place in their farm system to continue to retool.
Instead, many of their free-agent signings were not panning out, which caused the front office to panic and made some bad deals. Had they kept some of these players a little longer, they may have been able to flip them for better, putting this team in a better position.
JORGE SOLER TO THE DAMN PARKING LOT pic.twitter.com/Uq3idHQQlJ

— Jared Carrabis (@Jared_Carrabis) August 25, 2020
Hitters who perhaps are overrated: When the Cubs were stockpiling hitting talent in the farm system, power was the focus. As 2014-16 approached, that power was on full display, and everywhere you looked, the Cubs had it coming. However, are these hitters a one-trick pony who may indeed be overrated?
When you look at the numbers, especially for guys like Kris Bryant and Kyle Schwarber, it makes me wonder how good these players are. They had great starts to their careers, but since they haven't done much. Whether the league figured them out or they haven't been able to adjust is the million-dollar question. One thing that is starting to ring true is that these hitters may not be as good as everyone thought.
Do they have the power to hit 30-40 homers every season? Of course, but that may be all they can do. They have yet to show they can be clutch situational hitters, and teams know that. If you can't put the ball in play, the power numbers won't matter? This team needs to rediscover a new identity.
The Cubs' core, on the uncertainty surrounding the group for 2021 and the years ahead... pic.twitter.com/nrhrR3yQzo

— Jordan Bastian (@MLBastian) October 3, 2020
Losing a ton of veteran talent from 2016: I am not talking about the current core group of players the Cubs have left, but more so who they lost from that team. We already touched on Chapman, who was a two-month rental for the Cubs. What about the other names on that roster that season?
You had guys like John Lackey and Jake Arrieta, who played huge roles in the starting rotation. Although he struggled in his two post-season outings with the Cubs, Jason Hammel had career-best seasons with Chicago. The bullpen was loaded with former starters turned relievers in Mike Montgomery, Carl Edwards JR, Travis Wood, Trevor Cahill, and Justin Grimm, all of who were impressive finish. Add in Pedro Strop, who pitched seven incredible seasons with the Cubs, and you can see why their staff was so good.
Offensively, most of this team is still intact, but they are still missing pieces. NLCS game one hero Miguel Montero, current Manager David Ross, Ben Zobrist, Addison Russell, and Dexter Fowler are the prominent names people think about. The Cubs have less than 10 players currently on this roster who played on the world series team. That is a ton of production to replace. Add in John Mallee and Chris Bosio as the hitting and pitching coach, and this team never got in sync the way they should have.
#OTD in 2016, Ben Zobrist laid down a perfect bunt to jumpstart the Cubs offense and Anthony Rizzo borrowed Matt Szczur's bat to break out of his slump as the Cubs won Game 4 of the NLCS @watchmarquee pic.twitter.com/tC0aCEaqko

— Tony Andracki (@TonyAndracki23) October 19, 2020
Failure to develop home-grown pitching: While developing power hitters wasn't an issue to a point; the Cubs continue to struggle with developing home-grown arms. Sure, guys like Adbert Alzolay and Brailyn Marquez are starting to arrive, but that is three years too late. What happened in between?
Well, for starters, Cease was dealt to the Sox in exchange for Quintana. He was their best pitching prospect for years and never got a chance to show his stuff. Outside of him, the Cubs haven't come close to developing an impact arm. Not only is that bad for the team's future, but it forced the front office to buy and perhaps overspend on pitching at times, which crippled them when it came time to round out a roster.
The Cubs entered the 2020 season with the oldest starting rotation in terms of age and one of the slowest in terms of velocity. That is a double negative compared to what most teams have. With two and perhaps three starters coming off the books this season, the Cubs are in big trouble once again as they need pitching.
Theo says Cubs have a great rotation foundation with Darvish & Hendricks at the top. Mills impressed and Alzolay looks ready to step in, too. But...

"We certainly have to seek starting pitching and starting pitching depth from outside the organization."

— Jordan Bastian (@MLBastian) October 5, 2020
Kyle Hendricks and Yu Darvish will anchor the staff, but what happens after that. Alec Mills did enough this year to earn consideration, and Alzolay showed great strides, but they still need help. I don't see Lester back unless they can redo his contract, and given the Cubs not wanting to spend, don't look for Trevor Bauer to come aboard. It could be another offseason where the Cubs do minor patchwork while they wait for talent to arrive. With this being the last year of most of these player's contracts, don't expect them to give up on winning just yet.

Tags: Chicago Sports Baseball
,
Jorge Soler
,
Wade Davis
,
Kris Bryant
,
Kyle Schwarber
,
John Lackey
,
Jake Arrieta
,
Jason Hammel
,
Mike Montgomery
,
Travis Wood
,
Trevor Cahill
,
Justin Grimm
,
Pedro Strop
,
Miguel Montero
,
David Ross
,
Ben Zobrist
,
Addison Russell
,
Dexter Fowler
,
Adbert Alzolay
,
Brailyn Marquez
,
Kyle Hendricks
,
Yu Darvish
,
Alec Mills
,
John Mallee
,
Chris Bosio
,
Theo Epstein