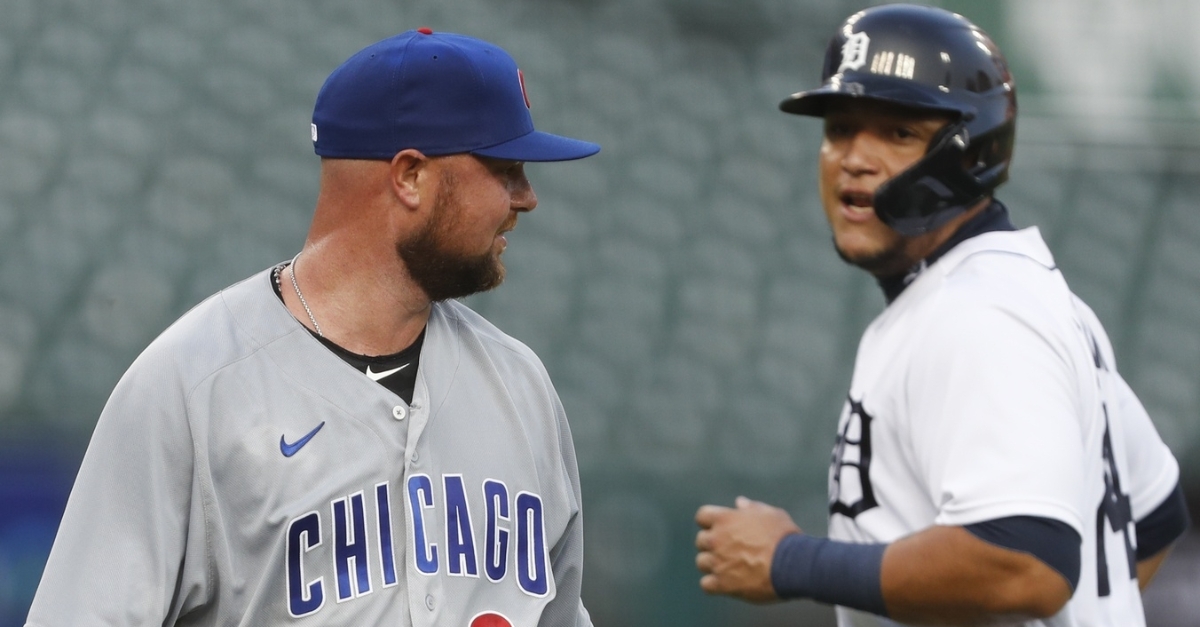 | | |
| --- | --- |
| Four Takeaways From Cubs-Tigers series | |
---
| | | |
| --- | --- | --- |
| Friday, August 28, 2020, 8:43 AM | | |
Well, that was a pleasant series, wasn't it? Not really as the Cubs inexplicitly lost two of three to the Tigers and are now sitting at 18-12 this season. After getting off to their incredible 13-3 start, the Cubs have gone 5-9 since and are not looking like a first-place team. Despite that, they still lead the central division, but their lead over the Cardinals continues to shrink.
Hopefully, the Cubs get things ironed out shortly, and they get back to playing the ball we saw the first two weeks of the season. I am not expecting them to go on another 13-3 run, but they easily can go 9-7 or 10-6 as this was supposed to be one of the easier stretches of their remaining schedule. The Cubs fell victim to a hungry Tigers team that played very well in taking two of three from us. Here are my takeaways.
After two impressive starts to open the 2020 season, Chatwood was rocked by the Royals before hitting the IL with a back injury. Making his first start in three weeks on Tuesday, Chatwood was rusty, but that isn't where the concern lay. Heading into that game, Chatwood was on a 60-65 pitch limit and lasted just 1 1/3 inning allowing two runs on 55 pitches.
The reason for the early hook was the old Chatwood showed up, which is something the Cubs hoped they would never see again. Not only was he all over the plate struggling to locate, but he also walked five hitters, which was more than his previous three starts combined and a significant cause for concern. Hopefully, that was a one start malfunction working off the rust and not resorting back to old form.
The bullpen is going in reverse
Just when you think the bullpen started to iron itself out after a strong start to August, it appears they are going in reverse and looking like their old selves too. However, there are names you usually wouldn't see starting to struggle.
Casey Sadler, Ryan Tepera, and Rowan Wick have all been strong much of this season, but lately, that is not the case. Sadler continues to battle command issues, Tepera has been good but was crushed against Detroit, and Wick has an ERA of 5.00 suddenly as he has allowed too much hard contact lately.
These three guys are essential pieces of that bullpen, and if they continue to struggle, it is not good news for this team. Thankfully, guys like Dan Winkler have started to step up, giving David Ross another option should some of the mentioned players continue to struggle.
The #Cubs bullpen has the 7th highest walk rate in MLB (12.3%), while the Cubs rotation has the single lowest walk rate in MLB (5.5%).

— Michael Cerami (@Michael_Cerami) August 27, 2020
Is Javy Baez heating up?
We haven't seen Javy Baez look this bad since his rookie season, and the frustration has been evident on his face. His average was in the 190 range, and nothing was going right. That was until a two-homer game Monday followed by another Multi-hit game last just like that his average is up nearly 30 points and sitting at .223.
That batting average is nothing to smile about, but there is still half a season left, and he raised his average 28 points in one series. Does this mean he is heating up? Hopefully, that is indeed the case because when he does heat up, we have seen what he is capable of doing. Baez has shown the ability to put the team on his back and carry the offense for long periods of time. Should this recent hot stretch continue, the offense may follow as teams will have to pitch much differently to the guys in front of him to avoid the big inning.
As the rest of the sports world elected to not play games due to a Kenosha shooting over the weekend, baseball decided to proceed as planned apart from four games. However, Heyward took it upon himself to take himself out of the lineup with respect to what other athletes were doing that day.
I have long been a proponent of keeping politics away from sports, and I still feel that way. I more so feel that way after the events that happened yesterday. I do have to commend Heyward, however, for standing up for what he believes in. Some people think he turned his back on his team, but that is not the case.
Unlike the rest of the league and sports world that made their boycotts a public fixture, Heyward met with Ross before the game behind closed doors to express his concerns. Heyward, an African American himself, has been a massive supporter of the Black Lives Matter movement as has much of the sports world this season.
Jason Heyward said other Cubs players didn't want to play either in support of him and BLM, but he encouraged them to continue the game. @cbschicago pic.twitter.com/PTuBWdxJkY

— Krista Ruch (@KristaCBS2) August 27, 2020
When he saw tons of athletes taking a stance in response to the situation in Kenosha, Heyward decided to join them on his own, leaving the team to play the game as planned. Keep in mind this event hits close to home as it took place just 75 miles north of Chicago.
I am always a little concerned when players take their names out of the lineup for political reasons but I have no issue with this instance because Heyward didn't make it public. He kept it to himself and used it as what most Americans would call a personal day.
Sometimes we all need that to clear our mind and make our voices heard.