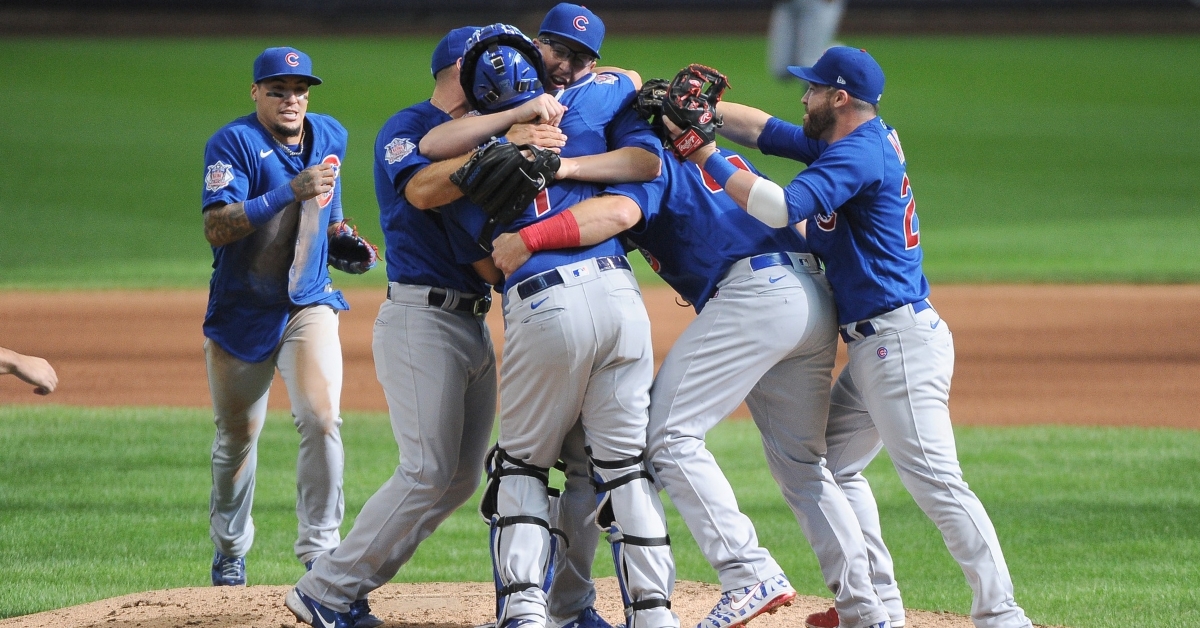 | | |
| --- | --- |
| Four Takeaways from Cubs-Brewers Series | |
---
| | | |
| --- | --- | --- |
| Monday, September 14, 2020, 10:17 AM | | |
We saw history yesterday in Milwaukee as Alec Mills tossed a no-hitter against the Brewers. Not only was that the second no-hitter in Miller Park history, but Cubs pitchers now occupy both with Carlos Zambrano picking up the other one 12 years ago.
Milwaukee had the Cubs on the ropes for 17 innings this series until one swing of the bat changed everything in game two. They managed to win that game before taking the series yesterday, and for the first time since 2016, they will not have a losing record to anyone in the division this season. Here are some takeaways from the Brewers series as the Cubs are gearing up for the final two weeks of the season with a four-game lead.
Congratulations, Alec Mills: Where do I start with Mills? Well, for starters, Mills is not the pitcher you would think would ever toss a no-hitter. Not only was he a 22nd round pick, but he was a walk-on for Tennessee Martin in college, so his story alone is incredible. Mills was also coming off what could have been his best start of the season before this outing earlier in the week, so his confidence must be at an all-time high right now.
Mills was given the final spot in the rotation this season once Jose Quintana went down with an injury. Through his first three starts, Mills showed it was a great decision as his ability to change speeds and pitch to contact created fits for opposing offenses. He then went through a four-start stretch where he quite frankly couldn't cut as the hits piled up and had fans wondering if he would be in the rotation long term. Following his outing on Tuesday, and now his start from yesterday, Mills isn't going anywhere this year.
Remember when Alec Mills pitched a no-hitter? pic.twitter.com/oMKjQeKkOj

— Chicago Cubs (@Cubs) September 14, 2020
Cubs finally get to Josh Hader: Ever since taking the mound for the first time in 2017, Josh Hader has had the Cubs number. Outside of a couple of home runs here and there, Hader has dominated this team and has made them look silly in the process. However, this season, Hader has not been himself against the Cubs, and Chicago finally kicked down the door against him.
In his previous outings against Chicago, Hader didn't allow an earned run but was forced to throw a ton of pitches as his command was lackluster at best. That was once again the case on Saturday, and this time the Cubs made him pay. Jason Heyward took him deep for a game-winning three-run shot before Ilderamo Vargas followed that with a solo shot. After being shut out for 17 innings to start the series, that win may be the momentum swing to get the Cubs going in the right direction.
J-Hey hits a clutch 3 as time expires. pic.twitter.com/ZIGP4399eH

— Chicago Cubs (@Cubs) September 13, 2020
Cubs starting to prep for the postseason: I know there are two weeks left of the regular season, but the Cubs have a four-game lead in their division and are all but guaranteed at least one of the wild card spots this season. With the Cardinals and Brewers set to play 10 games over the next two weeks, all the Cubs need to do is worry about their games and let those teams beat upon themselves.
As we have seen over the past two series, it looks like the Cubs are starting to prep for the postseason in terms of their roster. Their lineup is more consistent with players who will play more, and the bullpen is being used more routinely in crucial situations. Now is the perfect time for the Cubs to fine-tune everything as they should have a good sense of where things sit shortly. The key for them is to take things one-game and one series at a time.
Craig Kimbrel got a save: It may have been a bit nerve-wracking in the ninth inning on Saturday, but Kimbrel was able to notch his second save of the season and first since late July. The 2020 season and basically his entire tenure with the Cubs has not been too kind, so seeing him pick up a save against a tough Brewers team was excellent.
#Cubs Notes-Craig Kimbrel, in his last 11 games since August 14, has pitched to a 1.74 ERA (2 ER/10.1 IP), holding opponents to a .118 average (4-for-34), a .286 OBP, a .118 slugging mark and a .403 OPS. He's walked 7 and struck out 22 pic.twitter.com/SflaO8OWlP

— Crawly's Cubs Kingdom (@crawlyscubs) September 13, 2020
Ever since losing the closer job, David Ross has used Kimbrel in low leverage situations, hoping to gain his confidence back. Kimbrel set a franchise record for consecutive games with at least two strikeouts in the process, and his stuff has looked better. Lately, Ross is putting him in higher leverage situations, including inserting him in a 0-0 tie in the seventh inning on Friday. Kimbrel may not be the closer the rest of this season, but having him back into form will be huge for the Cubs postseason pen.
Craig Kimbrel recorded his 348th career save tonight, passing Randy Myers for 12th all-time. pic.twitter.com/jJQNibnV2w

— Marquee Sports Network (@WatchMarquee) September 13, 2020