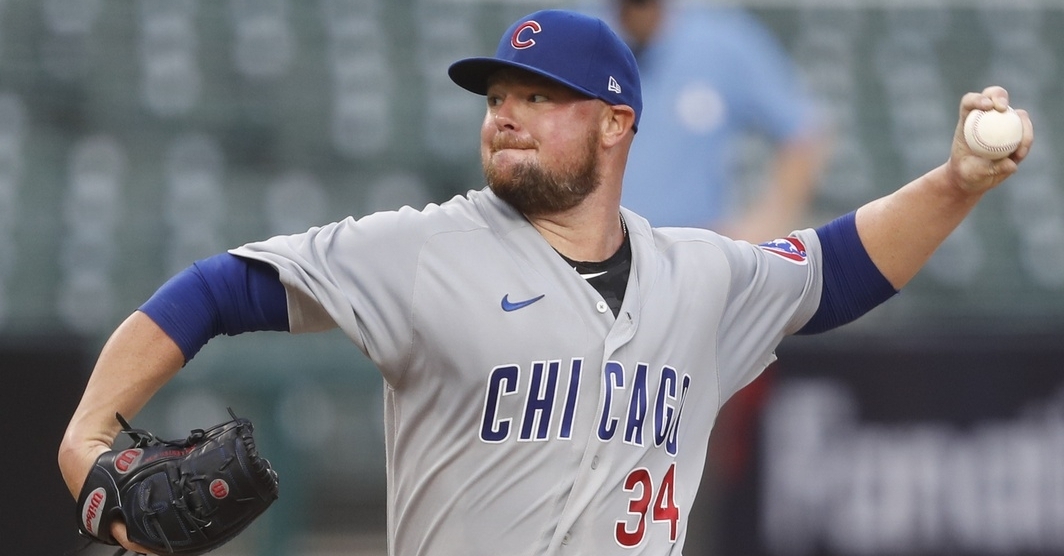 | | |
| --- | --- |
| Four Takeaways from Cubs-Cardinals Series | |
---
| | | |
| --- | --- | --- |
| Tuesday, September 8, 2020, 11:38 AM | | |
The Cubs capped off their season series in which all 10 games were played at Wrigley with another five-game set. Chicago had two outstanding pitching performances from Yu Darvish and Kyle Hendricks. The rest of the series was a struggle as the Cardinals managed to take three of the five games, including sweeping Saturday's doubleheader.
Still, Chicago managed to finish the season 5-5 against the Redbirds and maintain a 2.5 game lead over them with three weeks left.
Even though this was another series loss for the Cubs, some nice positives were to take away from it as Chicago will hope to put these positives to use going forward.
Here are some takeaways from the series against St. Louis.
Cubs need postseason Lester more than ever
The Cubs starting pitching got off to a great start this season but has come back to earth over the past months. Both Darvish and Hendricks remain the staff's backbone, but the rest of the rotation has been mediocre at best. Lester has been downright awful as of late, and it is time for him to snap out of it.
With both Tyler Chatwood and Jose Quintana still on the mend, Alec Mills starting to show struggles, and a few rookies chipping in to get some starts, the Cubs need Lester to start putting together some strong outings to finish the season. I would go as far as saying the Cubs need the postseason version of Lester now more than ever. We know we can count on the top two in the rotation, but the rest of the rotation has not been good. Getting Lester back to somewhere close to his postseason form will give the Cubs a formidable top three to contend with in a postseason series.
Jon Lester on his confidence right now:

"You guys have seen the line scores. There's not much confidence behind that right there.

"Its very frustrating. When frustration comes in, there's not a lot of confidence."

— Jesse Rogers (@JesseRogersESPN) September 7, 2020
Darvish solidifying his case as CY Young
I know there are still three weeks left of the season, and anything can happen over his next four starts, but he has been incredible. Not only has the right-hander now won seven consecutive outings to bring his record to 7-1, but he leads the majors in wins and leads the National League in both ERA and is second in strikeouts.
That sounds like a Cy Young, and if the season were to end today, you would have to give him that award. Whenever the Cubs backs are against the wall, and they need a stopper, Darvish delivers. He did that once again on Friday by pitching another masterful game against the Cardinals outdueling their ace Jack Flaherty in the process. With another big game against Trevor Bauer scheduled this week, another win could further his Cy Young case the rest of the way.
Yu Darvish is pitching like a Cy Young pic.twitter.com/YQyy3hZZMl

— Baseball Bros (@BaseballBros) September 5, 2020
Should Ian Happ be getting MVP votes:
While his numbers may not be at the level of Fernando Tatis, Marcell Ozuna, and others, Ian Happ has been the Cubs most valuable player this season and should get MVP consideration. Not only does he have his average north of 300 right now, but his 12 homers and 26 RBI's lead the club as does his 27 walks. Not only that, but Happ also has an OPS of nearly 1100 at the moment, which ranks tops in all of baseball.
Happ's drastic changes over the past season are undoubtedly evident, and it may have been the best thing for him to send him down last season. Since Sept.1 of last year, Happ has not only been the best hitter on the Cubs but one of the best in all of baseball. Not only does he rank in the top five in most NL categories, but ever since returning to the leadoff role, Happ has taken that position by storm, given the Cubs their first leadoff man since Dexter Fowler.
I know when voters look at the MVP race, they tend to look at the numbers and standings of the team those players are on. While I agree that Tatis Jr will get the award this year, Happ should be in the conversation. MVP stands for Most Valuable Player. Happ is the Most Valuable Player on the Cubs this season, and without him, who knows where this team would be.
Ian Happ (2.3) is behind only Fernando Tatis Jr. (3.0) in fWAR (tied with Yaz and Betts).

Also leads all qualified hitters in wRC+ at 183 (Juan Soto and Brandon Belt would be 1-2 if qualified, though).

— Matt Clapp (@TheBlogfines) September 7, 2020
Adding Billy Hamilton is intriguing
The Cubs have been a very busy team the past week as they have had a plethora of roster moves since Monday. After designating Steven Souza Jr. for an assignment on Saturday, the Cubs turned around to make another move by signing the speedy Billy Hamilton and sending him to South Bend.
From an offensive standpoint, this is not a wise signing as everyone knows the struggles Hamilton has had when it comes to getting on base. However, the signing does add some intrigue and gives the Cubs an excellent postseason weapon. When you look at the playoffs, all good playoff teams have someone who can play defense and have a game-changer on the bases.
You can look at 2017 when the Cubs added burner, Terrance Gore, late in the season to be used as a pinch-runner in crucial spots. That is precisely what Hamilton can bring to the table. He may not get on base at a high clip, but you could deploy him in the eighth inning and let his legs do the talking. Remember, this is a guy who stole 133 bases in a minor league season and has averaged nearly 40 per season when given a chance to play. I don't expect much from him offensively this season, but this is a move made for the postseason and postseason only.
A day after making his second significant baserunning blunder since joining the Mets, Billy Hamilton has been DFA'd.

Last month, the Mets traded 14th-ranked prospect Jordan Humphreys for Hamilton, who hit .045, stole one base posted -0.2 WAR over 17 games in New York.

— Anthony DiComo (@AnthonyDiComo) September 4, 2020