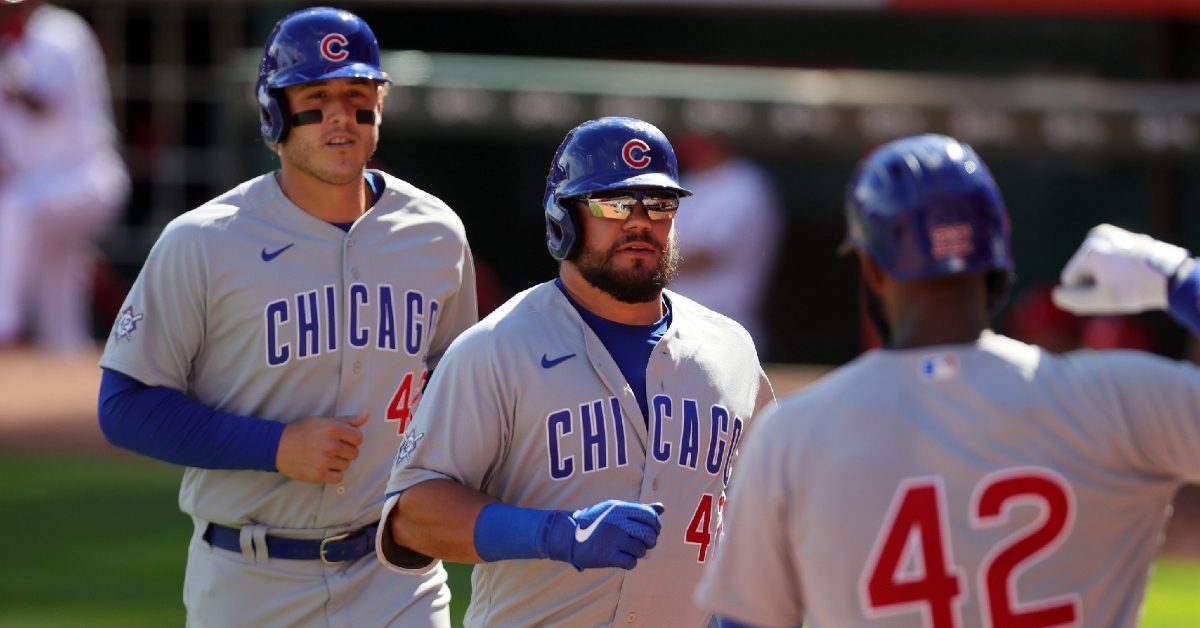 | | |
| --- | --- |
| Four Takeaways from Cubs-Reds Series | |
---
| | | |
| --- | --- | --- |
| Monday, August 31, 2020, 9:25 AM | | |
This weekend was an excellent opportunity for the Cubs to bury the Reds or, at the very least, make their road to the playoffs much tougher. Although the teams played to a 2-2 series split, it was nice to see the Cubs play with a bit more consistency, especially on the offensive end. Not only that, but the Cubs also finished the season with a 4-3 record at Great American Ballpark as these teams are set to play their final three meetings in just over a week at Wrigley.
Perhaps the most important thing to note from this weekend was the Cubs not only maintained their lead in the NL Central but managed to pick up a game in the standings. That is significant as it shows despite how the Cubs have been playing, they remain in a great position to win this division.
Here are some takeaways from the series.
We witnessed history on Sunday
While we sat and watched the offense mash six home runs in their 10-1 win yesterday, we also saw history in the making. For the first time in baseball's 145-year history, all three starting outfielders hit two homers each as they provided all 10 runs on the board.
Yes, Jason Heyward, Ian Happ, and Kyle Schwarber all had multi-homer games on Sunday, providing all the Cubs' offense. Schwarber joined the party in style to make history by smashing a grand slam in the ninth. It is nice to see the Cubs offense starting to show signs of life again, even if it was just one game. Still, when you get performances like that, you get a sense that they may be snapping out of it as a team.
Two homers from each starting outfielder.

The first time in @MLB history! pic.twitter.com/TSFLcqMeDm

— Chicago Cubs (@Cubs) August 31, 2020
This is the Jason Heyward we have been waiting for
After the Cubs dished out the huge free-agent contract to Heyward in 2016, fans expected great numbers to support the deal. Well, the truth is Heyward has never been the power hitter you would expect hitting more than 20 homers just three times in his career. Two of those times came in Atlanta, where his career-high 27 homer season landed.
Once he arrived in Chicago, most Cub fans expected those numbers to return once again, but instead were left with three less than appealing seasons. After watching Heyward look like the Heyward of old last season with his 21-homer outburst, he has even looked better this season, which has fans jumping for joy. This is the guy we paid for. Not only is he hitting for more power, but he is turning into one of the better clutch hitters on this team and still offers gold glove defense. If this was a full 162 game season, you might be looking at a career year in every category minus RBI's.
J-Hey's 2nd blast today! ???? pic.twitter.com/FEVoXurGGG

— Chicago Cubs (@Cubs) August 30, 2020
Let's talk about the first name on this list instead of the second. From a performance standpoint, Chatwood pitched just fine through two innings yesterday and has thrown the ball well on most occasions. That isn't why he hates Cincinnati. Instead, Chatwood called for the trainer in the top of the third after complaining about pain.
I don't want to jump the gun right now, but you immediately think Tommy John whenever you hear right elbow pain. Chatwood has had TJ surgery twice already, so for him to call for the trainer so quick is alarming. He would know better than anyone what type of pain that is and will be examined on Monday.
Tyler Chatwood spikes a 1-0 pitch to Votto in 3rd and immediately calls for the Cubs' head athletic trainer. Exits the game with an apparent injury. This is 2nd start back from a IL stint due to a back strain. pic.twitter.com/gPteWlsuoa

— Jordan Bastian (@MLBastian) August 30, 2020
On the other, Kimbrel may never want to return to the Great American Ballpark again, given his performances there. In two outings this season, Kimbrel has lasted one inning, walking six hitters, hitting two, striking out three, and uncorking four wild pitches. He has also allowed six earned runs in those outings, which is why his ERA is where it is at.
Outside of his two performances at Cincinnati, Kimbrel has been doing a lot better, especially from a command side of things. For some reason, he doesn't have it when he goes to Great American Ballpark. My only fear is will that get in his head once again. We saw what happened after his first outing this season and how long it took for him to look normal again. The Cubs cannot afford to go through that again should he not be able to recover.
Cubs added to the roster to fill a need
While the last takeaway has nothing to do with the series, it was worth noting. Before the game on Sunday, it was made known that the Cubs traded for Jose Martinez from the Rays in exchange for two players to be named later. This may not be an eye-popping trade, but certainly, a deal that needed to get done.
Not only did it cost the Cubs nothing in terms of quality players, but it filled a need they have been trying to fill since the first game of 2020.
Martinez may only be hitting .239, but he is crushing lefties this season, which the Cubs are not. His bat will give the Cubs a more challenging lineup against lefties and may add more thump for this final stretch run.
After aiding their issue vs. lefties with the Jose Martinez pickup, Cubs will look to upgrade the pen today. Like many!

— Jon Heyman (@JonHeyman) August 31, 2020