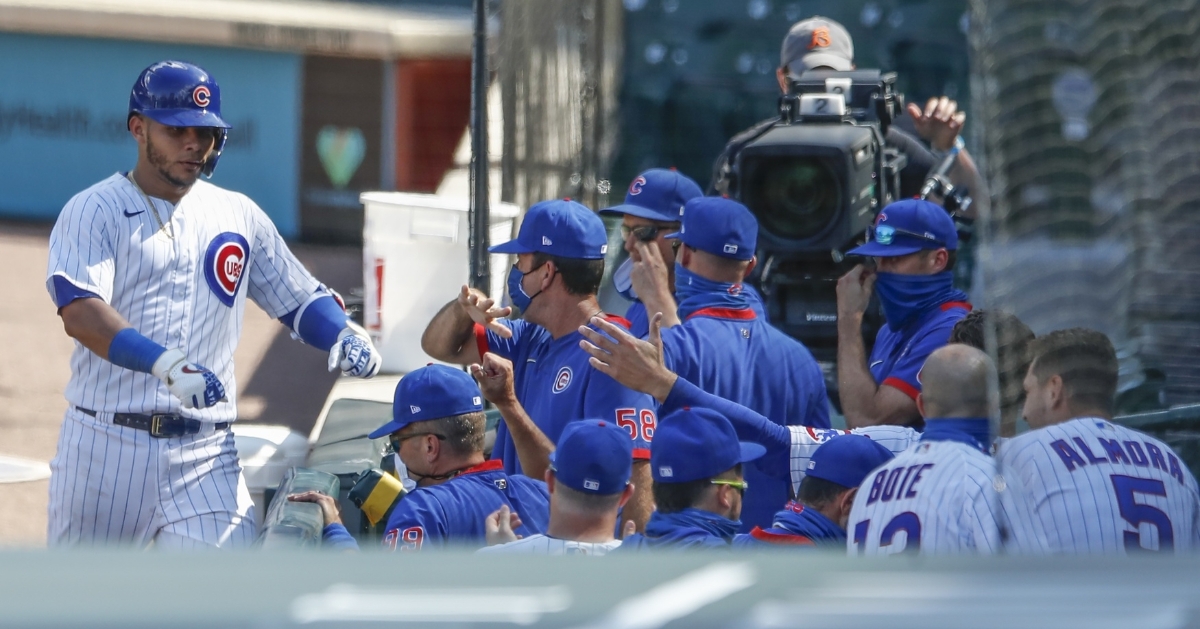 | | |
| --- | --- |
| Four takeaways from series loss with Brewers | |
---
It took nearly 20 games, but the Cubs took their first series loss of the season at the Hands of Milwaukee this weekend. Not only did they go 1-3 on the first series of what is supposed to be a 12 game homestand, but they also walked away with three-consecutive one-run losses giving them two losses in a row or more for the first time in 2020.
For the most part, it was a very evenly matched series as it was expected to be, but the Brewers found ways to come up clutch when it mattered the most. Whether on the mound or at the plate, Milwaukee started to show signs of life, leaving the Cubs with their first losing streak this season.
Here are four takeaways from that series.
Cubs need Jose Quintana more than ever
I am not saying that because starting pitching has been bad, but instead, because of the situation, the team finds themselves in. Before summer camp, starting pitching depth was one of the strengths of the Cubs roster. After Quintana injured his thumb and needed surgery, the Cubs were left with five starters and no depth. Now add in Tyler Chatwood heading to the IL, and we have a team with four healthy starters and in dire need of more.
Before Chatwood going down, the Cubs appeared to be in good shape in the rotation, but sadly not anymore. Not only will they be without Chatwood until the 23rd, but we still don't know what is going on with Quintana. Add in the two doubleheaders this week, and the Cubs are now in need of two additional starters in the next few days. Adbert Alzolay is undoubtedly one option, as is Colin Rea, but Ross has said he likes Rea out of the pen more. It will be interesting to see what the Cubs do this week.
Jose Quintana playing catch in left field. He's scheduled to throw a four inning sim game tomorrow. pic.twitter.com/vI7ZqiU5f3

— Maddie Lee (@maddie_m_lee) August 15, 2020
Too much like last season
To say this was a lousy series would be an understatement as the Cubs struggled in all facets. I know this is a new season, and through 19 games, the Cubs never gave us much to complain about, but this looked too much like 2019 this season.
The strikeouts were piling up, the clutch hitting was nonexistent, and the pitching was ok, but not at the level we saw earlier. I am not one to beat myself up over this series as bad play was bound to happen sooner or later. The problem with what I saw this weekend and going back to earlier in the week is that the Cubs are starting to get themselves in bad habits once again. Hopefully, that changes sooner rather than later.
Baseball is a game of inches
Baseball has always been a game of inches, but that was the case more so than ever this weekend. The Cubs were close in every game, but they were inches away from going 3-1 in the series as opposed to 1-3.
Take game two, for example. After Alec Mills gave up the go-ahead homer to Christian Yelich in the sixth, Kyle Schwarber was inches away from putting one in the basket in the eighth to tie things up. Milwaukee went on to win 4-3 as Josh Hader slammed the door shut. Move to Saturday; Cubs saw another early lead evaporate as Milwaukee came through with clutch hits.
A couple of groundballs in the hole that Javy couldn't field cleanly gave Milwaukee a pair of runs. Add in the RBI double in the top of the 10th that was inches from going foul, and you have another hard-fought 6-5 Brewers win. Inches continued to be the story on Sunday, mainly in the ninth as the Cubs were on the wrong end of inches once again.
With Hader on the mound once again in the ninth, both David Bote and Nico Hoerner appeared to draw walks on the surprisingly wild Hader. Instead, Bote was rung up on a called third strike while Hoerner was forced to see seven more pitches before flying out to center to end the game. Between those at-bats was Javy Baez, who hit a chopper to Hader down the first baseline. After initially stopping, Baez appeared to avoid the tag and make it to first only to be called out inches short after a replay review.
Time to try Jason Kipnis at leadoff
The Kris Bryant in the leadoff position has gone long enough, and David Ross needs to change it now. Ian Happ has shown a lot of improvement and would be a good option, but I would like to see Kipnis get a shot. Granted, that would mean more of an everyday role for him, and he deserves his chance as he continues to impress.
.@TheJK_Kid ties it up with a two-out knock in the 6th! pic.twitter.com/6nEsO8KhjC

— Chicago Cubs (@Cubs) August 16, 2020
Not only that, but Kipnis is also a decent contact hitter who knows how to get on base. He also has plenty of leadoff experience from his days in Cleveland, so this wouldn't be anything new for him. I understand that Ross wants to give Bryant every shot in the world, but when you're hitting under .200 for 20 games, it is time for a change.

Tags: Chicago Sports Baseball
,
Tyler Chatwood
,
Adbert Alzolay
,
Colin Rea
,
Alec Mills
,
Kyle Schwarber
,
David Bote
,
,
Javy Baez
,
Kris Bryant
,
David Ross
,
Ian Happ