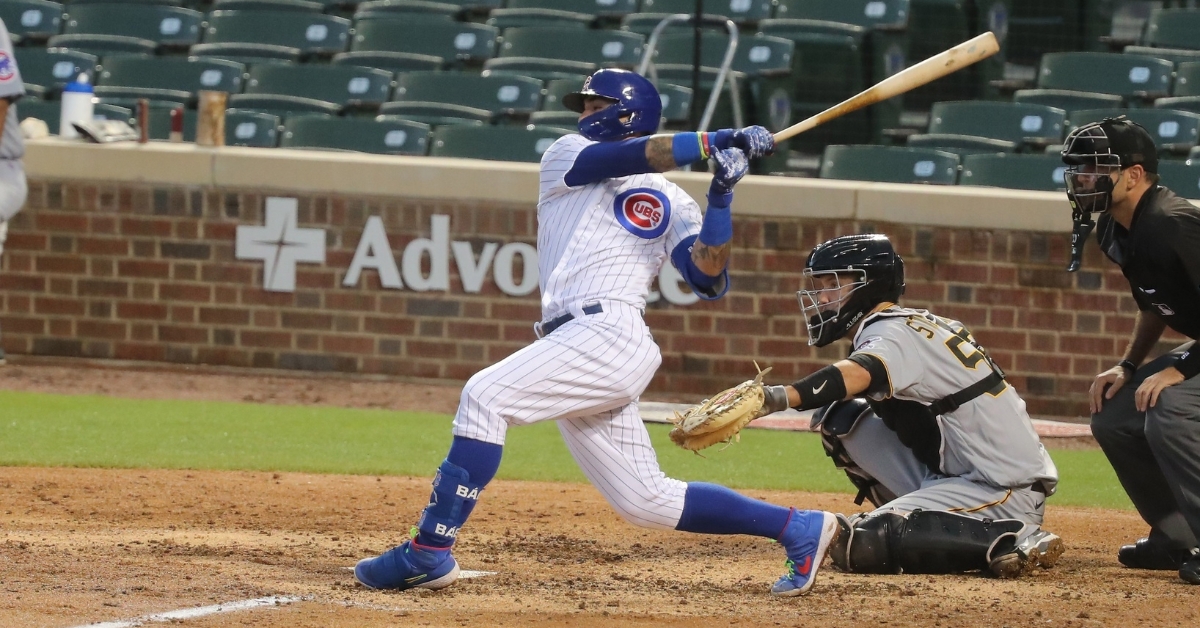 | | |
| --- | --- |
| Four takeaways from sweep over Pirates | |
---
| | | |
| --- | --- | --- |
| Monday, August 3, 2020, 10:33 AM | | |
Oh, how sweep it is! The Cubs picked up their third series win in as many tries this season, but they did so earning their first sweep of the season against the Pirates to improve to 7-2 this season. That record is not only the best in the National League, but only the New York Yankees have a better one as they sit at 7-1.
There was a lot to like over the weekend against the Pirates as the Cubs starting pitching continues to lead the way with the offense coming up clutch when needed. We continue to see the bullpen struggles, but we know they can throw a scoreless outing as they did yesterday.
Here are some takeaways I gathered from this weekend's series.
Why do teams test Kyle Schwarber on defense?
Not only did Schwarber provide the early offense with his fifth-inning double, but he saved the game in extras nailing Jacob Stallings at home with a picture-perfect throw. Despite all the criticism he takes as a left fielder, Schwarber has quietly turned into one of the better LF's in the game and ranked eighth-best in all of baseball in 2019.
A cannon and a brick wall. pic.twitter.com/VGaO5uAJ1M

— Chicago Cubs (@Cubs) August 3, 2020
While his route and defense are still questionable at times, his arm is certainly not a question, and teams continue to test him only to fail miserably. His arm is accurate and strong as he continues to lead the team in outfield assists. The throw he made to keep the score tied in extras was perfect, which ultimately saved the game for Chicago. There is a reason why David Ross has not used him as a DH all that often, and that is it.
Although wacky, the new extra-inning rule is exciting
I know a lot of baseball purists out there hate the new extra-inning rule as they feel it takes away from what baseball is intended to be. I can certainly see their point when making that argument, but I am in the minority when I say I love the rule change.
Covering the Minor Leagues last season, I was introduced to that rule a lot sooner than most, so I have had a year to adjust to it. It makes the game more exciting and drama-filled, but it adds a sense of strategy to the game as teams try to piece what to do next. As a hitter, do you give yourself up and move him to third. As a pitcher, do you walk the leadoff hitter and set up a double play?
Both are great questions that will always be answered within the first few hitters. Add this rule to the new three batter minimum, and extra innings will become a whole lot more exciting in 2020 as the team with the best strategy will most likely win.
It has been just two starts, but Tyler Chatwood has undoubtedly proven his worth in the starting rotation and might be the best in the rotation to this point. Always known to have electric stuff, Chatwood never could harness his pitches, which is what his biggest knock as a pitcher has been.
A similar-sounding story was a part of the Cubs World Series run when Chicago acquired Jake Arrieta from the Orioles. Back then, Arrieta was known for having some of the best pure stuff in the game but lacked the command to be an elite arm. After that trade to Chicago and a change of scenery, something clicked for Arrieta, and the rest was history.
I am not expecting Chatwood to pitch at the level Arrieta did, but the path that these two have taken are similar. Their stuff is identical, their velocity is similar, and the change of scenery looks similar, although Chatwood was in the pen last season. If his first two starts are any indication of 2020, not only has Chatwood figured out how to command his pitches, but he is auditioning for a long-term spot in this rotation.
Tyler Chatwood set the tone this weekend! ??@pepsi pic.twitter.com/ejneoMhDKX

— Chicago Cubs (@Cubs) August 3, 2020
Jeremy Jeffress needs to be worked in as closer
After his first outing in Cincinnati, Craig Kimbrel was on a short leash, and fans couldn't be happier about that. In hopes of getting some confidence back in his right-hander, David Ross trotted him out Friday night in a non-save situation looking to see what he could do.
Instead, Ross was treated to Kimbrel, allowing back to back homers with five solidly struck balls as his miserable time in Chicago continues. Ross may have seen enough as he has met with Kimbrel to discuss the closer role and what the future may hold. Thankfully for Chicago, they have found their new stopper as Jeffress has been impressive thus far.
Granted, he has only pitched three innings in 2020, but they have been impressive outings as he has yet to give up a run. Not only that, but the Cubs have also thrown him into extremely tough situations only to see him pass with flying colors. I don't think the Cubs are ready to make a change in the closer role to this point, but Jeffress has undoubtedly proved to be the MVP of this bullpen. He has earned the right to close if a change is imminent, and I am sure the Cubs feel the same.