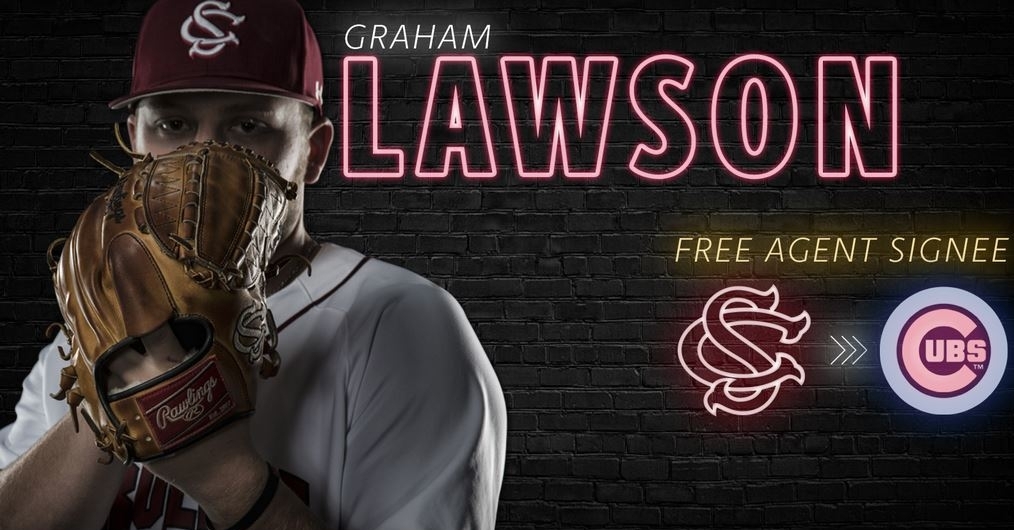 | | |
| --- | --- |
| Getting to know: RHP Graham Lawson | |
---
| | | |
| --- | --- | --- |
| Tuesday, June 23, 2020, 5:02 PM | | |
Going into the undrafted free agent process for MLB this season, no one knew what to expect from any team. We quickly found out, however, that the Cubs were not only going to pursue some college-level talent but were one of the most aggressive teams from the start as they wanted to add some quality pieces to an organization looking to rebuild some of their depth.
Chicago felt adding to pitching was essential during the undrafted free agency process and added to that by signing South Carolina RHP Graham Lawson. The big 6-2 229-pound right-hander has all the size to produce at the next level as the Cubs will be looking to unlock his true potential during the development process.
Ranked in the top 300 prospects coming out of high school, Lawson went the junior college route where he established himself as a legitimate Division 1 talent. In 2016, Lawson only saw action in 27 innings of work but did his part by striking out 31 batters. That is impressive for a senior to put up those numbers in college, but when a newcomer does it, you have to take notice.
Following that season, Lawson committed to South Carolina, where he was looking to contribute immediately as a sophomore. However, in 19 appearances, Lawson did struggle posting a 2-0 mark with a 5.87 ERA to go with nine walks and 19 strikeouts over 23 innings of work. Even with a subpar performance like that, the Washington Nationals saw something in him and elected to draft him in the 12th round of the MLB draft that season which is very good.
However, Lawson and the team couldn't agree to terms as he returned to the Gamecocks for his senior season, coming off a solid junior campaign that led him to be drafted. It was during his junior season in which Lawson established himself as a reliable reliever going 1-1 with three saves and 26 punchouts in 27 innings of work while holding hitters to just a 189-batting average in conference play.
Following an injury that forced him to miss all of 2019, Lawson earned himself a red shirt that year and was able to return to school for his senior season in 2020. Known as a make or break year this year, Lawson was off to a great start proving he was fully recovered from that injury set back the season prior.
In six games in 2020, Lawson through six innings of relief and punched out eight batters in the process to get back his freshman average of over one strikeout per inning. His 1.50 ERA and 111 opponents batting average was also pleasing signs as those were on track to be the lowest number he has posted during his tenure in college. While we don't know what his numbers would have looked at the end of 2020, it does appear that he started to figure things out this spring, which is why the Cubs may have taken a flyer out on him at this point.
After not having much success as a reliever in 2017 and 2018, it looks like he may have a home long term in the bullpen as seemed to be a completely different pitcher this season despite some lack of command at times. I am a little concerned that he is another pitcher that recently underwent Tommy John surgery, but he does appear to have rehabbed successfully and is on the verge of busting soon.
Another pitcher not known for his velocity, Lawson does sit in the 90-91 range, but there is reason to believe his heater can get up to 93-94 as he continues to build back that strength from Tommy John. While his secondary pitches do need some work now, Lawson will get his fair share of ground outs to go with strikeouts at this stage of his career. Command has always been the issue for Lawson, especially as of late as he averages nearly as many walks as strikeouts over his last ten outings. If that does not change shortly, his MLB journey is going to be very short-lived as his plus 5.00 ERA shouldn't give you much optimism for big things in the future.
Like I mentioned earlier, this is more of a depth signing than anything as he is not going to be an impact arm at any level. Lawson is going to fit into whatever team's bullpen he is on and will be used sparingly in different situations.