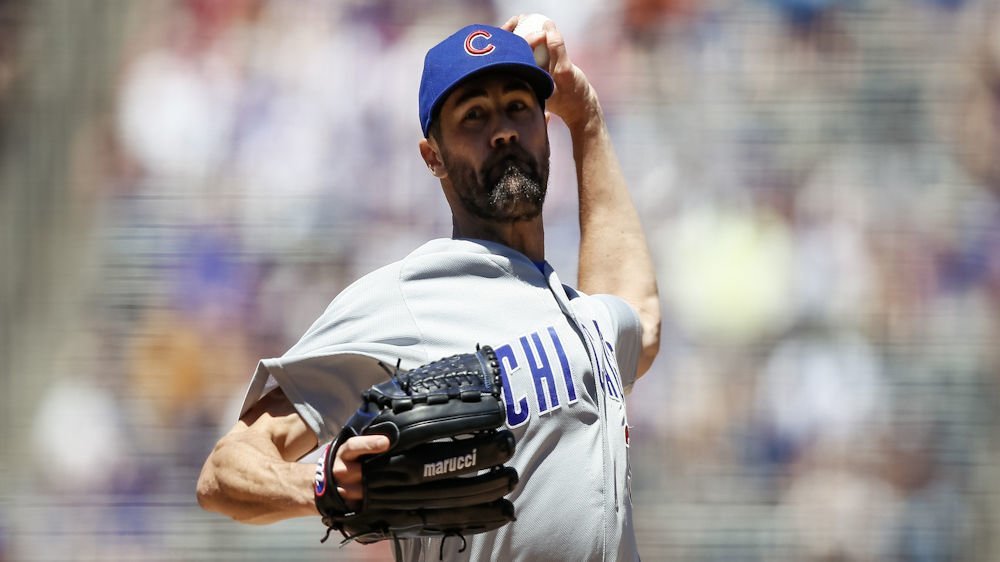 | | |
| --- | --- |
| Is Cole Hamels a future Hall of Famer? | |
---
Earlier in the week, we touched on Jon Lester's potentially Hall of Fame candidacy and how much the suspension of baseball may impact his resume during the Covid-19 Pandemic that has shut down baseball and the world as we know it until further notice.
But what about fellow left-hander Cole Hamels, who spent parts of the last two seasons with the Cubs and has since signed a one year deal on the contending Atlanta Braves. Hamels has not spent the same amount of time on the Northside as Jon Lester, but his resume and the impact of the shutdown is as if not more compelling.
Hamels broke into the league in 2006 and has spent the last 14 seasons with three different teams, as one of the leagues best and most consistent left-handers in the league.
Hamels spent a few years as one of the leagues greatest pitchers but has primarily been just one of the bests for the last decade and a half. Like Lester, his numbers don't jump off the page like a Clayton Kershaw or Max Scherzer do — but when you look at the full resume, Hamels should not be immediately shoved aside when considering Hall of Fame status.
The left-hander has made it to four all-star games and has won 10 plus games in a season nine times in his 14-year career. He spent the first ten years of his career in Philadelphia, with his final start as a Phillie being a no-hitter thrown at Wrigley against the Cubs in 2015.
Hamels' numbers began to dip with the Phillies as the franchise did, but when he was traded to the Rangers, he finished the year out 7-1. Then in 2016, he won 15 games and another 11 in 2017 before the Rangers flipped him to the Cubs in 2018 as the Rangers began to fall out of the playoff race.
The Cubs traded for an established winner in Hamels, and he led the Cubs' pitching staff down the stretch in 2016 with a 2.36 ERA. He kept that work up in 2019, appearing like he was on an all-star trajectory with a 6-2 record and a 2.92 ERA before an oblique injury sidelined him temporarily and derailed his season.
The Cubs decided to move on from Hamels after 2019, and he signed a one-year 18 million deal with the Braves to play with a contender and also hoped to prove that he is healthy and capable of earning another multi-year deal and bolstering that Hall of Fame resume.
But the Coronavirus may keep him off the field, and not let him get the chance.
When you look at his career numbers compared to the hall of fame pitchers, he is clearly not in the same category of Nolan Ryan or Greg Maddux, but what if you averaged the numbers of all 80 pitchers who have been inducted as players into baseball's Hall of Fame in Cooperstown?
The average pitcher pitches 18 years, has a 246-171 record, a WAR of 69, a 3.00 ERA, 3,683 innings while striking out 2,127 batters.
In Hamels' 14 year career, he has pitched to a 163-121 record, with a 3.42 ERA, a 59.5 WAR, 2,694.2 innings pitched, and 2,558 batters punched out.
While none of those numbers are entirely up to par with the average of Hall of Famers, Hamels has a few other bullet points on his resume that deserve mention. As previously mentioned, Hamels has the elite no-hitter on his resume. Hollywood has never won a Cy Young, but he has finished in the top ten of Cy Young voting in four seasons.
On top of that, Hamels has an elite postseason pitching pedigree. Of course, he was on the World Series winning Phillies team in 2008 — but he was electric on the mound.
In the 2008 postseason, Hamels was 4-0 with 35 innings pitched, a 1.80 ERA and 30 strikeouts on his way to claiming NLCS MVP honors. World Series MVP honors, and of course, the coveted World Series Ring.
In 17 postseason appearances, Hamels has a 3.41 ERA in 100.1 innings, with 93 punchouts in that time frame.
Those are the type of numbers that certainly aide Hamels' case to earn a spot among baseball's immortal in Cooperstown eventually.
Cole was hoping to use this year as a stepping stone to the last portion of his career, the one many players use to really pad their career stats and bolster their Hall of Fame legacy — and if he can stay healthy, he should be able to do put together a few more solid seasons.
But who knows if the coronavirus will give the 35-year old that chance?