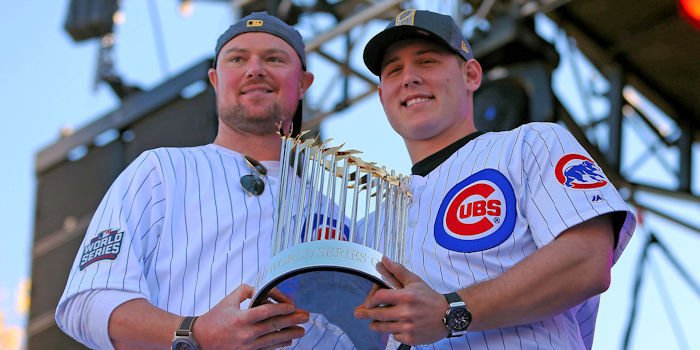 | | |
| --- | --- |
| Jon Lester on fan support: "Blown away by all the love" | |
---
| | | |
| --- | --- | --- |
| Friday, September 18, 2020, 9:14 AM | | |
On Wednesday night, Jon Lester delivered five strong innings, giving up just two runs on four hits.
That start was the latest on the long list of solid starts made by Jon Lester. But there was one thing special about it; it may be Lester's final one at Wrigley Field.
Six years ago, Jon Lester inked a mega-deal with Cubs during the Winter Meetings. The contract was for six years and 155 million dollars. And that deal is winding down.
"I never thought six years would go this fast," Lester said.
The deal was crucial for the Cubs. After years of struggle, Theo Epstein's plan needed to turn in the right direction. While Joe Maddon joining the squad was a huge and important move, Jon Lester's signing was the first domino to fall to believe that this plan can come to fruition.
Not only did Lester buy into the plan before any other player did, but he performed to his contract for six straight years in Chicago. Lester got the ball rolling for the Cubs to be seen as a legitimate contender, and led to the signings of David Ross, John Lackey, Dexter Fowler, Ben Zobrist, and Jason Heyward over the next two offseasons, to name a few.
Lester's signing put all of the pieces in place to fully execute the rebuild, which of course, culminated in an epic 2016 World Series win over the Cleveland Indians. Without Big Jon, the Cubs don't win a World Series.
Lester was known as one of the most reliable and effective left-handed pitchers in the game, and a strong postseason pedigree boosted his resume. All of that contributed to Theo Epstein and Jed Hoyer inking Lester to the mega-deal in the winter of 2014.
His entire career with the Cubs has been filled with epic moments. Lester is 76-43 across his five and a half years as the Cubs' ace starting pitcher. He has a 3.61 ERA and has pitched nearly a thousand innings for he Northsiders, but it's the postseason that really sticks out.
Lester's postseason with the Cubs includes ten starts and one relief appearance, good for 70 innings pitched, and just 19 runs given up. Lester's postseason excellence led him to be named NLCS Co-MVP in 2016. Lester got the win in game five with the Cubs' back against the wall and was first in relief on game seven of the World Series.
Whether its Lester's walk-off squeeze bunt, his occasional pick offs, his glove being thrown to Anthony Rizzo, or anything in between — Lester has made his mark as not only the best free-agent signing in Cubs history but also one of the best pitchers the Cubs have ever had.
Lester's career in Chicago featured two top-ten Cy Young finishes, including a top-two finish in 2016. The left-hander also made two all-star games and also led the National League in wins once.
At 36 years old, Lester does not have the same arsenal as he did. He has become a better finesse pitcher over the years but lacks the stamina or velocity to go as deep in games as he used to, or miss bats like he did. Lester plans on playing after this season, but likely will command less money than the 25+ million the Cubs would have to spend on his option.
It's also a small possibility that the Cubs decide to pick up Lester's option or re-sign him after this season.
But if Wednesday night was indeed Lester's last start at Wrigley, he deserved a massive standing ovation from the organization's fans he has done so much for. And since fans couldn't do it in person, they took to twitter. Lester was overwhelmed with the results:
"Blown away by all the love y'all. Make no mistake, Chicago is home, the Cubs are family, and there's no uniform I'd rather wear next year for my 200th win. But for now let's ring in 2020 like it's 2016! #NVRQT"
Jon Lester forever. pic.twitter.com/1EOxsmWtS0

— Chicago Cubs (@Cubs) September 17, 2020
jon lester reems for life pic.twitter.com/A9rsH9534l

— DOM (@DOM_Frederic) September 17, 2020