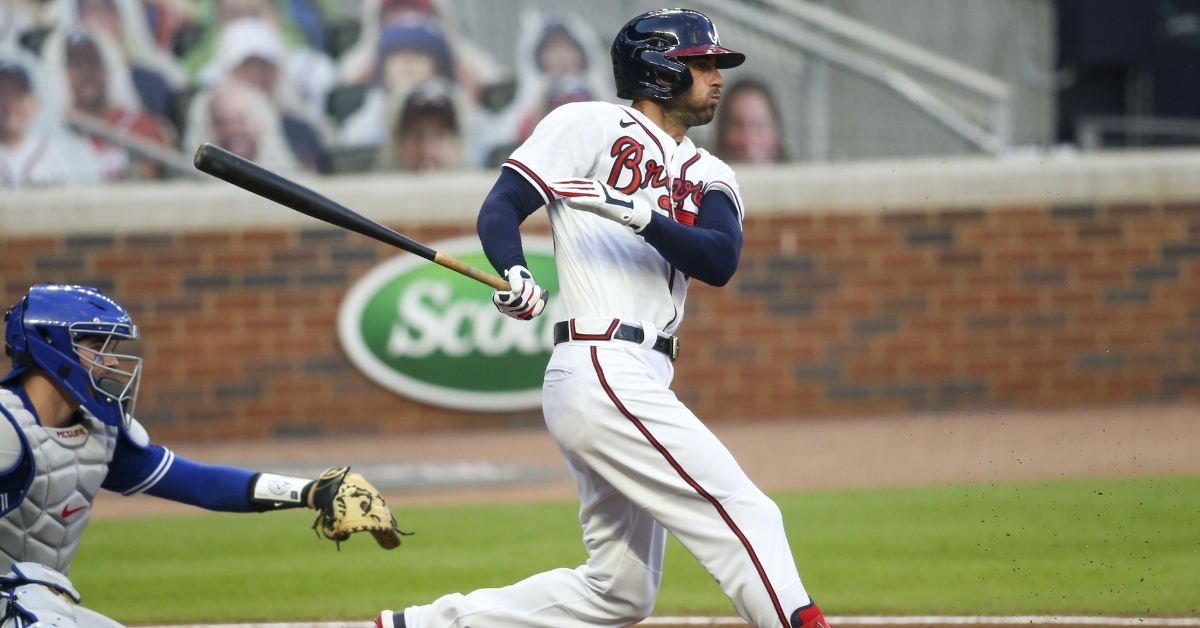 | | |
| --- | --- |
| Nick Markakis is a solid veteran option for Cubs | |
---
After the non-tender deadline came and passed, the Cubs made a few surprising moves that revolved around a pair of outfielders. None was as unexpected as Kyle Schwarber. Granted, there have been reports out there that the Cubs may bring Schwarber back, but at this point, I think it is safe to say his days with the Cubs could be over.
During his seven years within the organization, Schwarber has had some ups and downs but will still be remembered as a legend, especially early in his career. From launching a game four NLDS homer onto the video board to coming back from a torn ACL to play in the World Series, Schwarber will be remembered as one of the hardest working Cubs.
Unfortunately, this is a results-driven business, and for the most part, Schwarber has never lived up to the hype people had with him when he was drafted. That forced the Cubs hand to make the tough decision in which Jed Hoyer felt it was best to let him go. With him now on the market, the Cubs will be looking for a short-term option in left while they wait for Brennan Davis, among others.
One player that could be an option is the 37-year-old veteran Nick Markakis, a free agent after spending the last six seasons with the Braves. From an age standpoint, Markakis may be a bit older than what fans are looking for. From an approach at the plate, he is exactly what this team needs.
Markakis has been around for a long time, drafted in the first round by the Baltimore Orioles back in 2003. From the moment he arrived in the majors, he proved he was a great player not just offensively but defensively also. Starting with the offensive side of his game. Across his now 15 major league seasons, Markakis has put together an impressive .288 average, with this season being his first season under .270.
Immediately as a rookie, he showed he could hit, batting .291 in 147 games. He also connected for 16 homers and 62 RBIs that year, landing him in the top five in the rookie of the year voting. Over the next four seasons, Markakis established himself as one of the best hitters in the American League, hitting a combined 301 the next four years averaging 18 homers and 72 RBI's.
Markakis's power has never been off the charts having just two seasons of over 20 homers and 100 RBI's, but he was as consistent as it gets for a long time. Along with a solid 288 average, Markakis has 189 career homers as he is approaching the 200-homer mark, which he should reach this season. He also recently surpassed the 1000 RBI mark in 2019 to go with 66 career steal.
I have always loved regarding Markakis' approach at the plate as his contact first style, which is something the Cubs desperately need. Not only is Markakis someone who loves to draw walks, consistently averaging 60-70 walks per season, but he also doesn't strike out a ton, never surpassing 112 for an entire season. He knows the value of contact and has consistently done that for a long time from leadoff hitter to the bottom of the order.
Defensively, Markakis made his mark early on, but certainly isn't the same player he once was in the field. A two-time gold glove winner with the Orioles and then adding another one with Atlanta in 2018, Markakis certainly knows how to get it done in the field. Not the fastest player in the world, Markakis makes up for that with great instincts and terrific routes on defense. That helps him remain one of the more reliable and consistent fielders out there.
The thing that people often overlook regarding Markakis' game would be his arm strength. For those who watched him play at a young age, Markakis possessed perhaps the strongest outfield arm for years and was quite accurate with it. Granted, his arm isn't as strong as it once was, it is still accurate.
Chicago has been fortunate to have a pair of strong arms in the outfield the past four seasons, so replacing that aspect of Schwarber's game won't be easy to find. Markakis would be a great option if the Cubs want to pair another strong arm with Heyward. Granted, Markakis will never produce the type of power Schwarber did. He will be a much better overall hitter for a lineup desperate for true hitters.
As mentioned above, Markakis is nearing the end of his career, and his next contract very easily could be his last. The Cubs have a fast-rising prospect in Davis, who appears to be the answer long-term in left. Until his time comes, the Cubs will be looking for a short-term fill-in, and Markakis could be the veteran this roster needs.
Upgrade Your Account
Unlock premium boards and exclusive features (e.g. ad-free) by upgrading your account today.
Upgrade Now