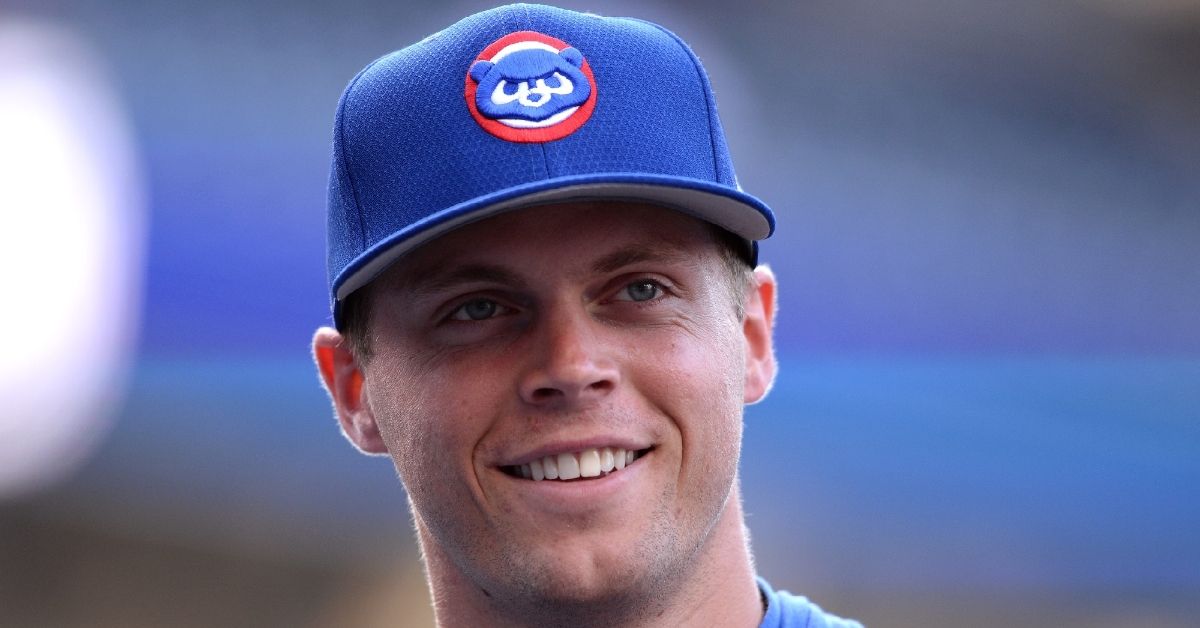 | | |
| --- | --- |
| Potential NL Rookies of the Year for 2020 | |
---
When a new baseball season is set to begin, for example, pitchers and catchers report in less than 50 days, and we start looking at teams and some potential rookies that could make the opening day roster. Regarding that, we also look at those rookies and see just who could impact the game enough to be named rookie of the year.
We could do this for all 30 teams, but naming 30 players could take forever, and honestly, outside of the NL, I don't care as much who wins awards in the AL. More so, the NL Central is really all that matters to me as that is the division the Cubs will be looking to win back for the first time since 2017. With so many transactions occurring throughout the division once again, apart from Pittsburgh, this division seems wide open where anyone could emerge victorious this year.
It will take a collective effort from everyone on the roster if the Cubs are fortunate to emerge, but even if they don't, you can bet it will be an all-out war in 2020. With the veterans already knowing their places on the respected rosters, the rookies fortunate enough to crack the opening day lineup will have to prove they belong if they want to be a part of the action long term.
Here are the potential rookie of the year candidates within the NL Central for 2020.
Chicago Cubs: Nico Hoerner SS: Outside of Miguel Amaya, Brailyn Marquez, and Adbert Alzolay, there really aren't any prospects in the Cubs system that draw significant spotlights. The one player who did last season and will continue to this season is the teams NO.1 in the organization and 47th in the game in Nico Hoerner.
When you talk about a limited sample size, Hoerner certainly fits that line as injuries have limited him to just 89 minor league games for two seasons. That doesn't make things easy for General Managers when they need to figure out if a player is ready to contribute when they have less than one full season of games under their belt.
That doesn't seem to be an issue for Hoerner as he has many things going for him. Not only did Hoerner produce in the Minors, hitting a 292 in those 89 games, but he also put together a solid slash line of 282, two homers, and 17 RBI's in just 20 games with the Cubs a season ago. With an opening at second base right now, the Cubs may feel he has done enough to secure that spot out of spring and let him take his bumps and bruises sooner rather than later.
Hoerner will hit for more power when he fills out, but will never be a full out slugging prospect. Instead, Hoerner brings an advanced bat to ball approach, which allows him to make consistent contact and hit for a solid average. Not to mention the ability to swipe a fair number of bases and the Cubs could have their leadoff hitter of the future waiting in the wings.
Of all the prospects in the Central this season, Hoerner is most likely to crack the MLB roster right out of the gate. Putting numbers aside, Hoerner could certainly earn rookie of the year consideration, but I just don't see the power numbers being there to help his case.
REDS: Nick Lodolo: The No. 2 prospect in the Reds system and 56th overall, right-hander Nick Lodolo is on the verge of cracking the MLB roster with the potential to make a huge impact. The problem with this pick is that Lodolo has only accumulated 18 2/3 professional innings, which is a microscopic sample size. Don't let those low numbers fool you; however, as his mix of command, pitch combination, and competitiveness could have him fast-tracked to the majors sooner than expected.
Already what looks to be the best rotation in the Central with Luis Castillo, Sonny Gray, Trevor Bauer, and Wade Miley, the Reds only need a fifth starter, but Anthony Desclafani appears to have that spot locked down for now. Lodolo may take a similar path to what Mike Leake did when he arrived in Cincy. The Reds allowed him to make his big-league debut after barely getting his feet wet in the minors.
Should the Reds need to solidify that No. 5 spot in the rotation, I wouldn't be surprised to see Lodolo get a look during the year. If everything pans out, he has the making to be a solid rotation arm for years to come.
Brewers: Drew Rassmussen: Ranked as the teams No. 12 prospect, Rassmussen is ready to prove he was worth a sixth-round pick back in 2018 as he is now recovered from a second Tommy John surgery. When we look at the Brewers pitching staff right now, they are young and unproven but do have holes to fill. One hole that will not need to be filled in the late innings as Josh Hader continues to be dominant against everyone, and Corey Knebel should return this season.
Given the arm issues Rassmussen has had already, starting doesn't appear to be an option, but adding him to the late innings does. So far, Rassmussen looks to be a steal after a healthy and impressive pro debut where he spent most of his time in AA. Yes, Milwaukee remains optimistic about his chances of starting, but after seeing Corbin Burns fail last season, the Brewers may be extra cautious this time around.
Ideally, Rassmussen may be better suited for the bullpen as he has the makings to be a light out reliever. Armed with an upper 90's heater and hard late-breaking slider, Rassmussen could breakthrough as a dominating late-inning reliver that could help the Brewers pen return to 2018 form. Should that happen, lookout.
Pirates: Mitch Keller: The pitching theme continues in the central with Mitch Keller landing on the Pirates list of potential breakout rookies. Listed as the Pirates top prospect and no. 26 in MLB, there is plenty of buzz surrounding Keller and what he can do much like when Gerrit Cole was passing through the system not that long ago.
Keller may not be considered a rookie by team standards as he finished just two innings away from not landing on prospect lists anymore. Despite the innings and his up and down 2019 campaign, Keller once again will be considered a prospect this season and has a shot to rebound strongly with a much healthier rotation this year.
It was no secret that the Pirates suffered their fair share of injuries in the rotation last year, which put that much more pressure on Keller. With Jamison Taillon expected to be back, a healthy Chris Archer, and Trevor Williams and an improving Joe Musgrove, Pittsburgh should be fine pitching-wise for the long-term future. That will make things easier for Keller this season as he won't have to shoulder the load, and when he trusts his stuff, the results showed he is a very valuable arm.
Cardinals: Dylan Carlson OF: Not only is Carlson the top hitting prospect in the Cardinals system, but he is the top overall prospect and lands No. 24 in all of baseball. With it looking more likely that Marcell Ozuna will be with a new team next season, the Cardinals have an opening in left field which is where Carlson comes into play.
The 2016 first-round pick broke out at age 20 when he hit a .292 with 26 homers and 20 steals across 126 games in AA/AAA. That performance netted the switch-hitting Carlson player of the year in the AA Texas League, and he went on to post a 1.098 OPS with five homers in just 18 games with AAA Memphis.
Not only is Carlson a great player, but he has five-tool potential, which enables him to impact games in a variety of ways. Even though St. Louis may elect to send him to AAA to start the season, there doesn't seem a likely scenario where he doesn't spend 80% of the time with the big-league club where he should have no trouble hitting anywhere in the order.
Upgrade Your Account
Unlock premium boards and exclusive features (e.g. ad-free) by upgrading your account today.
Upgrade Now