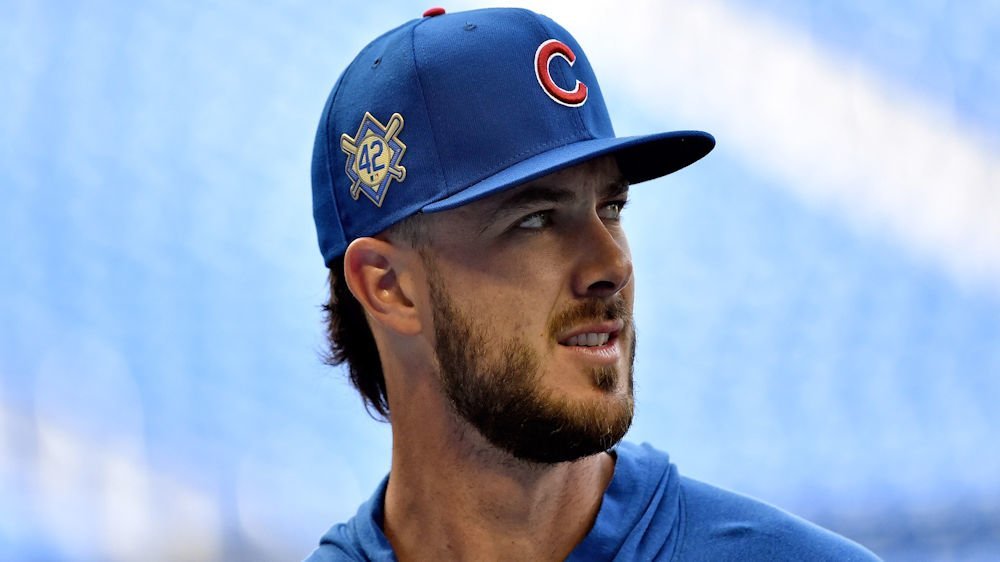 | | |
| --- | --- |
| Potential trades that would shake up the NL | |
---
| | | |
| --- | --- | --- |
| Tuesday, November 12, 2019, 2:11 PM | | |
As I wrote about the other day, the GM meetings are officially underway as that marks the unofficial start of the actual off-season period. While most people still wait for the Winter Meetings as the time when mad signings happen, the GM meetings are often overlooked as this is when some of those trade talks officially begin.
So far, we have heard the names of Kris Bryant, Mookie Betts, and Francisco Lindor as three superstars who are most likely to be dealt this offseason. While don't expect all three to be on the move, most experts predict that at least one will be finding a new home next season as that type of move could alter the direction of a franchise.
Even with those moves being the primary focus of attention, several other names are beginning to surface as potential targets for other teams. Granted, some may be a bigger deal than others. All could affect the Cubs in different ways depending on who gets dealt and too where.
Here are some potential prewinter meeting deals (hypothetical) that could not only impact the Cubs but the entire National League landscape.
Kris Bryant to Texas Rangers (Cubs receive SP Hans Crouse, SP Brock Burke, SP Jonathan Hernandez, and UT Danny Santana).
We get to the three superstars mentioned above, and I think Bryant is the one that is on his way out. It is no secret that the Cubs want SP in return if they deal Bryant, which makes Texas a surprising but logical choice.
With a new ballpark set to open this year, Texas will not only have money to spend but will be looking at bringing in the face of the franchise superstar that could fill the seats in a hurry. That is what Bryant would bring to the table, and by playing in Texas, not only could he be used as a DH at times to preserve his health, playing in Texas will increase his HR dramatically as he suddenly would be an easy 40 plus homer player.
In exchange for Bryant, the Cubs would not only get a haul, but a trio of talented arms as these two teams have a very successful trade history in the past. Let's start with Crouse. At 21- years old, Crouse is still a few seasons away from the MLB level, but he is the top arm in the Texas system. Armed with an electric fastball-slider combination that sees him touch 97, Crouse has one of the highest ceilings of any pitching prospects in baseball. That is exactly what the Cubs need.
Burke and Hernandez, on the other hand, saw some time in the majors in 2019 and performed decently once arriving. Although neither have the same ceiling or stuff that Crouse can bring to the table, both have MLB experience and the potential to be starters who are ready to compete for a back of the rotation spot.
With Danny Santana being the final player and sweetener of the deal, it would help the Cubs in a variety of ways on offense. Not only can he play outfield, but he would be a younger version of Ben Zobrist capable of playing six positions while adding more power in his bat. Losing Bryant and pairing him with Joey Gallo in the middle of the Texas lineup would be tough, but if it makes the Cubs better long term, I'm all for it.
Jackie Bradley Jr to the Cincinnati Reds (Sox receive Sal Romano and Scott Schebler).
Cutting back on the payroll is going to be a significant focus for the Red Sox, especially if they intend to hang onto both J.D. Martinez and Betts. With Martinez opting into his 23.8-million-dollar salary, the 29-year-old Bradley is set to make 11 million this season in his final year of arbitration.
Should this deal be made, the Reds could easily move Nick Senzel to second and put Bradley back in center field. Not only would he do some damage in this park compared to Fenway, but the Reds are on the Cusp of contending this season, so adding any big-time presence to that team will make them even better. Should Bradley produce at a high level, the Reds would most likely resign him for a few years as they would look to start building around their pitching staff.
Blake Treinen to the Milwaukee Brewers (Athletics receive SP Dylan File).
With Corey Knebel recovering from Tommy John surgery, the Brewers will be looking for back of the bullpen help to pair with Josh Hader. Enter Treinen. After performing in middle relief for the Washington Nationals a few seasons ago, Treinen burst onto the scene in 2018, saving 38 games with a 0.78 ERA and 11.2 K/9 ratio with the A's.
2019 was slightly different for the former closer as he never seemed to find his groove eventually being taken out of the closer role by early June. At 31 years old and projected to make around 8 million in his final year of arbitration, Treinen is looking to prove once again that he can dominate hitters late in games.
Ideally, the A's would love to hold onto him, but with that kind of price tag, Oakland may decide he is too much to carry this season. That is why I view Milwaukee as the perfect fit for him. Not only could he stabilize the back of the bullpen with Knebel out, but he could pitch in an 8th or 9th inning role depending on the plans for Hader. Either way, it would make the Milwaukee pen better.
Ian Kennedy to the Dodgers (Royals receive RP Marshall Kasowski).
As dominating as LA was again this season, their bullpen was their biggest issue. That is where Kennedy could prove to be huge for them. Owed 16.5 million in the final season of his five-year deal, the converted started excelled in the closer role for the rebuilding Royals, potentially saving his career.
He wouldn't be asked to close with Kenley Jansen still the man, but adding a power arm like his in front of Jansen brings back the 2018 feel when Brendon Morrow was the set-up man to what was a lethal Dodger pen. Given the offense the Dodgers continue to have, any fix in the bullpen is a scary thought for the entire NL field.
Jonathan Villar to the Washington Nationals (Baltimore receives IF/OF Wilmer Difo and RHP Francys Peguero).
This would be an under the radar signing, and it depends on what happens with Howie Kendrick during Free Agency. Should Kendrick decide to return to Washington, then this deal most likely doesn't happen. Should he test the market, this would be a wise one-year sign for a team that just won the world series.
Not only is Villar young, but he is affordable at 10.4 million. Add in 33 doubles, and a career-high 24 homers, and the Nats would be getting a player very familiar to the NL after seeing time with the Brewers. The Biggest trait the Villar brings to the table is his speed as he led the NL in steals a few seasons ago. Pair him with Turner at the top of the lineup, and the Nats would have two players with 40 SB potential to set things up for the big bats. Name one team that would want to face that all season.
Carlos Martinez to the Los Angeles Angels (Cardinals receive 2B/SS Jeremiah Jackson and SP Hector Yan).
Christmas could come early for our old pal Joe Maddon if he indeed lands Martinez from St. Louis. Not only are the Angels desperate for starting pitching help, but the former ace of the Cardinals staff would immediately step into that role with the Angels to replace the recently deceased Tyler Skaggs at the top of the rotation.
Martinez was always a pitcher that was loaded with talent but never could find that consistency as a starter. That came full circle this season as he was sent to the bullpen in June to replace Closer Jordan Hicks after he underwent TJ surgery. Once in the role he started his MLB career with, Martinez began to rediscover the form that made him an all start in the past.
This may not affect the Cubs directly, but it does help them out long term. Chicago has had some success against Martinez in the past, but have also been dominated by him. With the Cardinals posting one of the best and youngest rotations in the NL, any pitcher on the move from that staff is a good thing.
Starlin Marte to the San Diego Padres (Pirates receive SS Gabriel Arias and SP Joey Cantillo).
Once again, the Pirates will be in rebuild mode as their season went up in flames after the all-star break. Ultimately it cost Clint Hurdle his job, and now the Pirates will be looking at a different direction. With this team expecting to struggle the next few years, trading away Marte makes complete sense for Pittsburgh.
Known as a Cub killer, especially at Wrigley Field, getting Marte out of the NL central would make a lot of teams happy even if he stays in the NL. The problem is, the Cubs have been rumored to be in on him also so having him go to SD means they wouldn't land him in Center. Depending on what happens in terms of the Managerial decision, Marte may be the prime target out of Pittsburgh this season as they get set for another painful rebuild.
Corey Kluber to Atlanta Braves (Cleveland receives CF Ender Inciarte., SP Kyle Muller and OF Trey Harris).
Like this is what the Braves need after winning the NL East, another seasoned starter with playoff experience. Well, look for something like this to happen, especially with Dallas Kuechel, as a free agent once again.
As of now, the Braves have an extremely young staff with Max Fried, Mike Soroka, and Mike Foltynewicz anchoring the team. Although loaded with Power and talent in the arms department, the Braves lack a true veteran presence on the mound, which is why they brought in Kuechel last season in the first place.
Insert Kluber this year as the new veteran on the staff. Not only does he have a pedigree of pitching at a CY young Level, but we have seen what he can do in the postseason, which is what the Braves needed in game five of the NLDS this year. Sure, his velocity may be down from his incredible 2016, but Kluber will instantly make the Braves better and keep them as one of the favorites in the NL.