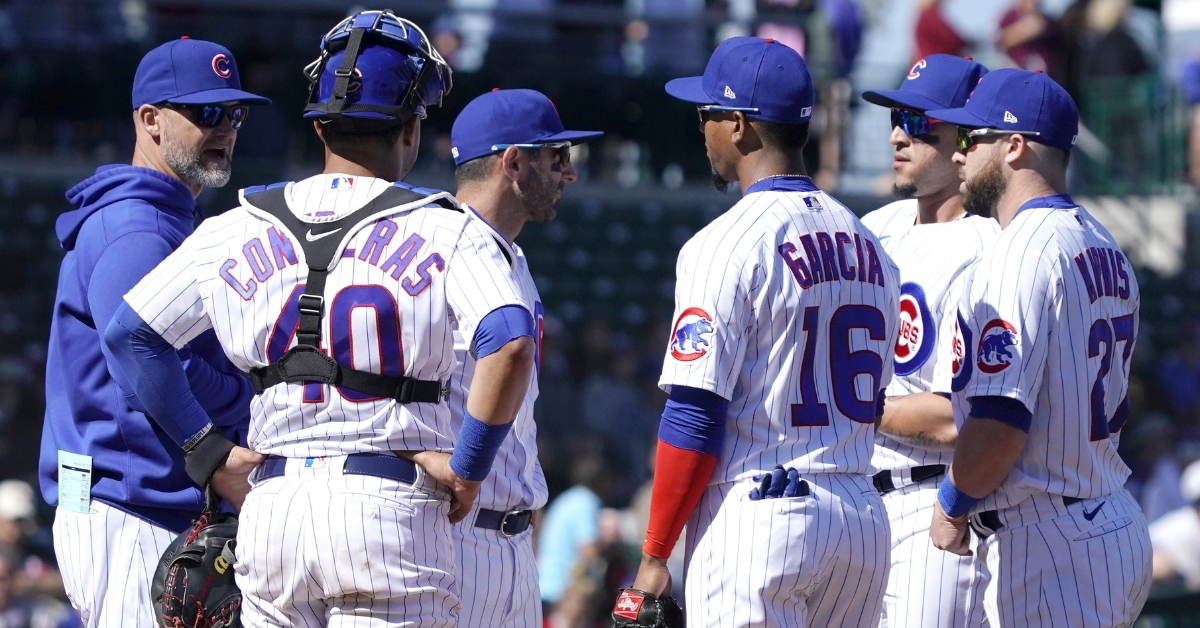 | | |
| --- | --- |
| Predictions on Cubs 30-man roster and 2020 season | |
---
| | | |
| --- | --- | --- |
| Thursday, July 23, 2020, 12:06 PM | | |
We have finally arrived at opening day 2020 with the Cubs' Opening day set for Friday. This may not have been the season any of us were expecting, but at least we are about to see some meaningful baseball soon. While David Ross has yet to announce who has made the opening day squad, I think it is clear to see what this team will look like heading into tomorrow.
With teams allowed to have 30 players for the first two weeks, many people may think managers would go 15 pitchers and 15 position players. If you ask Ross, he feels the need for 16 pitchers and 14 bench players as that makes the final roster sport among position players that much harder to sort through.
From a starting pitching standpoint, the Cubs rotation is going to look a whole lot different this season with the 'Professor' Kyle Hendricks being tabbed as the teams No.1 and Yu Darvish as the teams No. 2. These two were the best pitchers on the team last season during the second half, and Hendricks deserved this opportunity.
Behind him, you have the surprising selection of Tyler Chatwood in the No. 3 spot for now and savvy veteran Jon Lester as the No. 4. These two may flip flop as the season gets underway, but Chatwood has looked better than Lester thus far. Alec Mills will be the team's No. 5 starter to open the season as Jose Quintana is still on the mend from finger surgery. The question is, how long will Quintana be out, and what happens with him and Mills when he comes back? Colin Rea and Adbert Alzolay are other starting options the Cubs will consider during the year.
While the starting pitching may be as clear as day, the bullpen is another story, as this is where things will get tricky. If the Cubs are indeed going with 16 pitchers, 11 of them will come from the pen. You have your locks in Kyle Ryan, Brad Weick, Rowan Wick, Jeremy Jeffress, Craig Kimbrel, and Duane Underwood JR (out of options), but the other five spots are still up for grabs.
If we are going strictly based on what we saw in the three exhibition games recently than Ryan Tepera, James Norwood, and Casey Sadler should be in line to crack the roster as they have pitched exceptionally well. That leaves a plethora of names and two spots remaining. Ideally, I would love for Dillon Maples, Burl Carraway, or Trevor McGill to earn a bullpen spot, but Maples continues to struggle, and McGill didn't get much of a look. If I had to guess, Rea will get one of the final spots and be starter depth until Quintana returns. The last spot could come down to Rex Brothers or Dan Winkler as both have much-needed experience.
In terms of their offense, not much of this roster should be a surprise as you have almost all 14 of your spots given. Catchers Willson Contreras and Victor Caratini will be behind the dish with infielders Anthony Rizzo, Jason Kipnis, Nico Hoerner, Kris Bryant, David Bote, and Javier Baez leading the way on the dirt. You will have Kyle Schwarber, Ian Happ, Jason Heyward, and Albert Almora as the locks on this team, giving the Cubs 12 players at this point in the outfield. That leaves about five or six players fighting for the final two spots on the roster.
One person that I think will be handed one of the two spots will be Steven Souza JR. Signed as a free agent this offseason, Souza will benefit from the DH as he can be used in the field more than he would have prior. It gives the Cubs another OF option to use where they can mix and match. That brings us down to the final bench spot if the Cubs go with just 14 position players.
A lot of talk has been circling about the Cubs carrying three catchers at least early, and that may not be a bad idea. If that is the case, Josh Phegley is the most likely option, there. If the Cubs want more speed on the roster, you will go with Ian Miller as the final bench option and Hernan Perez if you are going with versatility.
Daniel Descalso is the biggest mystery at this point and will be the ultimate deciding factor on this roster. Yes, he is signed through this season and the Cubs are on the hook for all that money should he be released, but does he deserve to make the team. What did he show us last season, and what has he shown us this year to warrant an opening day spot? His bat has not done anything. He is limited on defense, so it isn't like he would be starting tons of games anyway. If I were making the choice, Descalso would not make this team, but given his guaranteed contract, look for him to get the nod early.
Prediction 33-27: The Cubs are going to go through some growing pains under first-year manager David Ross, and that is to be expected, they are also built for a 60-game season. With some of their starters' age, the Cubs have guys who don't need to monitor their innings early on. They can go out and deliver solid outings and go from there.
Offensively, the Cubs need to be more consistent, and I expect they will be under Ross. Remember, he has played with most of these players in the past and has seen them at their best and knows what they can do. He will not settle for less than what he expects. Once again, the Cubs pen will play a significant role in the team's success this season. I will admit I am worried about that group of arms, but lately, they have looked great, and if that continues, they may surprise.
I expect them not only to contend in what should be a fun NL Central this season, but they should also fight for a Wild Card spot. The first 15 games will be the key this season as a bad start could put a damper on the season while a fast start can put you in the driver seat.

Tags: Chicago Sports Baseball
,
David Ross
,
Kyle Hendricks
,
Yu Darvish
,
Tyler Chatwood
,
Jon Lester
,
Alec Mills
,
Jose Quintana
,
Colin Rea
,
Adbert Alzolay
,
Kyle Ryan
,
Rowan Wick
,
Jeremy Jeffress
,
Craig Kimbrel
,
Duane Underwood
,
Ryan Tepera
,
James Norwood
,
Casey Sadler
,
Dillon Maples
,
Rex Brothers
,
Willson Contreras
,
Victor Caratini
,
Anthony Rizzo
,
,
Kris Bryant
,
David Bote
,
Kyle Schwarber
,
Ian Happ
,
Jason Heyward
,
Albert Almora
,
Ian Miller
,
Hernan Perez
,
Daniel Descalso