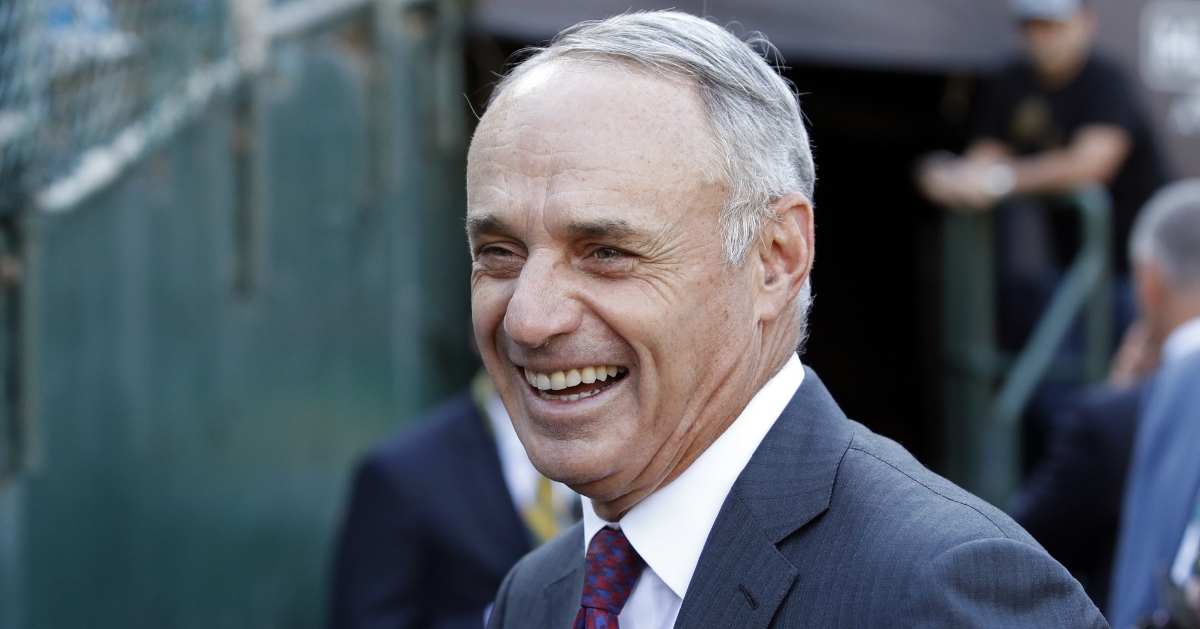 | | |
| --- | --- |
| Rob Manfred hopes to keep 2020 rule changes | |
---
We have reached the finish line of the 2020 MLB season with the World Series officially underway. Most of us didn't expect baseball to get this far, but they did it, and for the most part, they did it relatively smoothly. Many modifications were put in place to make this season work, and those changes were undoubtedly needed.
As good as a 162-game season is, rumor has it that this shortened season has gone over well with many people, and it is something to keep in mind going forward. I'm not talking about 60 games again, but it wouldn't shock me to see the season go down to 140 ish games or even 130, so the regular season always ends before October.
Along with the shortened season, several new changes were put in place only for this season to help get players through it. Well, not only did these changes get everyone involved through the season but now it appears MLB commissioner Rob Manfred wants these changes long term.
For most fans, the universal DH drew mixed reviews, but it certainly made sense. MLB wanted to level the playing field as much as possible, so this was once changed that was put in play. This is the one rule that I expected to stick long term, but nothing has been made official. With COVID always being a thing to consider in terms of postponements, MLB wanted to go with seven-inning doubleheaders this season with hopes of giving teams a better chance to finish the season.
Even though this was a hit with most players, don't expect this rule to stick beyond this season as seven innings doesn't seem right when watching baseball. However, two rules that were put in place were supposedly added for this season only. Well, now, Manfred has gone on record by saying he hopes these changes form some traction to stick.
The first of his changes that he wants to stick is the expanded postseason field. Instead of your regular five-team postseason format, MLB added three teams in each league giving eight teams a chance to make the field. That led to an ever-exciting best of three wild card round before the regular postseason format took shape. This was only a 60-game season, and we saw teams like Miami, Toronto, San Diego, and others who have missed the playoffs in recent seasons get in. Can you imagine what the field would have looked like in a full season?
I have been in the minority on this, and I may still be, but I have always wanted a bigger playoff field for baseball. When you look at both the NBA and NHL, they have eight teams per conference in the postseason, and it works well. Baseball and Football are two sports where I would love to see that play out. Those are the two sports where teams are allowed a first-round bye essentially, and if you ask me, that doesn't need to happen.
Adding three playoff teams permanently will not extend the postseason that much longer. It essentially cancels out the byes that the top seeds have, and the postseason may get extended by three days at the most depending on the length of the series. The best of three formats for the first round was one of the best decisions MLB made. It forced teams to play with a win or go home attitude, and we had the chance to see several upsets. This is something that would be interesting to see play out during a full 162 game slate.
The second rule that Manfred is exceptionally fond of is not going to sit well with fans, and that is the runner on the second rule in extra innings. From day one, 99% of fans hated this rule as they felt it took away from the game. Once again, I am in the minority on this as I didn't mind the rule. A lot of that happens to be from seeing it in the minor leagues the year before, but people hated the rule even then.
In terms of this rule sticking around long term, I can take or leave one of those rules. I guess the reason why it makes sense is from a strategy side of things. When a runner starts an inning on second base, it is equivalent to a leadoff double with nobody out in extras. That forces teams to strategize on how they want to approach an inning.
As a pitcher, you have a first base open, and you need to decide whether to walk the next hitter and set up a double play or pitch to the next batter. The same thing goes for the hitter. They must decide whether to drop down a bunt or give themselves up to move the runner over or go for the kill. As the season went on, we saw many teams struggle with this rule as they seemed to get overly aggressive in certain situations. It changed the strategy side of things, which will be another exciting rule to keep in play.
Regardless of whether you are a baseball purist or not, there is some clear momentum that many of the changes made for this season went over well with everyone involved. What that means from here on out is up in the air, but fans shouldn't be surprised to see more permanent changes coming in the coming months.