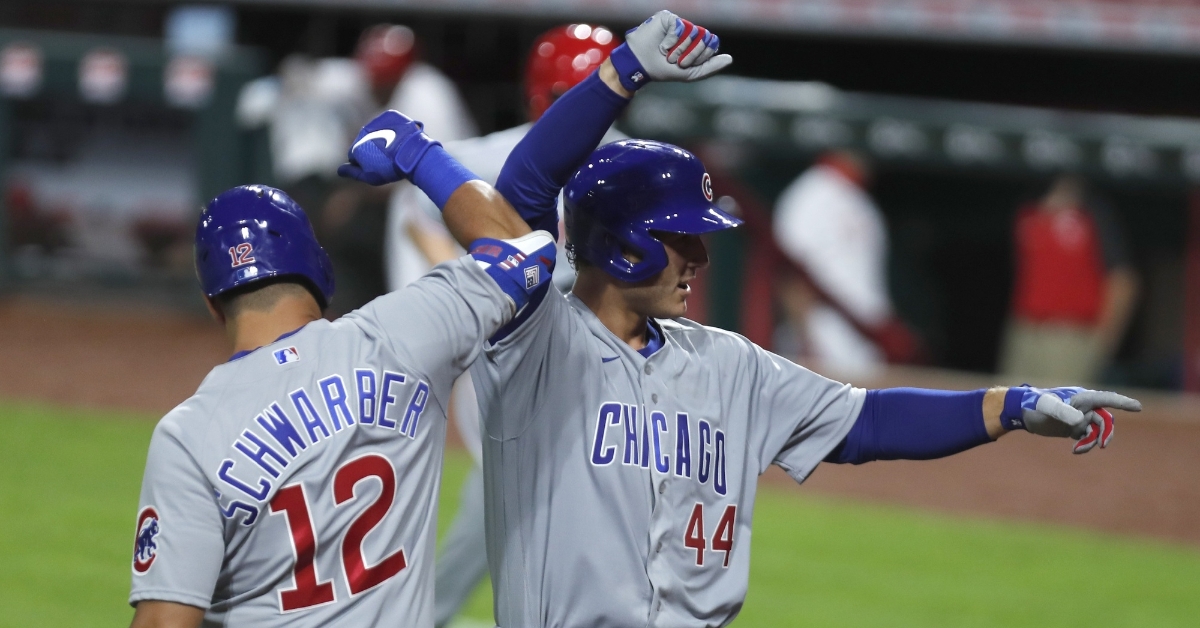 | | |
| --- | --- |
| Series Preview, X-factors and Prediction: Cubs vs. Cardinals at Wrigley Field | |
---
The Cubs are coming off a rough weekend that saw them lose three-straight but drop their first series of the season. Things don't get any easier to start the week as St. Louis is now coming to town over the next three days. To make matters worse, the teams will be making up two of their three postponements on Monday and Wednesday, giving them a five-game set over the next three days.
The only silver lining I see about this series is that now all 10 meetings between the teams will be at Wrigley Field across two separate five-game sets. With doubleheaders now seven innings instead of nine, it will be imperative that the Cubs not only get strong starts from their starters but grab the lead early and find ways to hold on for wins. Here are the pitching matchups and how I see things shaking up.
Monday at 4:15 p.m. CT on Marquee Sports Network: Kwang Hyun Kim (0-0, 9.00 ERA) vs. Kyle Hendricks (3-1, 3.08 ERA)
In game one of the five-game series, the Cubs will not only turn to their ace but their Wrigley Field master in Hendricks. Not only will Hendricks be tabbed as the stopper in this one, but his career numbers are Wrigley Field are impressive, which the Cardinals know firsthand.
Last season, Hendricks tossed a Greg Maddux complete game against them, needing 81 pitches to pick up the shutout. Given how this will be a seven-inning game, Hendricks is very capable of doing exactly that again. Opposing him will be the Cardinals free-agent pickup in Kwang Hyun Kim, whom the Cubs were interested in. Kim has seen just one inning of work this season, allowing an ER. It will be interesting to see how the Cubs hitters adjust to him and what his style of pitching is.
Kyle Hendricks has faced 103 batters this year and has been barrel'd up just once. Here is that barrel. pic.twitter.com/eZpc0Y1SKI

— Foolish Baseball (@FoolishBB) August 13, 2020
Monday at 7:15 p.m. CT on Marquee Sports Network: Tyson Miller vs. TBD
The second game of the day has yet to formally announce the starting matchup, but I am sure we should know soon enough. For the Cubs, they are in a predicament as suddenly they are down two starters with injuries. Had Tyler Chatwood not landed on the IL, this would be his game, and things would be more natural the rest of the week.
Instead, the Cubs will need to figure out whether they will do a bullpen style game or call someone up to start game two. Should that be the case, look for Adbert Alzolay to be the first option as the Cubs may want to bring him up. Even if he only goes three, maybe four innings, it could help save the bullpen.
St. Louis will have to make a starting decision as they need to figure out what to do next. Adam Wainwright, Alex Reyes, and John Gant are all options on the table as each one of them could give the Cards five innings to set things up the rest of the series.
Tuesday at 7:15 p.m. CT on FS1: Daniel Ponce De Leon (0-1, 6.75 ERA) vs. Yu Darvish (3-1, 1.88 ERA)
This will be Ponce De Leon's second start this season as St. Louis will be looking for more length out of the righty. In his first outing, he lasted just 3 2/3 innings against the Twins allowing three earned runs. He did, however, strike out eight men in that start showing the ability to throw impressive stuff. David Bote is the lone player with a plate appearance against him.
Looking to continue his strong run of starts will be Darvish as he notched his third straight win last time out against Milwaukee. Not only that, but Darvish also took a no-hitter into the seventh before losing it on a Justin Smoak homer finishing with a season-high 11 K's. Darvish continues to be on quite a run since July of last season and is starting to earn that contract; he signed in 2018. Hopefully, the bullpen will be rested enough where they won't need him to go seven innings if he doesn't have too.
.@faridyu's last 3 starts ??

• 20.0 IP
• 22 K
• 0.90 ERA pic.twitter.com/q0wabygGNj

— Marquee Sports Network (@WatchMarquee) August 14, 2020
Wednesday at 1:20 p.m. CT on Marquee Sports Network: Jack Flaherty (1-0, 2.57 ERA) vs. Alec Mills (2-1, 2.84 ERA)
Despite another strong effort from Mills last time out, one bad pitch sealed his fate as he allowed a three-run homer to Christian Yelich to take the loss. Still, this start marked the best outing in terms of pure stuff for Mills this season as he finished with a season-high 7 strikeouts to go with just one walk. This will be his first career start against St. Louis, but his third career appearance overall.
Not only will things not get any easier for Mills in this outing, but things will not get any easier for the Cubs as they will have to face off with ace Jack Flaherty. Along with Darvish, Flaherty had the best second half of any NL pitcher last season and emerged as the ACE of the Cardinals staff. This will be just his second start of the season, but first in three weeks as the Cardinals went 19 days without games. Flaherty was dominant his first time out, but it will be interesting to see how the layoff affects him in this one.
Alec Mills, Nasty 90mph Two Seamer (release/slow). ?? pic.twitter.com/PGvjyotsZC

— Rob Friedman (@PitchingNinja) August 15, 2020
Wednesday Game 2: TBD vs. TBD
The final game of this series will again be another Doubleheader as both teams have yet to announce a starter. In an ideal world, either Chatwood or Jose Quintana would be making this start. With both on the IL, the Cubs have a tough decision to make as to who may start.
Primary candidate No. 1 would be Colin Rea, who got the start for Chatwood on Saturday. David Ross has said he likes Rea in the bullpen more than as a starter but reiterated he was a possibility depending on the week went. With this being a seven-inning game, Rea makes a ton of sense as he could start and go three innings before giving way to the pen. This would work like a bullpen game with one guy being able to eat innings.
Should the Cubs elect to go another route and not start Rea, then Duane Underwood is another option to start and go three innings. Mainly a reliever since joining the Cubs, Underwood has started one game in his career, going four innings against the Dodgers, allowing just 1ER. It would be nice to see him try and find that magic again.
Let's say the Cubs are looking further down the line at option three, which would be to call up another pitcher yet again. That would mean pulling a starter from South Bend for the second time this week should Alzolay start game two. Jharell Cotton would have been the next option, but after getting designated for an assignment, he is no longer that choice.
Last year's system pitcher of the year Cory Abbott would be my first choice in this spot, as I would love to see him build off last season. Tyson Miller and Juan Gamez are other options the Cubs may consider as both would have been AAA arms this season. At this point, anything should be on the table as both teams will be making tough calls.
Prediction
This could either be an excellent week for the Cubs or a lousy week, depending on what transpires. Looking to put an end to their skid, this is not the team I want to see, especially with additional games added to the series. At this point, I am less worried about how the series turns out and is more concerned about the health of the Cubs given the Cardinals' issues. I still like the Cubs to take three of five in the series, but it won't be easy.
X-Factors
This may be the only time you hear me say this all season as the x-factor in this series will not be a player. Instead, both managers Mike Schildt and David Ross are the most significant X factors in this series as they will have tons of tough decisions to make. From choosing the starters for the DH to managing a seven-inning game, the one who gets it right will emerge. You also must think that every batter in the lineup will be involved on both Monday and Wednesday in some regard as the teams will look to both win games and rest their players.

Tags: Chicago Sports Baseball
,
Kyle Hendricks
,
Tyler Chatwood
,
Adbert Alzolay
,
Yu Darvish
,
David Bote
,
Alec Mills
,
Jose Quintana
,
Colin Rea
,
David Ross
,
Duane Underwood
,
Cory Abbott
,
Tyson Miller