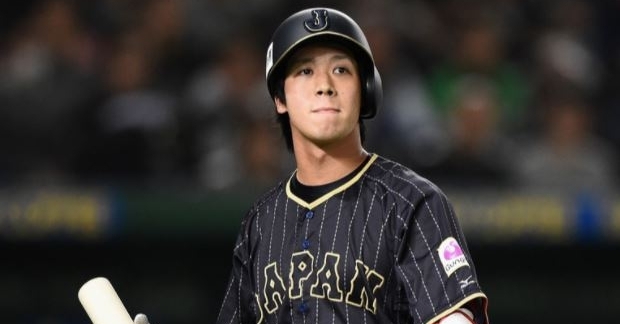 | | |
| --- | --- |
| Should Cubs make a serious push for Japan's Mike Trout? | |
---
Earlier this week, we touched on the Cubs' potential to land the best KBO free agent of the summer. Well, taking a little trip further east into Japan, and it looks like the Cubs are being linked to who many feel is the best Asian born free agent in quite some time.
I'm talking about second baseman Tetsuto Yamada who experts feel is the Mike Trout version of Japan. Granted, he has not posted yet, so technically he isn't a free agent, but from all accounts, it is only a matter of time before he is posted, and the Cubs may be thinking to go for him.
While 25-year-old Ha-Seong-Kim is viewed as one of the best players in the Asian pool this year, Yamada is not far behind. Yamada is a little older than Kim at 28, but still has plenty of baseball left in the tank. Not only has he continued to be one of the best hitters in Japan, but Yamada is also an elite defender, which is something the Cubs have lacked at second for quite some time.
The only hold up now is regarding his NPB team and if they feel his posting price will be high enough. Given that this is a pandemic offseason and we don't know what teams will pay for Asian born players, a guy like Yamada who may have made 40 million before this season may now have to settle for 10-15 million. That is less than half of what a Japanese superstar would have landed in the past, so his team may feel it is better to hold on to him.
Should the price be right, this move makes a ton of sense for the Cubs as there should be some wholesale changes this offseason. I expect at least two position players to be dealt, meaning there could be some shuffling on the infield. Let's say, for example, that Kris Bryant is dealt leaving a hole at third base. Javy Baez may move to third, allowing Nico Hoerner to move to short. That opens a void at second where a player like Yamada could fill.
Yamada is precisely the type of player the Cubs have been missing for a while, even if the NPB is a different style league. Not only is he a tremendous defensive second baseman, but he offers excellent speed, which is something this team lacks. Add that to having one of the best bats in the league for the past six seasons, and it seems like a no brainer that the Cubs should at least tempt fate and go after him.
It is impossible to predict what he would do at the MLB stage, considering how different the leagues are. One thing we can say, however, is that Yamada raked overseas. Since 2011 where he entered the league as an 18-year-old, Yamada has posted a 281-average, including a career-high .329 in 2015. His 213 career homers has landed him the nickname of the Mike Trout of Japan. Before this season, he had 12 homers and 48 RBIs in a shortened 79 game season; Yamada had six straight seasons of 24 homers or more, including two 38 homer, 100 plus RBI campaigns.
Speed and patience is also a big part of his game as he averages 22 steals in 26 tries per season, including his career-best 34-38 year in 2015. Yamada is also a guy who has taken more than 100 walks on several occasions, so taking pitches is undoubtedly not a problem for him. Looking at those numbers and seeing where the Trout comparison comes into play, those numbers won't look the same on American soil.
If those are the kind of numbers we can expect from him at the major league level, it would be a no-brainer sign. However, look at what Shogo Akiyama and Yoshi Tsutsugo did during their first season in the bigs where their OPS dropped 200 and 300 points, respectively. Playing at the MLB level is an entirely different style than overseas, and most Japanese players are expected to go through a learning curve. After all, not everyone can be Ichiro.
Even if you look at his shortened season last year and figure out how it would translate at the MLB level, Yamada has never surpassed 145 games in a season, so he most likely would play in the 120 to 125 game mark. His eye at the plate will always help his overall on-base percentage, but his average may only sit in the .265-.270 range. I don't know how his power would translate at the MLB level, but if you can get 15 homers out of him and 25 steals, that is more than adequate.
Unlike seasons in the past, the global pandemic we are all living through will affect how teams operate their spending this offseason. In a way, it could help the Cubs as they may not have to outspend a ton of teams this season.
Upgrade Your Account
Unlock premium boards and exclusive features (e.g. ad-free) by upgrading your account today.
Upgrade Now