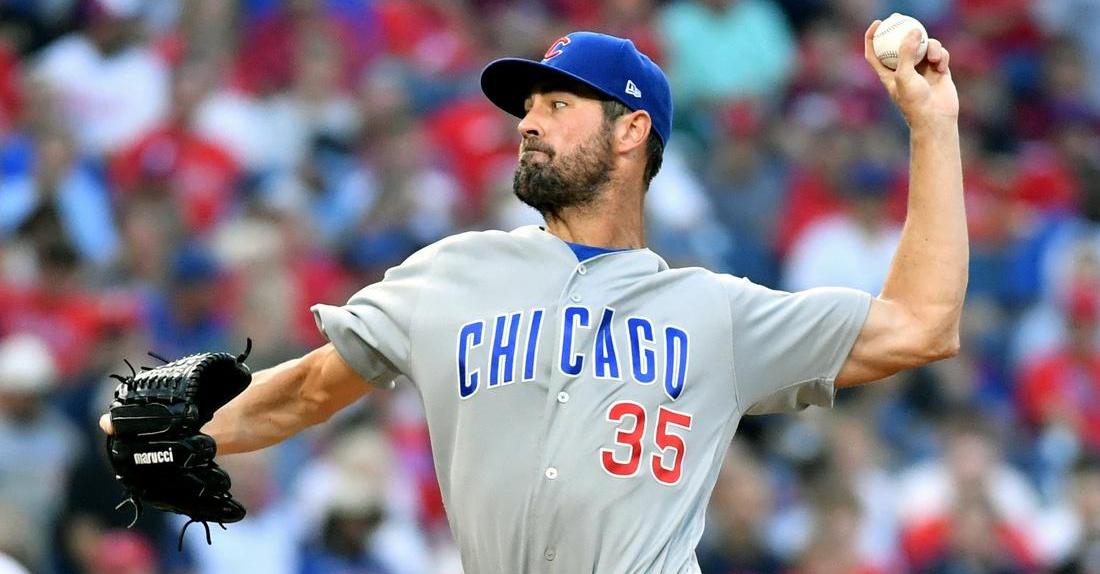 | | |
| --- | --- |
| Should the Cubs re-sign Cole Hamels? | |
---
| | | |
| --- | --- | --- |
| Thursday, October 24, 2019, 6:19 PM | | |
The Cubs acquired veteran Cole Hamels during the 2018 trade deadline for pitcher Eddie Butler, minor league pitcher Rollie Lacy, and a player to be named later.
Starting only 12 games for the Cubs during the 2018 MLB season, Hamels was outstanding down the stretch went 4-3 with a 2.36 ERA a 1.10 WHIP and 74 strikeouts in 76.1 innings pitched.
After entering a contract year during the 2019 offseason, the Cubs had a decision to make on if they'd resign him or let him walk. After talking, The Cubs finally decided to pick up Cole Hamels' option of $20 million for the 2019-20 MLB season.
With keeping Hamels on the roster for the 2019 season, it gave the Cubs a solid rotation with Lester, Hendricks, Hamels, Quintana, and Darvish on the roster.
Hamels walked into the 2019 MLB season at the age of 35.
Before walking off the mound against Cincinnati on June 28th, There was talk of him making the National League All-Star Team while having 17 starts with a 2.98 ERA and 1.204 WHIP. But since he ended up missing a month with an oblique injury, he didn't end up making the All-Star team. After the return, he pitched in 10 games with a 5.79 ERA.
Overall in 2019, Hamels pitched in 27 games with a 3.81 ERA, pitched in 141.2 innings with a WHIP of 1.39.
Entering the 2019 offseason, Hamels is a 36-year-old free agent.
Should the Cubs re-sign him?
This is one very tough decision for the front office and the Cub as their pitching this year wasn't the best. Lester is getting older and didn't perform well, Quintana didn't perform adequately, and Hendricks and Darvish were the only starting pitchers who performed decently. And we don't know what the rotation will look like heading into the 2020 season.
Do I think the Cubs should re-sign Hamels? Yes, I do if it's a decent deal. Say a one or two-year deal worth about $10-$15 million per year I would be okay with.
He pitches well at Wrigley with a 2.20 career ERA through 25 starts and he pitches well when he faces the NL Central. He has 20 starts against Cincinnati with a 2.30 ERA, 20 starts against Milwaukee with a 3.53 ERA, 13 starts against Pittsburgh with a 2.52 ERA, and 17 starts against St.Louis with a 2.21 ERA.
I do think the Cubs can get at least 2-3 more years out of Hamels. He may not be an "Ace" type pitcher anymore but he sure can be a 2-3 starter and average an ERA under 4.00 ERA if healthy.
So yes I think the Chicago Cubs should re-sign Cole Hames if the price is right.