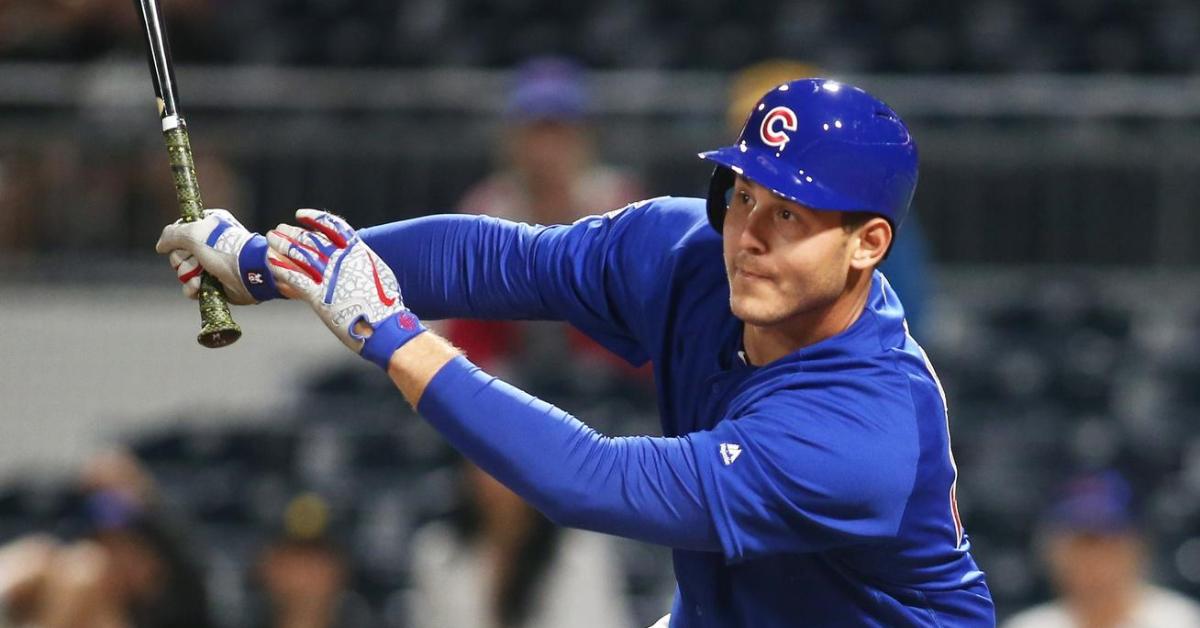 | | |
| --- | --- |
| Six Bold Predictions for Cubs 2020 season | |
---
| | | |
| --- | --- | --- |
| Friday, February 14, 2020, 5:40 PM | | |
With Spring Training now underway, it is safe to say that baseball is finally here. While it is only pitchers and catchers at camp working out, several position players, including Jason Heyward, Anthony Rizzo, and Kyle Schwarber, have shown up early themselves to get a jump on the first workouts of the year.
With many fans still mixed about what to expect out of David Ross this season, pay very close attention to how he operates during spring as opposed to what Joe Maddon. When Maddon had structure, the team was performing at an elite level. Over his final two seasons, some of that structure went out the window, and the play started to falter shortly behind.
Here are six bold predictions that I am making ahead of the first regular-season game of 2020.
Rizzo earns leadoff role out of camp: A lot of people don't like the idea of Rizzo leading off to start a game, but the fact is, you really only lead off once a game and will hopefully have runners on base the next times you come up.
For Rizzo's sake, he has done very well in the leadoff role despite not being your traditional leadoff hitter. He offers the patience and high on-base percentage you look for but lacks speed. He does bring the home run factor into play where he can put the Cubs up 1-0 with one quick swing of the bat. Until the Cubs figure out the leadoff situation long term, look for him to hit first the first few weeks out of camp.
Darvish earns the opening day start: This is certainly not surprising considering how he finished 2019, but with Jon Lester, on the roster, I tend to think people will want to lean his way until he is retired. Lester would be a great option, no doubt, but he doesn't have the stuff to be an ace anymore.
One of the biggest things the Cubs rotation is lacking is a hard-throwing power arm to anchor at the top of the rotation. Darvish fits that category as he is the only starter that was consistently hitting 95 plus last season. His mix of off-speed and breaking pitches makes him a hitter's nightmare when he is on.
Over the final two months of the season, Darvish was on, and the Cubs finally got to see what they paid for in his signing. Look for him to not only build off last season this year but to take the next step forward to earn the ace calling in the rotation.
Jason Kipnis is your opening day second baseman: All offseason, the Cubs have been adding to their roster by stockpiling the minor leagues with low-risk high reward type of contracts. One of those contracts happens to be their most recent in Jason Kipnis.
This to me, could be one of those sneaky signings that pays off for the Cubs. Not too long ago, Kipnis was an all-star and was playing for a World Series title against his hometown team, the Cubs. Not to mention his foul ball almost eliminated Chicago. Since then, things haven't been as good as in the past as injuries have certainly set him back.
I like what Kipnis brings to the table for the Cubs. He is a veteran that knows how to win, is a good contact hitter, and plays good defense at second base. Those are all things the Cubs are looking for in players. Should Kipnis have a good spring, which I feel he will, I firmly believe he will be the teams opening day second baseman this year, giving Chicago a chance to option Nico to AAA for a few more months of seasoning.
Brandon Morrow makes the team out of spring: This might be the most farfetched of my six preseason predictions, but I think Morrow makes the roster out of spring. Yes, fans do not want to be remembered by what Morrow has done since coming to the Cubs. He appeared in 32 games over two-plus seasons and hasn't thrown a pitch since July of 2018.
Despite that, the Cubs offered him a minor league contract with an invite to spring to showcase his stuff. As of now, Morrow says he feels healthy for the first time in over a year. That right there is a positive sign for the Cubs as he hasn't been healthy in over a year.
Do I expect him to be the 2017 Morrow ever again? No, but should he prove he can still pitch, he will be an asset to the Cubs pen. He is a hard thrower that can sit in the mid to upper 90's and has experience both as a closer and set up man. I certainly wouldn't want him in any high leverage situations early on, but having him as an option late in the game if healthy only makes the back end of the pen that much better.
There will be a surprise No. 5 starter breaking camp: As of right now, the No. 5 job appears to be Tyler Chatwood's to lose, but several other pitchers will be in the running for that spot. Given the success that Chatwood had out of the pen last season, I am not sure I would want him back in the starting rotation, which means Alec Mills would be next in line.
As good as Mills showed he could be at times, he did have a hard time getting through the fifth inning in most starts. That leads me to believe he would be better suited as a swingman out of the pen or someone who could spot start here and there or on doubleheaders.
The one guy that everyone should be watching this spring is Colin Rea, as he is my prediction to break camp as the Cubs No. 5 starter. Not only is Rea a former top prospect, but he reinvented his career in AAA last season, earning the PCL pitcher of the year honor. That is a fantastic feat in what proved to be a difficult league to pitch in last season.
Rea had his contract re-upped by the Cubs and is going to be pitching for the big-league team this spring. Expect him to get plenty of starts during that time and should his results be anything close to what he delivered last season. He will be the Cubs No. 5 man at a much lower price.
One of the stars will be dealt by opening day: This is a top that has swirled around all offseason, but as of now, nothing has been done. Don't expect that to be the case before opening day as I am expecting one of the Cubs big names to be dealt before opening day.
While it is not clear at this point who it may be, but the consensus remains Kris Bryant as most think he is the obvious choice. While I do see everyone's point on that argument, Willson Contreras is another name to watch as he has seen his name pop up plenty this offseason.
Regardless of who it is, the Cubs are going to get a nice return to help their franchise in the long run, which is the goal at this point.

Tags: Chicago Sports Baseball
,
Jason Heyward
,
Anthony Rizzo
,
Kyle Schwarber
,
David Ross
,
,
Brandon Morrow
,
Tyler Chatwood
,
,
Colin Rea
,
,
Willson Contreras
,
Joe Maddon