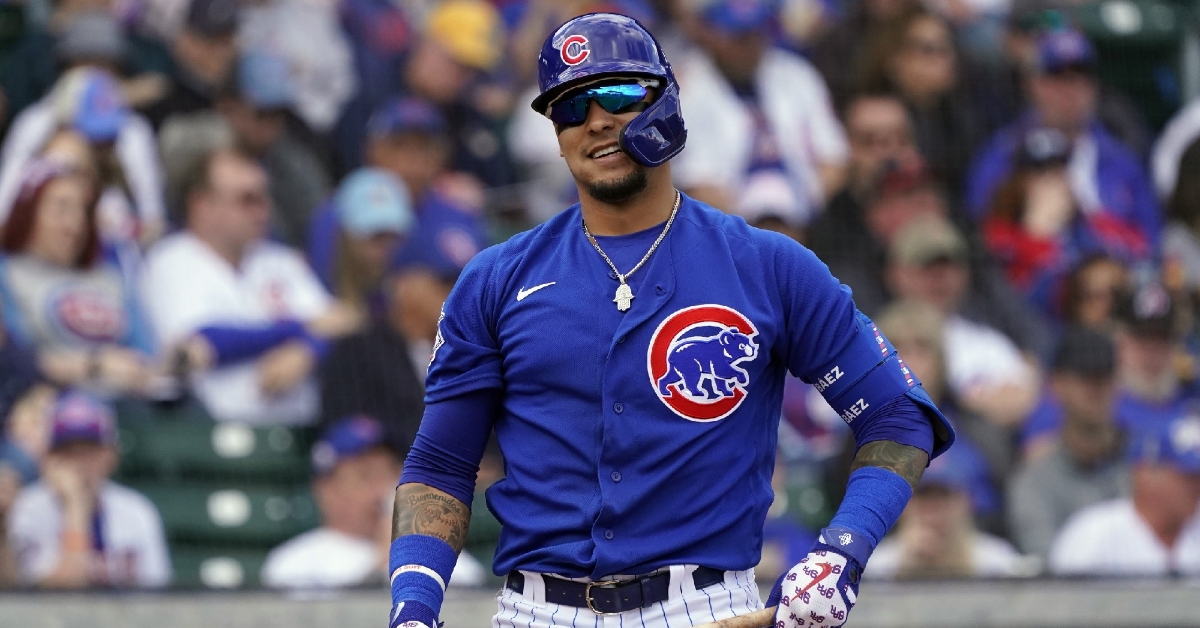 | | |
| --- | --- |
| The Story of Javy Baez and how coronavirus may control the next chapter | |
---
| | | |
| --- | --- | --- |
| Thursday, May 28, 2020, 5:53 PM | | |
One of baseball's most polarizing star is none other than the Chicago Cubs' very own Javier Baez, and keeping him in Chicago is not only a priority but a goal of the Cubs.
Baez was drafted with the ninth overall pick in the first round of the 2011 draft, and he was apart of the final draft class of the Jim Hendry regime. Despite being often criticized for his long swing and high chase rate, the Theo Epstein regime chose to keep Baez in the system and watch him develop into the star he is today.
Despite being tempted with multiple offers, Baez worked his way into becoming a massive contributor to the Cubs — and that was largely in part to Joe Maddon managing him well, quoted as saying his strategy was to "Let Javy be Javy."
Javy being Javy has resulted in his stardom, marketability, and skill and the nickname 'El Mago' (the magician in Spanish) blossoming over the years. Whether it be his flashy defensive plays at second base, shortstop or third base, or his rocket of a throwing arm, or his lightning-quick tags, his elusive and smooth slides, his powerful swings or just his general swag, Baez is one of the most mind-blowing players in the major leagues.
The Javy Baez experience began in Chicago in 2014. In 52 games, Baez struck out 95 times in just 213 at-bats, and he spent the majority of the 2015 season in the minors. Baez was brought up for the stretch run in 2015 and actually had a few large hits in the 2015 playoffs, but it was 2016 where his stardom truly took off.
Primarily at second base, Baez hit .273 with 14 homers — but put on a show in the playoffs, winning NLCS Co-MVP and helping to lead the Cubs to their first World Series in 108 years.
In 2017 Baez's power went up a notch, as the Puerto Rican born slugger hit 23 homers and drove in 75 runs.
His 2018 was even better. Baez led the league with 111 RBIs, hit 34 home runs, was named the NL's starting second baseman in the all-star game and finishing second in the MVP race behind Christian Yelich.
He kept that up in 2019, despite battling injuries his first full season as starting shortstop went perfectly. Baez was named to an all-star appearance for the second consecutive year, and he hit 29 bombs, drove in 85 runs, hit .281, and nearly won a gold glove.
Baez seems primed to continue his rise to stardom and become both a consistent but also spectacular fixture in the Cubs' lineup for years to come.
The Cubs brass has been short on money over the last few offseasons, and the Cubs' competitive window is expected to close after the 2021 season due to the fact that many original members of the cores' contracts expire then. However, the Cubs have made it very clear that they intend to try and resign the likes of Anthony Rizzo, Kris Bryant, Kyle Schwarber, and Baez (who's contracts expire after 2021) and Willson Contreras who is under control through 2022.
It seems fairly difficult for the Cubs to re-sign Bryant, mainly since super-agent Scott Boras represents him. In regards to Rizzo, he has made mention that he and the Cubs would like to make a deal, but those discussions are currently on hold. Schwarber's inconsistencies have led to his expected extension to be cheap and potentially even likely.
And Baez seems to be the Cubs' biggest priority. Baez and the Cubs both seem interested, and Baez has previously hinted at wanting to get similar money to that of Christian Yelich.
Baez has made it clear he would like to continue to play in Chicago, and it has been heavily reported that both Baez' camp and the Cubs' brass are interested in making a deal.
The Coronavirus shutdown of the MLB has halted talks between both parties — but it also may have jeopardized them.
While the Cubs had been a bit stingy due to their budget restraints in trying to make Baez an extension offer, the entire landscape of baseball's economics may change due to the pandemic.
For the Cubs, who typically have one of the highest payrolls in the MLB — and typically have 70% of their budget acquired through game-day traffic and sales — are going through a spring and summer season with no baseball, which means no revenue, which means no money, even more so than it has last summer.
It's entirely possible salaries may see a drastic decrease, or players will lean heavily toward an extension rather than testing an open market that could look drastically different.
It could also be possible that if the Cubs were to offer the same offer that Baez' camp reportedly said was not enough that Baez would sign that offer immediately because it could be a price that the Cubs or any MLB team could not afford after we see the true economic effects of the pandemic.
It is unknown what the Cubs will be able to afford in six months, or at the end of the season or beyond — especially if there is no season — but regardless it seems as if the Cubs are inclined to extend Baez and prolong his career in Chicago.
Back in January, Baez had this to say.
"I've got my mind more to bring the team to the playoffs again," Báez said to MLB.com. "This is a team that should be in the playoffs every year -- with the team that we have and with the talent that we have. If it happens (an extension), I'll be grateful to be a Cub for my entire career. Hopefully, it happens. If not, I'm obviously happy with everything that happened here."
Baez has done extraordinary things over the last six years for the Cubs — and he, the Cubs and their fans hope he continues to do them for years to come. Whether the Covid-19 pandemic has anything to say about that is yet to be determined, but unity between both parties is still sought.