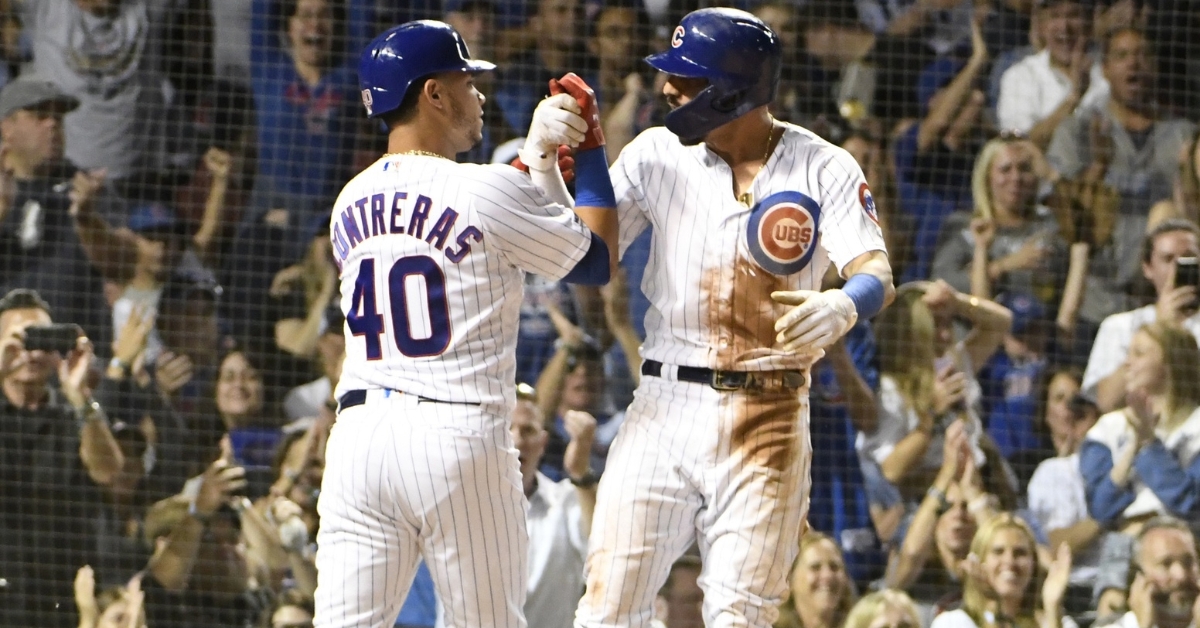 | | |
| --- | --- |
| Three New Year's Resolutions for Cubs | |
---
Happy New Year to all. I hope everyone had a safe holiday season and cheers to a happy 2020. For most of us, an excellent start to the new year would be for the Cubs to do something in free agency to make us believe things are changing. I am not talking about any more depth signings, either. I am talking either a significant trade or big signing to show that the Cubs are serious about contending sooner rather than later.
As of now, it appears that Chicago will sit out the second consecutive free agency and bank on depth signings for the teams continued success. Given the amount of talent left on this roster, it may not be a terrible idea, but Chicago is also in a predicament when it comes to some of these talented players. Not only are a lot of them reaching FA in the coming years, but the Cubs are maxed on their spending fixtures now, making it hard for them to do anything now.
That is not good when the rest of the NL is continuing to make moves, but the front office believes in what they have, so let's see how and where this goes. While most people make new year's resolutions for themselves, I decided to make three new years resolutions for the Cubs as to what they need to do to start earning the trust of some fans back.
1. Figure out how to get under the Luxury Tax or just say screw it
At this point, Tom Ricketts has made it clear that the Cubs are tight on money. So tight that they are refusing to go over the Luxury Tax yet again after getting hit with a 7.6-million-dollar penalty for exceeding it last year. While that may be chump change for Ricketts, it still is a Burdon for a big market franchise that must alter their spending plans going forward.
The Cubs have no problem making money and generally will always be a top-five payroll. If they wanted to spend, they would. That will even become more likely in about 2 or 3 years when the money from the new network starts rolling in. Until Chicago gets to that point, I feel like the Cubs are content just to try to avoid any more penalties at this point.
If that is the case, the Cubs need to figure out a way to cut some money, whether releasing, trading, or restructuring contracts. I get tons of money is coming off the books by 2022, but that is still two offseasons away, and Chicago needs some money now. Let's see what the minds have in place ahead of spring.
2. Sign Nicholas Castellanos:
This is mainly dependent on number one above, but Castellanos and the Cubs are a match made in heaven. His style of play, love for the city and desire to remain a Cub is precisely what this organization needs as he proved to be the perfect fit in the lineup despite a limited glove in right field.
There are multiple reports out there right now saying how Castellanos and the Cubs have reached principles about a deal. There are also reports that the Marlins, Reds, White Sox, and Rangers are in on Castellanos, so you know the tires are starting to turn. For the Cubs to get Castellanos to return, salary needs to be shed, or someone needs to be traded.
Ideally, Jason Heyward's contract is the most important one to move, but given how much he makes a year, no one will take that on unless the Cubs pay some of it out, which is not ideal. That is what makes Tyler Chatwood interesting to me. Yes, Chatwood was better out of the pen a season ago, but for 13 million a season, you need to put him in the rotation. Otherwise, that is a hefty price tag for a reliever that isn't used frequently.
Look for the Cubs to put Chatwood in the rotation this spring or with hopes of flipping him before spring starts. Should they find a taker for his services, not only would it free up 13 million, but could be all the team needs to do to bring back Castellanos.
Extend Javy and trade Bryant or Contreras:
This is more of a two-part resolution, but it goes hand and hand together. By now, it appears the Cubs view Javy as the face of the franchise hence why they have mentioned extension talks with him already. I understand he is going to want a ton of money, but if I am the Cubs, I let Javy name the price and go from there as they need to do whatever it takes to keep him in Chicago long term.
That leads me to the second part of the resolution regarding Bryant and Contreras. Given that Bryant has already turned down a seven-year 200 million extension and his agent is Scott Boras, I find it unlikely he stays around beyond his current contract. Not to mention his grievance hearing still dragging on where he will become an FA next season or after 2021 makes his situation all that trickier.
Ideally, I would love to get something for him before he leaves us for nothing in return. However, we have seen what he can do when he is right, and I am just not sure the Cubs nor myself are willing to watch that go to someone else before trying to, at the very least, retain him beyond this deal.
Contreras on the other hand is the most intriguing piece on this roster. Despite an impressive offensive season, a year ago, Contreras is set to make less than 6 million this season which is a bargain for his production. With Victor Caratini also on the roster, and proving he can handle everyday catching duties, Contreras to me is the most expendable part this off season.
Yes, Bryant may bring you back a more substantial return in terms of prospects and players, but Contreras is locked in for at least three more seasons, which is why teams may move on him quicker than Bryant. Not to mention the catching market is starting to dry up, and the Cubs have the ball in their court when it comes to Contreras. They know if they make him available, teams will call. Now they need to figure out who is the most important between the two.